NY Jets: 3 takeaways from Week 4 win over the Tennessee Titans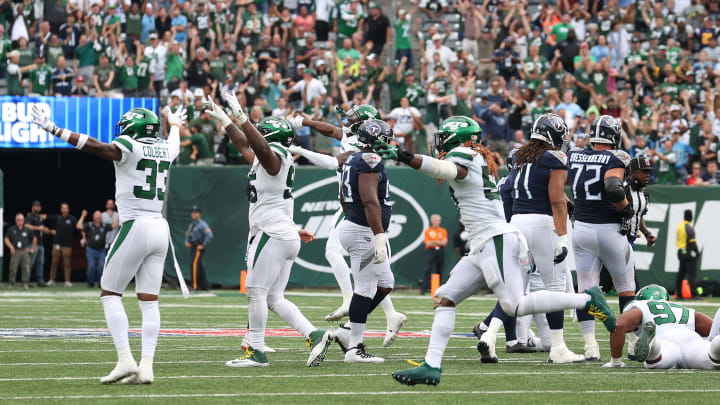 NY Jets / Al Bello/Getty Images
It took nearly 70 minutes, but the NY Jets left MetLife Stadium with a 27-24 victory following a missed field goal from Tennessee Titans kicker Randy Bullock with 19 seconds remaining in overtime.
And with that, the Jets earned their first victory of the 2021 season.
Welcome to the NFL, Zach Wilson
Poise, confidence, dimes — that is what rookie quarterback Zach Wilson showed on Sunday. Following a rough start that looked all too familiar, Wilson presented the type of skills that show what general manager Joe Douglas saw in him when he selected the BYU product second overall.
"When he was rolling the way he was, it was very easy for Mike [LaFleur] to call the game," head coach Robert Saleh said after the game. "We have to stack great days and continue to get better."
Finishing the day throwing 21-of-34 for 297 yards and two touchdowns for a 97.3 QB rating, Wilson made several key plays that allowed the Jets to walk away with the victory, including deep balls to Keelan Cole, Corey Davis, and Jamison Crowder.
Despite also tossing one interception, this is the type of performance that will make Jets fans' ears perk up and one the team will look to build upon as they head across the pond to take on the Atlanta Falcons in London.
A great day for the NY Jets defense
While Wilson might get a lot of the publicity considering how hungry fans were to see an outing like this, the Jets do not win this game if not for the stellar play from its defense as well.
Whether it was C.J. Mosley, Quincy Williams, Bryce Huff, or Quinnen Williams, Gang Green's defense stepped up in a big way sacking Ryan Tannehill seven times.
"We can't let off, we can't be happy because of one win. We have to lock down even more," Mosley said. "I hope the players and coaches really felt the energy from that crowd."
While on paper Derrick Henry had a good game with 33 carries for 157 yards and a TD, the Jets did a tremendous job making sure Tennessee's bell cow did not take over the game.
Having to line up against Henry for almost 70 minutes is a chore in itself so the fact the Jets came away with the win is a testament to how well the defense was able to hold up for five quarters.
Wanna Be Startin' Somethin'?
Now that Gang Green has captured their first win since Week 16 of the 2020 season against the Cleveland Browns, the question has to be asked: is this the start of something for the 2021 Jets or just a mirage?
"I'm glad we can learn from a win, that's the best way to do it," Wilson said. "The big word of the week was trusting each other, so I thought that was a cool experience for all of us."
With their next two games coming against the 1-3 Falcons and hated rival New England Patriots, if Gang Green can piece together more of an offense like they did on Sunday, perhaps they could find themselves back to .500 with plenty of football to be played.
However, the Jets are not the type of team that has earned the right to look ahead at anything. It all starts with turning efficiency into consistency.