Matt Miller has cursed the New York Jets ahead of the 2020 NFL Draft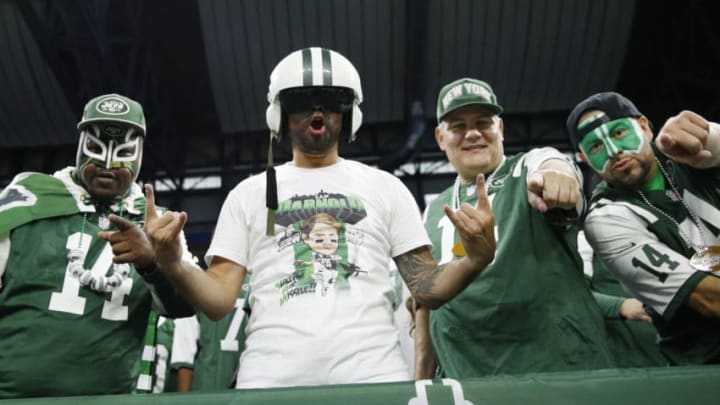 DETROIT, MI - SEPTEMBER 10: Jets fans attend the game between the Detroit Lions and the New York Jets at Ford Field on September 10, 2018 in Detroit, Michigan. (Photo by Joe Robbins/Getty Images) /
Bleacher Report's Matt Miller has cursed the New York Jets ahead of the 2020 NFL Draft. Here are the full details and why this is bad news.
Since 2007, the New York Jets have drafted 12 defensive players in the first round. Half of those players have been defensive linemen.
New York Jets fans are hoping to break that trend in the 2020 NFL Draft. Although if renowned NFL draft expert Matt Miller's latest mock draft comes true, the painful streak will continue for another year.
On Wednesday's episode of 'Stick to Football' via Bleacher Report, Miller decided to provide the Jets with another defensive player when the team was on the clock.
"I'm probably going to make some friends in New York today, I won't go with CeeDee Lamb here out of Oklahoma. When we do these mock drafts I try to do what the teams would do, not what I would do. I'm going with AJ Epenesa.
I know there are going to be people throwing things at their radio or however you listen to this. Just run faster on the treadmill if you're mad at me but looking at Joe Douglas I can't see him prioritizing wide receiver in round one.
In a real draft setting, the Jets probably trade back in this spot or they'd likely try to trade up for one of those top players that fall near them.
***(a full explanation of how that would work here)***
At 11 if this is how the board falls with all three offensive tackles off the board and Jeff Okudah is off the board I think you have to look at AJ Epenesa. Does he fit their scheme? Gregg Williams is smart enough to fit him in there.
He can plug next to Quinnen Williams and I know Jets fans are probably thinking we've heard this story before, but Epenesa is different and Gregg Williams is different.
I know this pick won't get Jets fans excited, but I'm trying to keep it real here and I'm not trying to make you feel good about your day."
Here are several reasons why this pick sucks if you're a New York Jets fan.
Matt Miller is right, we have heard this song and dance before. If 'BPA' (best player available) is a defensive lineman, the Jets can't go with that player regardless of who is on the board. The team needs to invest in their offensive line, this strategy failed with Muhammad Wilkerson, Leonard Williams, Sheldon Richardson, it's time to break away and try something different.
AJ Epenesa doesn't fit the bill. Per the latest measurements, AJ stands 6-foot-6, 280 pounds (per NFL.com), that's the build of a defensive lineman. The New York Jets have enough of those on the roster: Henry Anderson, Folorunso Fatukasi, Steve McLendon, Kyle Phillips, Nathan Shepherd, and Quinnen Williams. Perhaps you could make an argument if AJ goes to the NFL Combine in February and he's 6-foot-6 and maybe 265 pounds and can play that EDGE stand up role it would work, but even then the team should go in a different direction.
The only way to piss off a New York Jets fan on draft night is for the team to select a defensive lineman for the seventh time in the last 13 years in the first round of the 2020 NFL Draft. Let's all hope the Jets don't listen to Matt Miller for the love of everything that is holy.