Todd Bowles ready to rightfully move onto Buffalo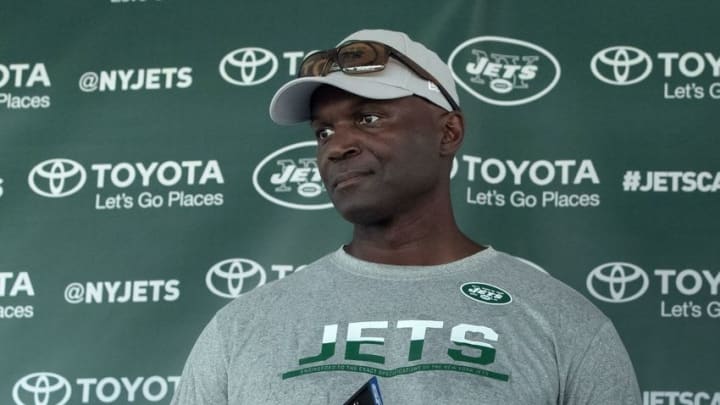 Jul 28, 2016; Florham Park, NJ, USA; New York Jets head coach Todd Bowles speaks to the media during training camp at Atlantic Health Jets Training Center. Mandatory Credit: Vincent Carchietta-USA TODAY Sports /
 As the New York Jets undoubtedly heard displeasures from fans and media alike, head coach Todd Bowles was ready to move onto their next game since what's done is done.
By now you've heard about the Week 1 loss of the New York Jets thanks to the Cincinnati Bengals. As the Jets are now 0-1 to start the season, many fans and analysts alike wanted to know what was the breakdown in a game that they seemingly had in the bag from the start.
Related Story: Nick Folk is no hero in Jets' Week 1 loss
While most will pin this loss to kicker Nick Folk's missing a point after touchdown and an ever-important field goal, the Jets had many other issues besides that. It's hard to imagine a team losing a game after accruing seven sacks on defense but somehow, that's what happened with the Jets.
In the grand scheme of things, the Jets lost due to not being effective in the red zone, the unfortunate interception that was thrown by quarterback Ryan Fitzpatrick on their final drive of the game and of course, cornerback Darrelle Revis getting absolutely torched by A.J. Green.
More from The Jet Press
Whatever the case may be, what's done is done.
The Jets have a short week as they now prepare for a road trip to Buffalo to face Rex Ryan's Bills on Thursday Night Football.
As they also lost their season-opener against the Baltimore Ravens to the tune of 13-7, they will undoubtedly be looking for a bounce-back game.
This is easily a trap game for the Jets since well, Ryan has their number.
Last season, the Bills swept the Jets 2-0 in their AFC East rivalry games including that Week 17 loss that kept Gang Green out of the NFL Playoffs. It's important the Jets forget about their Week 1 loss and start preparing for a tough Bills team that know how to pick apart the Jets in all aspects of the game.
As reporters wanted to keep asking head coach Todd Bowles questions about the Bengals game this week, he quickly put his foot down and rightfully moved onto what awaits in Week 1. Courtesy of the Media Relations Department, here is what he said when asked questions by reporters:
On Darrelle Revis' play…
I told you we moved on to Buffalo. I don't have time to go over this. We went over it in the coaching staff meetings and we went over every player, we don't have time to talk about it now. I've moved on. They've moved on.
On him being at availability to talk about the players…
That's true, so I'm not going to talk about it. So unless you have Buffalo questions, I'm not going to be here long.
must read: Matt Forte makes NFL history in debut with Jets
Overall, Bowles might be in his second year on the job but he handled this perfectly. A team can't go back in time nor can they keep worrying about a previous game's final outcome. It's time to move on and get ready for a Bills team that will do anything it takes to win and send the Jets home with their second loss of the season.