NY Jets should target TE Hunter Henry in free agency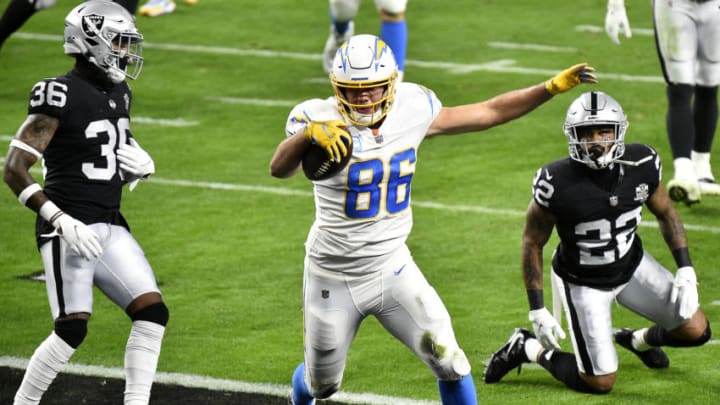 NY Jets, Hunter Henry (Photo by Chris Unger/Getty Images) /
The Los Angeles Chargers decided not to franchise tag Hunter Henry this week. As such, the NY Jets would be smart to target him in free agency.
Henry is arguably the top tight end available this offseason, so there will be plenty of bids for his services. The former second-round pick from Arkansas has developed into a fine player, but perhaps due to the salary cap decreasing, the Chargers decided to move on from him.
After scoring eight touchdowns in his rookie campaign with the Chargers, Henry's scoring production has fallen off.
Although he's yet to achieve those same numbers since, his receiving yards have continued to increase. Henry has averaged roughly 50 yards per game over the past two seasons, which is above average for a tight end.
He's only scored a combined seven touchdowns in the past two campaigns, but current quarterback Justin Herbert is more of a gunslinger who gets the ball downfield, which isn't necessarily a strength of Henry's game.
At 6-foot-5, 250 pounds, Henry isn't beating defenders down the sideline, but his size is a key reason for his receiving yards success. He's a huge target for any quarterback and would fit very nicely into the Jets' offense.
NY Jets should target Hunter Henry
The Jets need help everywhere. As we alluded to earlier this week when detailing why Jonnu Smith would be a great option for the Jets in free agency, the same logic applies to Henry.
Henry has great hands and can help an offense tremendously. Jason B. Hirschhorn of Sports Illustrated threw this stat out in an article last year that was very interesting about Henry prior to the 2020 season.
"According to Pro Football Focus, Henry boasts a 132.3 passer rating when targeted since entering the league in 2016, the highest such figure for any tight end over that span."
Essentially when Henry gets thrown the ball, it rarely misses. He's not only completing that pass more often than not, but is doing so for significant yardage.
Henry had a career-high 94 targets last year and it's easy to see why. He's a player who's reliable whenever he steps on the field. He's basically the safety blanket of the offense.
Not only can he catch almost any ball thrown to him, but his size makes him a great blocker and an extra weapon in the running and passing game.
Mike LaFleur is going to be implementing a ton of play-action, so Henry's size will make him a huge target in that game. Similar to what we mentioned with Smith, he'll be able to block, then sneak out for a big catch.
Hunter Henry could be a huge difference-maker for the Jets this upcoming season and with the amount of cap space they currently have, he'd be a great investment.