NY Jets: 'Pretty good' chance that MetLife Stadium will be full in Week 1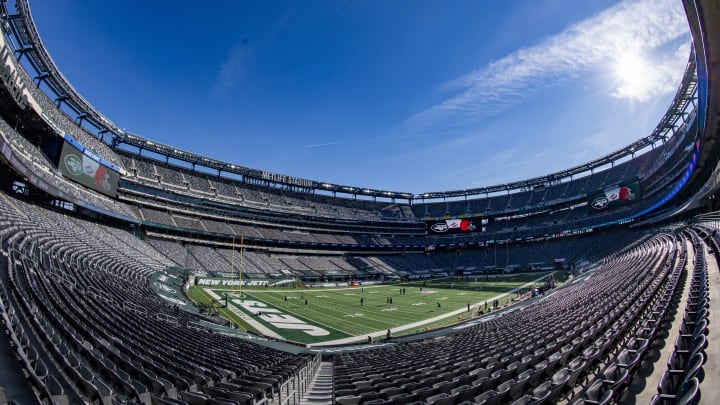 NY Jets, MetLife Stadium / Benjamin Solomon/Getty Images
The NY Jets haven't played in front of a home crowd since 2019. But given how the 2020 season unfolded, perhaps that's for the best.
However, that's set to change this season with fans expected to return to the stands for the first time in over a year. And according to the latest estimates, those stands could be packed to full capacity.
New Jersey Governor Phil Murphy spoke to the media during his latest COVID-19 briefing on Monday and he insinuated that there was a very good chance that MetLife Stadium would be able to hold a full capacity crowd by Week 1.
"I think the prospects are pretty good," Murphy said, much to the delight of Jets and NY Giants fans. The optimism was much appreciated.
The NY Jets might play in front of a full capacity crowd soon
Restrictions in the state of New Jersey have slowly been eased as last Friday, Murphy announced that large outdoor venues would now be able to host 50 percent attendance.
It only seems like a matter of time before stadiums are allowed to return to full capacity again. Murphy did state that the dream of full capacity stadiums will rely on COVID-19 cases and hospitalizations being low.
The prospects for that seem good as the state has experienced a 66 percent decrease in cases since last month and COVID-19-related hospitalizations are the lowest they've been since October.
Jets fans were forced to watch from home last season as COVID-19 restrictions didn't allow for fans to attend games throughout the entire year. Again, maybe that was for the best, though.
However, with renewed optimism ahead of the 2021 season, fans will surely be looking to return to the stadium. The Jets will boast a new quarterback in Zach Wilson, a new head coach in Robert Saleh, and an overall new attitude.
The Adam Gase era is over. A new leaf has been turned over in Florham Park.
This is a situation worth monitoring over the next few months. But by all accounts, if New Jersey stays on its current trajectory, MetLife Stadium should be rocking at full capacity come Week 1.