NY Jets 2021 NFL Draft Profile: Louisville RB Javian Hawkins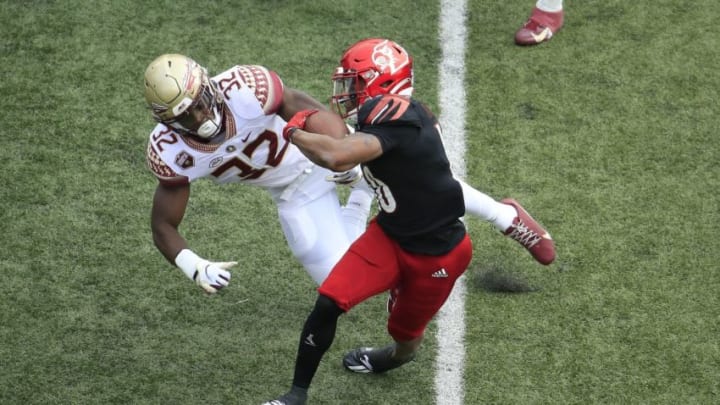 NY Jets, Javian Hawkins (Photo by Andy Lyons/Getty Images) /
In the fourth round of the 2020 NFL Draft, the NY Jets selected Florida running back La'Mical Perine. At the time, the thinking was that Perine would complement Le'Veon Bell and possibly transition into the team's lead running back by the end of the season.
Of course, as we now know, former head coach Adam Gase had other plans. One week after drafting Perine, the Jets signed veteran Frank Gore to a one-year contract.
Most people assumed that Gore would be utilized as the team's number three running back and serve as a role model for Perine.
As it turned out, Bell would be released early in the season, and with Perine nursing a variety of injuries, Gore would become the team's lead running back for the entire season. As we approach the upcoming 2021 NFL Draft the Jets running game still remains a question mark.
The current depth chart includes Perine, Ty Johnson, Josh Adams, Pete Guerriero, and the recently signed Tevin Coleman.
The Jets could still upgrade in the draft at this position, but would most likely do so in the mid-to-late rounds. Adding a speedy back to the current group would go a long way toward solidifying the running back position.
One player who would fit nicely into the mix is Louisville speedster, Javian Hawkins. At 5-foot-9 and 196 pounds, Hawkins is an undersized running back who is lightning quick and would provide the Jets with the explosive threat that they currently lack.
Javian Hawkins' strengths
Javian Hawkins was a record-setting running back in both high school and college. Originally from Titusville Florida, Hawkins played for Astronaut High School before transferring to Cocoa High School. All told, Hawkins rushed for over 4,000 yards and 40 touchdowns.
At Louisville as a redshirt freshman in 2019, Hawkins broke the school record for rushing yards by a running back in a season with 1,525 yards on 264 carries.
In 2020, Hawkins returned as Louisville's starting running back and in eight games amassed 822 yards on 133 carries. He also had 16 receptions for 127 yards.
Hawkins chose to opt-out after eight games for the remainder of the 2020 season and also decided to forgo his remaining two years of eligibility and enter the 2021 NFL Draft.
Hawkins possesses outstanding field vision and finds open lanes which makes him a dangerous threat and someone who can take it the distance. The former Cardinals tailback is also patient and effective in following his blocks and displays excellent footwork.
Hawkins improved dramatically as a receiver in 2020 and this will only help to make him that much more appealing to NFL teams. He is a well-rounded running back who can block well and can be utilized often in pass protection situations.
Javian Hawkins' weaknesses 
Because of his smaller frame, Hawkins is not going to run over tacklers or drive many piles. He will not pick up much yardage after initial contact but is feisty and aggressive in his effort.
Arm tackles around the legs will more often than not bring him down and Hawkins should benefit from an NFL-caliber weight training program to enhance his overall power and strength.
Hawkins does not project as an every-down type of running back because of his inability to drive through contact as an inside runner.
However, as a change of pace type running back and a player who can get outside and turn the corner, Hawkins can provide great value as a complementary running back in the right offensive scheme.
The only other issue with Hawkins appears to be ball security. In 2020, he fumbled the football three times in his eight games played. That will need to be corrected if the speedster is to excel at the next level.
NY Jets prediction
Nicknamed "Playstation" because of his abilities comparable to a video game character, Hawkins could be a great fit with the Jets because of his skill set which consists of speed, acceleration, and vision.
The Jets under offensive coordinator Mike La Fleur will almost certainly run the same type of offensive system that Kyle Shanahan implements for the San Francisco 49ers.
More from The Jet Press
LaFleur was the passing game coordinator under Shanahan and will likely follow the same "running back by committee" approach.
The outside zone is the foundation for this offensive scheme and calls for a running back who can get to the corner and turn upfield. Hawkins has spent the last two years running the exact same outside zone plays that the Jets will be running this upcoming season.
Because of his prior experience at the collegiate level, Hawkins will already have an understanding of the outside zone gaps and a natural feel and vision for the entire system.
Just in case this isn't enough to convince you that Hawkins would be a great fit for the Jets, he was also a teammate of Mekhi Becton at Louisville in 2019. Both players earned All-American honors and complemented each other's talents well.
The Jets will need to bring in players who can effectively run the outside zone offensive system. Javian Hawkins would be a perfect candidate as a mid-round draft selection to fill that need.