New York Jets: Kaare Vedvik experiment fails in epic fashion in Week 1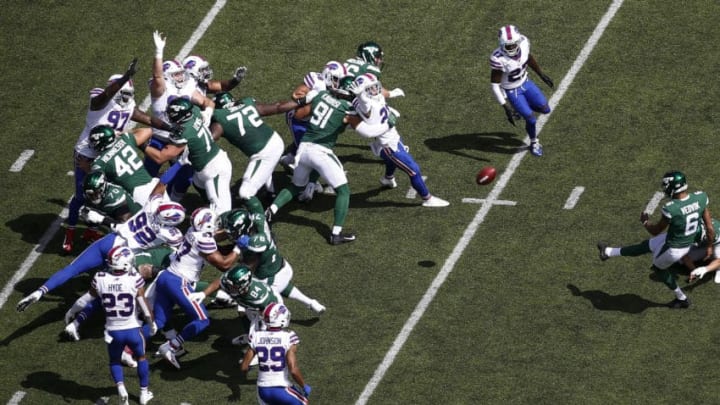 EAST RUTHERFORD, NJ - SEPTEMBER 8: Kaare Vedvik #6 of the New York Jets misses a wild goal against the Buffalo Bills during their game at MetLife Stadium on September 8, 2019 in East Rutherford, New Jersey. (Photo by Jeff Zelevansky/Getty Images) /
The New York Jets kicking woes continue with Kaare Vedvik failing epically in Week 1 vs the Buffalo Bills. Here are all the details.
We started from the top now we here.
It's a play on one of Drake's most popular songs, last season the New York Jets had the first Pro Bowl kicker in franchise history (Jason Myers) now they have a Norwegian kicker in Kaare Vedvik who can't make an extra point.
The green and white were frugal with their finances and the special teams unit suffered mightily.
From Chandler Catanzaro to Taylor Bertolet, things looked bad. Then a Norwegian light emerged from the end of the tunnel: a talented 25-year old prodigy fell into their laps.
If the Jets played their cards right, perhaps the team would solve their kicking issues in 2019 and beyond.
Vedvik was highly regarded out of Baltimore and the Jets nearly traded for his services. Eventually, the Minnesota Vikings won the bidding war but got sick of him after two weeks and dumped him this offseason.
The Jets and Brant Boyer thought they could salvage his career and sadly it just didn't pan out in Week 1.
A missed extra point and a 45-yard field goal in what ended up being a one-point loss are brutal and a hard pill to swallow for Jets fans.
Kaare Vedvik on his two big misses: "It sucks." #Jets pic.twitter.com/qVF0oCozFM
— Rich Cimini (@RichCimini) September 8, 2019
While just a one-game sample size may seem extreme to cut someone over, the Jets aren't your usual situation.
They're in the biggest market on the planet and kicking is as much mental as it is physical. While Vedvik said all the right things in the post-game commentary, he obviously is in a funk right now.
There are still 15 games left on the schedule after the 17-16 brutal loss in Week 1 to the Buffalo Bills. Hopefully by Monday night in Week 2, the Jets have someone who can kick an extra point. If not this could be a long season.