Jets 2018 NFL Draft Profile: OLB Kemoko Turay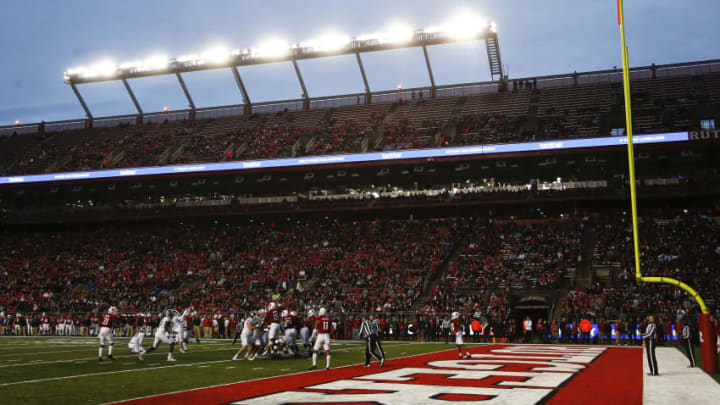 PISCATAWAY, NJ - NOVEMBER 25: Matt Coghlin #4 of the Michigan State Spartans kicks a field goal against the Rutgers Scarlet Knights during their game on November 25, 2017 in Piscataway, New Jersey. (Photo by Jeff Zelevansky/Getty Images) /
In this 2018 NFL Draft profile, we look at the strengths and weaknesses of outside linebacker Kemoko Turay out of Rutgers University. How does he fit with the New York Jets?
Kemoko Turay has been considered a top outside linebacker in the 2018 NFL Draft from numerous insiders. Turay has shown he has an NFL ready skill set and should do well as a competitive linebacker in the league. Many teams will want him and he will improve any roster he would be drafted into.
For how big and tall Turay is, he reminds many people of Yannick Ngakoue. He enters this year's draft at 6-5 and weighs in at 252 pounds. For how well Ngakoue was able to get off the blocks and make open field tackles, Turay replicates him the same way plays the game.
STRENGTHS
Turay is able to use his intelligence and use his sudden lateral quickness in the gaps to disrupt running plays. He is also able to wrap up running backs and not let them get loose in the open field. When passes were thrown his way he was able to swat down many passes.
More from The Jet Press
He has been considered a leader on the field for the Rutgers defense for how well he sees everything on the field. He is able to rev it up to another level to pressure quarterbacks into making mistakes. He has excellent coachable attributes as a pass rusher which you like to see as a coach.
WEAKNESSES
For being a linebacker, Turay needs to improve his hands and get beyond his basic pass rushing approach. He has a tendency to break his form once he meets contact on running plays by opponents. Turay is unable to absorb the impact and has trouble in adjusting faster.
He has problems in keeping focused and tends to make erratic decisions. When Rutgers played in press coverage, he was unable to get out of his formation in time for the most part as he struggles to get himself involved in the play.
When he is forced into angle blocks he is very inconsistent in holding his formation which allows tight ends and slot receivers to get open. He needs to embrace his abilities and use them the correct way which he has not been able to consistently.
VIDEO HIGHLIGHTS
JETS PREDICTION
For being a very versatile player, Turay has the ability to be a very special player. In my opinion, I see him going in the mid-fourth round to early fifth round. With him not having his skill sets clearly figured, he will need more coaching and training to take his career to the next level.
As far as his chances of landing on the Jets are concerned, he might still be available for the taking if they feel he can become a future star. It's unlikely they'll draft Turay as they have other areas to address from their defensive line, offensive line, and their overall pass rush. Turay only totaled 14.5 sacks in his four years at Rutgers.