Jets News
An open letter to the Jets about not tanking in 2017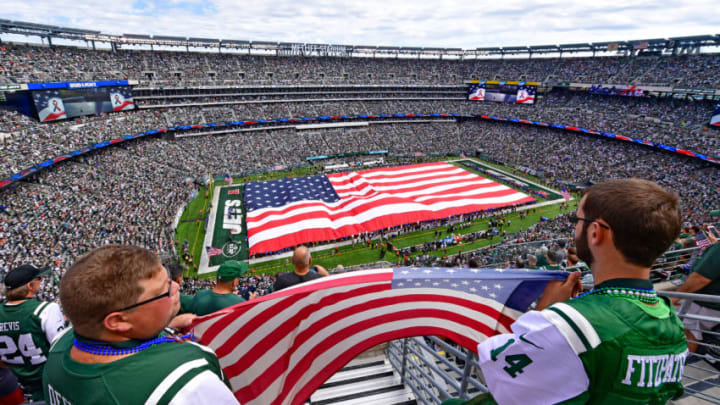 EAST RUTHERFORD, NJ - SEPTEMBER 11: Fans hold an American flag during the National Anthem prior to the game between the New York Jets and the Cincinnati Bengals at MetLife Stadium on September 11, 2016 in East Rutherford, New Jersey. (Photo by Steven Ryan/Getty Images) /
Dear New York Jets: Please Don't Tank This Year
In sports vernacular, losing on purpose is referred to as "tanking." Teams tank to improve its draft position, thinking that a "can't-miss-prospect" is the reward for an epically bad season. If you're a New York Jets fan, you've probably heard the rumors; the team plans to tank this year.
Some have suggested that bottoming out is the Jets' best option since it guarantees them a top-three draft pick; plus the approximately $80 million in cap space reserved for next offseason would set the Jets up perfectly for them to turn everything around next year and beyond. The personnel moves made during the offseason and the most recent trade of Sheldon Richardson provide some evidence of the Jets tanking. Some claim that the Jets are "rebuilding," which is a more politically correct way of admitting that the team is tanking. Makes sense right? Well, yes and no.
First things first, let's get something straight. It is absolutely unacceptable for any professional sports team to intentionally lose. The fans shell out an insane amount of money, professional athletes' salaries are astronomical, and to take it even a step further, losing (and giving up) is unAmerican! In American culture, winning is everything. Giving up? Please stop with the nonsense!
In fact, I'm really tired of hearing any mentioning of or suggestion that the Jets are tanking. It's the topic du jour amongst Jets fans. Enough already! It would be an insult to the fans who've stuck with this team over the years, particularly season ticket holders. They deserve better than a tanking season. Admittedly there are many ways to rationalize tanking, and that's unfortunate but the fans should expect maximum effort for all 16 weeks of the season. It's embarrassing and I want to proudly wear my Jets gear all over the city, not be laughed at!
All that said, Jets fans, I have a question for you. The Jets play the Bills, Raiders, Dolphins, Jaguars, and Browns in that order to start the season. If they can somehow muster three wins from this portion of the schedule are you still going to want the Jets to tank the rest of the season? You think they can't win at least three of these games?
Honestly, I don't see why they couldn't. And while there is no doubt the Jets are a young team with few playmakers, the Jets still have enough veteran talent—Muhammad Wilkerson, Matt Forte, Bilal Powell, I'm looking at you—to keep things interesting this year. That's really what this is all about. If the Jets can somehow get to 4-4 at the halfway point then who knows? Most importantly, though, the Jets would be giving fans not only their money's worth but also they'd be signaling that the team is aggressively trying to win and not the opposite. Is that too much to ask for?
More from Jets News
But what's overlooked in all this discussion is that the season hasn't even begun yet and Jets fans are already thinking and planning for next year's draft? Really? That's absurd. Yes, the team lacks talent and depth, but there are other ways in which they can be competitive and successful, for example, focusing on the
.
It should also be remembered that some sports are better suited for tanking than others. The NBA is a good example where tanking has a better chance of working, but in the NFL not so much. There's no LeBron James equivalent in the NFL, in other words. Plug-and-play is nearly impossible in the NFL. With LeBron on your team, improvement is pretty much a guarantee. The year before the Cleveland Cavaliers drafted Lebron they were horrible, winning just 17 out of 82 games. When LeBron left (recall the infamous "I'm taking my talents to Miami" announcement), Cleveland went straight from the top to the bottom. He comes back and they win a championship.
The point is that a) there are only a few special players like LeBron, and b) these types of worst-to-first scenarios are more likely to occur in the NBA. Now back to football.
While there have been a few obvious cases where high draft picks have made an instant impact, still, one player isn't going to make a huge difference from one year to the next in the NFL. It also depends on the position. For example, if the hands-down number one pick is a quarterback then there's a better chance of instant improvement.
Peyton Manning, of course, comes to mind. Although the team that drafted him—the Colts in 1998—went 3-13 during Manning's first season, eventually they became perennial winners. But there are plenty examples of quarterbacks taken in the top three spots that were never able to meet high expectations and the teams that drafted them struggled.
Tim Couch, David Carr, and JaMarcus Russell were total busts. Sam Bradford, Alex Smith, and Matthew Stafford (all picked first in their respective years' drafts) have had decent careers and combined they've been in the league 26 years. But all they have to show for it are two measly playoff wins (Smith). Blake Bortles was selected third in the 2014 NFL Draft and already Jacksonville is looking for his replacement.
Position players have fared no better than quarterbacks. Jake Long, the first overall pick in 2008 (and just retired a few months ago), had a decent career but certainly not the impact that was expected of him. There's a long laundry list of bust top draft picks that I can't go into here, but I would encourage you to conduct your own research. You'll see for yourself how the can't-misses actually missed, and badly!
On the flip side, take a guess which two future Pro Football Hall of Fame players were picked in the sixth rounds of their respective drafts? Ever heard of Tom Brady? I'm sure you have so he doesn't need any introduction or reminder of his accomplishments. How about Antonio Brown? Maybe you haven't heard about him, but just in case you're not too familiar, this sixth round draft pick has amassed in just seven years 532 receptions, nearly 8,500 receiving yards, and 50 touchdowns. Not bad, for a sixth round draft pick!
The point is that with so many variables a team's draft position is rendered unreliable. What's critically important is scouting and luck! I think it's safe to say that if any team thought Brady would become the player he is now when he was drafted they would have picked him first. The Patriots got lucky when they picked Brady in the sixth round, pure and simple.
And by the way, no player, coach, owner, etc., would ever admit to tanking. But there are some subtle (and not so subtle) ways of identifying it. For example, missed tackles, not hustling, dumb penalties, dropped passes, and the list goes on and on. It's hard to decipher. In other words, the team could just be flat out horrible. Or, it could be talented enough to win football games but has "mailed it in," collecting pay checks, either looking to leave the team or end the season sooner rather than later.
One interesting dynamic that bears watching is whether the general manager, Mike Maccagnan, and head coach Todd Bowles have received guarantees they would not be fired after this season no matter what the team's record. This would suggest that there are marching orders from the top to sink as low as possible in order to get one of the top three picks in next year's draft. We'll never know if that's the case, but one player I'll be paying particularly close attention to is Josh McCown.
Must Read: Top 25 bold predictions for the Jets in 2017
In particular, if he struggles while Bryce Petty sits, then one could wonder if the Jets—as an entire organization—have literally mailed it in. I've written recently that Petty was the surprise of the preseason and merits serious consideration to start, especially if the season goes sideways early and the Jets aren't playing for anything. Moreover, he clearly outplayed Christian Hackenberg. Of course the counterargument is that McCown gives the Jets the best chance to win and they want Hackenberg to develop further.
We'll see. Whatever the case may be, all that I ask of the 2017 Jets is please don't tank.
Sincerely,Hillary