Christian Hackenberg speaks about Austin Seferian-Jenkins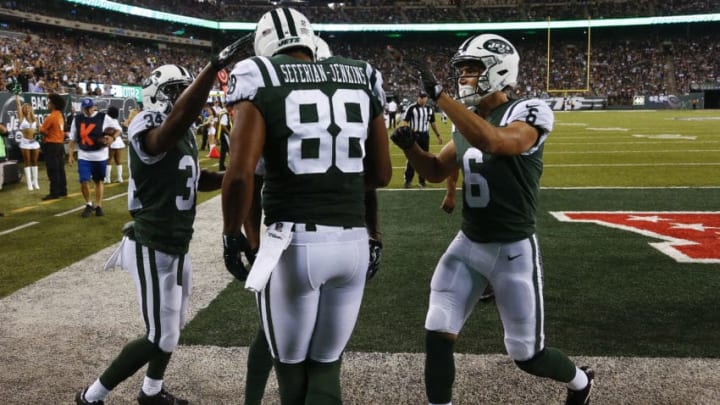 EAST RUTHERFORD, NJ - AUGUST 31: Austin Seferian-Jenkins #88 of the New York Jets celebrates his touchdown with teammates Jeremy Clark #34 and Chad Hansen #6 of the New York Jets during their preseason game against the Philadelphia Eagles at MetLife Stadium on August 31, 2017 in East Rutherford, New Jersey. (Photo by Jeff Zelevansky/Getty Images) /
Christian Hackenberg knows how important a quality tight end can be as a safety net to keep those chains moving. The young New York Jets quarterback recently spoke about the impact tight end Austin Seferian-Jenkins has had so far.
A quality tight end can help any quarterback, especially those that are struggling to keep those chains moving and of course, score touchdowns. For the New York Jets, it's been a forgotten position for years due to lackluster talent in the positional group and even last season, former offensive coordinator Chan Gailey preferred to have them block than being eligible receivers.
All that is about to hopefully change this upcoming season not only thanks to a resurgence in the positional group but specifically, tight end Austin Seferian-Jenkins. Last season, he wasn't much of a factor but at the end of a wasted year, Seferian-Jenkins realized he had the potential for something greater.
All offseason long, he focused on losing weight, honing his craft, and learning from his previous off-the-field mistakes. Seferian-Jenkins has looked sharped throughout the preseason and even though he'll be serving a two-game suspension to start the regular season, expectations are high for him to be a difference maker upon return.
More from Jets News
Even quarterback Christian Hackenberg realizes that the potential is there for Seferian-Jenkins to be an offensive weapon in 2017. Courtesy of the Media Relations Department of the Jets, here is what Hackenberg recently said in a press conference about the up and coming tight end:
On how much of a weapon Seferian-Jenkins can be this season…He's strong, he does really well in the run game and that's something that he continues to work at and I think he takes great pride in, which is a huge part for that position. He's got great hands. He's worked really hard this offseason, and I want to tip my hat to him. He's changed his body, changed his mindset. I think if you ask any of these guys throughout the spring and into now, Austin would be the most improved guy and he's shown it every day. He's focused, he's hungry and he's making plays.
The offense of the Jets left much to the imagination this preseason but hopefully, once Seferian-Jenkins gets back from serving his suspension, he'll be ready to prove that he's committed to doing whatever it takes to make their offense viable. Compared to what Jets fans saw last season, it looks like things will be much different this time around with more results than a lack thereof.