Jets should convert Darrelle Revis to safety with pay cut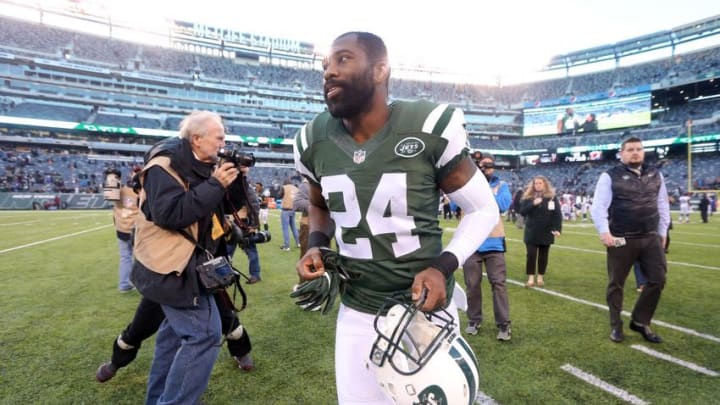 Jan 1, 2017; East Rutherford, NJ, USA; New York Jets corner back Darrelle Revis (24) runs off the field after a game against the Buffalo Bills at MetLife Stadium. Mandatory Credit: Brad Penner-USA TODAY Sports /
The New York Jets need to be strict when it comes to handling cornerback Darrelle Revis and his future on the team. He should be converted to safety and quite honestly, take a hefty pay cut.
Cornerback Darrelle Revis used to be called an elite cornerback. Capable of shutting down any premier receiving target coming his way, quarterbacks feared to have to throw anywhere near "Revis Island" since they knew it wouldn't produce good results. For years, Revis was the ultimate standard at cornerback and well, fans of the New York Jets as of late yearn for those days.
Sadly, what one has done in the past doesn't always mean they'll continue it in the present. 2016 will be a year where the football world not only saw the fall of Revis but undoubtedly question his work ethics. Too many times against opposing teams, Revis would not only have the cleanest uniform on the field but didn't even attempt to hustle or go above and beyond to take down ball carriers.
It's a very sad situation since it clearly looked all season long that Revis didn't want to be out there on the field doing what he was always known to do. Revis looked like he didn't want to go the extra distance to ensure key stops or even prove to the young guys around him that he was still effective.
More from The Jet Press
Most surprising of all is how the Jets continued to keep giving him lots of playing time, even though he was terrible in coverage. During the regular season, Revis only totaled 43 tackles and one interception. That's right, just one pick and ironically, it was because he was at the right place, at the right time in their season finale.
All considered, it's best the Jets do what is right for the team and not only convert Revis to a safety to put him back in a position to hopefully succeed but also ask for a hefty pay cut. It was embarrassing, to say the least, in seeing him consistently give a lackluster effort where it questioned his integrity of really giving it his all on the gridiron.
In 2017, Revis is due to earn $13M in base salary and a $2M bonus if he's still on the roster during the offseason. The Jets need to understand that while he'll more than likely go down as one of the most legendary to play for the franchise, it's all about business in the grand scheme of things.
Next: The overlooked talent of Robby Anderson on the Jets
The Jets need to restructure his contract if he's open to converting into a safety in order to recoup some more money into their salary cap. That way, the Jets can have the financial power to acquire better free agents and ensure they bounce back come next season. All throughout his career, Revis was always about getting top money and being among the highest paid in the NFL. For once, he should do what is right for the future of the Jets and take one for the team.