Jets vs Patriots: Top 3 keys to victory for Gang Green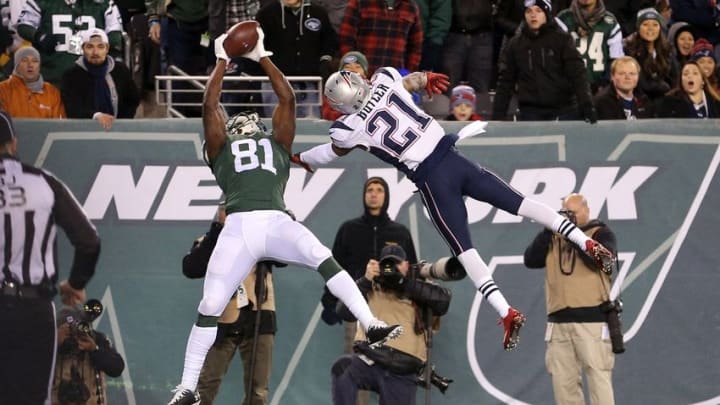 Nov 27, 2016; East Rutherford, NJ, USA; New York Jets wide receiver Quincy Enunwa (81) catches a touchdown pass over New England Patriots corner back Malcolm Butler (21) during the fourth quarter at MetLife Stadium. Mandatory Credit: Brad Penner-USA TODAY Sports /
Nov 27, 2016; East Rutherford, NJ, USA; New York Jets wide receiver Quincy Enunwa (81) catches a touchdown pass over New England Patriots cornerback Malcolm Butler (21) during the fourth quarter at MetLife Stadium. Mandatory Credit: Brad Penner-USA TODAY Sports
The New York Jets will travel to Foxboro to take on the New England Patriots in a heated Week 16 divisional matchup. Gang Green sits at a miserable 4-10 while Bill Belichick's group controls the AFC at 12-2. Todd Bowles and company have a chance to play spoiler, although their Week 15 performance seems to be the nail in the coffin. They'd be incredibly lucky to win another game. For the Jets vs Patriots game, it's unlikely Gang Green leaves victorious but one never knows as it's any given game when it comes down to it.
The Jets got outclassed by the Dolphins from start to finish. Bryce Petty made careless mistakes, the offensive line was inept and the defense was the worst it's been all year. At least they were shredded by an elite quarterback in Andrew Luck in the Week 12 blowout. This past Saturday, journeyman Matt Moore had the best outing of his career. New York has hit rock bottom to the point where another trashing wouldn't hurt one bit.
New England, on the other hand, took care of business in Denver and nearly pitched a shutout. It's a rarity when the Patriots put up a mere 16 points, however, when they hold their opponent to three it makes up for it. Matt Patricia's defense has turned a corner since the loss to Seattle. They've held their last five opponents to a combined 70 points and racked up eight takeaways in the process. If this keeps up, you'd have to label them as the Super Bowl favorite.
Looking at this matchup on paper, New England should blow the doors off the Jets. You simply have two teams heading in opposite directions. One is looking to lock up home field advantage while the other is close to locking up a top-five draft pick. This rivalry normally produces competitive games, but that shouldn't happen in this meeting. Without further ado, here are three keys to victory for New York.
Next: 3. Feed Bilal Powell
jets vs patriots /
Dec 17, 2016; East Rutherford, NJ, USA; New York Jets running back Bilal Powell (29) runs the ball against Miami Dolphins cornerback Bobby McCain (28) during the second quarter at MetLife Stadium. Mandatory Credit: Brad Penner-USA TODAY Sports
Wide receiver Robby Anderson has been a pleasant surprise in what's been a dismal campaign. Another surprise on the offensive side of the ball would have to be Bilal Powell. The veteran is doing what he did towards the conclusion of 2015 and producing more than Matt Forte. You can make the case and say he's a product of bad quarterback play, although Gang Green's offensive line isn't strong either. The man is doing this all on his own.
On the season, he has 94 carries for 540 yards and three touchdowns. On the receiving end, he has 53 receptions for 359 yards and a touchdown. That isn't too shabby for a guy who has spent most of the year fighting for snaps. What he did in the last two weeks is even more remarkable. He had 229 yards and two touchdowns on 45 carries along with 16 catches for 112 yards. It's hard not to ignore those numbers especially when the offense needs any spark it can get.
Look for him to continue getting the ball against the Patriots. Forte is a game-time decision and even if he does suit up, he won't be 100 percent healthy. You can't lean too heavily on Petty yet. This will be the fourth start of his career and it'll be in one of the toughest environments in the NFL. He won't face a task as tough as this one until he goes back there next season. Feeding Powell gives the Jets somewhat of a chance to make it competitive.
Next: 2. Make things simple for Bryce Petty
Dec 17, 2016; East Rutherford, NJ, USA; New York Jets quarterback Bryce Petty (9) throws a pass against the Miami Dolphins during the second quarter at MetLife Stadium. Mandatory Credit: Brad Penner-USA TODAY Sports
2. Make things simple for Bryce Petty
New York has two huge issues on offense that anyone with eyes can see. Let's talk about the first one: the quarterback situation. Petty is showing signs of growth and Gang Green has a reason to be optimistic, however, some of his turnovers are BAD. He joined Brett Favre, Mark Sanchez, and Ryan Fitzpatrick on Saturday as another Jets quarterback to throw an interception to a Miami defensive lineman. You can't really blame Chan Gailey when throws like that are being made.
More from The Jet Press
The other issue is the offensive line. This group was bound to fall apart eventually and now it's a flat-out disaster. Season-ending injuries to Ryan Clady, Nick Mangold, Brian Winters, Brent Qvale and Breno Giacomini have destroyed the unit leaving Petty with no protection whatsoever. General manager Mike Maccagnan will have his hands full trying to fix this mess when spring comes around.
With all that said, Petty obviously has minimal help around him. He has Powell and a few receivers that can make plays down the field. Given this scenario, Gailey would be hard pressed not to get the ball out of his hand as quickly as possible.
Ndamukong Suh and Cameron Wake laid a nasty hit on him in last week's debacle and it can happen several times against the Patriots if the Jets fail to protect him. Dinking and dunking wouldn't be a bad approach here.
Next: 1. Prevent the big play
1. Prevent the big play
Since Week 1, New York has been extremely susceptible to the big play. A.J. Green, Marquise Goodwin, Greg Salas, Sammie Coates, Tanner McEvoy, David Johnson, Kenny Stills and Jarvis Landry have all ripped Gang Green on touchdowns of 40+ yards. To have a play like that occur practically every other week is embarrassing. Some of it falls on the shoulders of Bowles while most of the blame falls on the defense who seems to have quit.
Darrelle Revis has turned into one of the league's laziest cornerbacks, Sheldon Richardson commits a penalty every game and injuries have been brutal. Marcus Gilchrist, Marcus Williams, Jordan Jenkins and Steve McLendon have all missed extended time over the course of the year. Guys like Leonard Williams, Darron Lee and even Rontez Miles have stepped up and played with passion, but it's been nowhere near enough to carry the entire defense.
Next: How the Jets should start the rebuild properly in 2017
Bowles has to put his players in better spots and his players must bring it. Tom Brady can hang 50 on the Jets if they fail to play for pride and show effort. There's been none of that as of late. Miles, Calvin Pryor, Ronald Martin and Doug Middleton will without a doubt be in for an active day. Julian Edelman, Chris Hogan, and Malcolm Mitchell all have the ability to beat New York over the top, so the safeties have to be deep. The Jets have a shot if they turn the game into a dink and dunk war.