Colts vs Jets: Top 3 keys to victory for Gang Green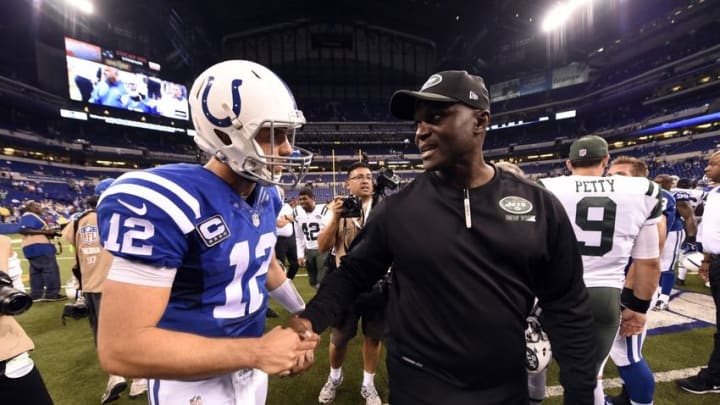 Sep 21, 2015; Indianapolis, IN, USA; Indianapolis Colts Andrew Luck (12) shakes hands with New York jets head Coach Todd Bowles after their loss to the Jets at Lucas Oil Stadium. Mandatory Credit: Thomas J. Russo-USA TODAY Sports /
For the Colts vs Jets Week 13 matchup, Gang Green needs a ton of execution and well, a little luck if they plan to leave this game victorious.
Sep 21, 2015; Indianapolis, IN, USA; Indianapolis Colts Andrew Luck (12) shakes hands with New York Jets head Coach Todd Bowles after their loss to the Jets at Lucas Oil Stadium. Mandatory Credit: Thomas J. Russo-USA TODAY Sports
The New York Jets will host the Indianapolis Colts on Monday Night Football in the final matchup of Week 13. Gang Green fell to 3-8 with their heartbreaking loss to the New England Patriots while Chuck Pagano's group sits at 5-6. This could be a do-or-die game for Indy who's still chasing Houston for the division. Given the competitive AFC, they have no shot at a wildcard spot.
Must Read: It's time to say farewell to Darrelle Revis
Todd Bowles and company came close to stunning New England last Sunday, however, they fell short 22-17. Ryan Fitzpatrick played decently up until the final drive in which he was stripped from behind by Chris Long. It wasn't really his fault either as Ben Ijalana simply got beat at the worst possible time. It's a shame because the defense did their job as well. Indianapolis will be a similar task, although the Jets need to play a full 60 minutes.
The Colts, on the other hand, are coming off a frustrating loss to the Steelers on Thanksgiving night. Andrew Luck was sidelined with a concussion and as a result, Scott Tolzien and the offense scored a mere seven points. Vontae Davis and the defense, of course, laid an egg giving up 28. To put the icing on the cake, T.Y. Hilton left with a back injury and should be considered questionable for this week's outing. Not much has been going right for Indianapolis on either side of the ball.
Looking at this game on paper, you have to give the slight edge to the Colts. They have something to play for unlike the Jets who've been out of contention since Week 9. Pagano is on the hot seat and Frank Gore is nearing retirement. It'll be tough to beat a team putting all their chips on the table. Without further ado, here are top three keys to victory for New York.
Next: 3. Use less of Darrelle Revis
Nov 27, 2016; East Rutherford, NJ, USA; New England Patriots wide receiver Malcolm Mitchell (19) scores the game-winning touchdown in front of New York Jets cornerback Darrelle Revis (24) during the second half at MetLife Stadium. Mandatory Credit: Robert Deutsch-USA TODAY Sports
It's time to make the move everyone has been waiting for. It hurts to say it if you're a Jets fan, but Darrelle Revis needs fewer snaps. The defense is at a huge disadvantage when he's on the field as just about any receiver can beat him. Malcolm Mitchell was the latest wideout to vacation on Revis Island. The 2016 fourth-rounder caught two touchdown passes on the All-Pro corner, one of which came in the final two minutes to secure New England the victory.
In 10 games, Revis has a mere two pass deflections while allowing several touchdowns in man-to-man coverage. A.J. Green, Marquise Goodwin, Mike Wallace, Terrelle Pryor, Kenny Britt and Mitchell all had their way with him. The one contest he missed was against Pittsburgh and we all know how disastrous that could've been if he was active. The Steelers love to air the ball out and Ben Roethlisberger was on the money that day.
If Bowles wants to get back in the win column, he has to do what's right here. Using less of Revis would put the defense in a better spot and give the youngsters a chance to get their feet wet. Like the Steelers, Indianapolis throws the football a ton. T.Y. Hilton, Donte Moncrief, and Phillip Dorsett can shred the Jets throughout the night and send them to 3-9. A combination of Buster Skrine and Darryl Roberts would honestly be the best option. Marcus Williams has a chance to return and chime in as well.
Next: 2. Get after Luck
2. Get after Luck
Getting after Luck is the blueprint for New York to have defensive success. The Colts have an atrocious offensive line and Gang Green can bully teams up front with the guys they have. Muhammad Wilkerson, Sheldon Richardson, Leonard Williams and Steve McLendon can wreak havoc at the line of scrimmage. McLendon is nicked up and won't play, but the other three have proven they can hold it down.
Wilkerson, Richardson, and Williams have combined for 120 tackles, 26 tackles for loss and 10 sacks. You can make an argument for the low number of sacks, although it's difficult for 320-pound men to get after the passer at a consistent rate. The two main jobs for defensive linemen in a 3-4 scheme are to stop the run and absorb blockers on pass plays. This lets the edge rushers get clear lanes at the quarterback or perhaps only have to beat one blocker.
More from The Jet Press
The issue with the Jets' front-seven throughout the season has been the production of the outside linebackers. Lorenzo Mauldin, who won't be suiting up this week, has been putrid. Bowles hasn't been using him as of late and it's not hard to see why. He has a mere 16 tackles and 2.5 sacks, which is unacceptable for a guy who entered the year as the team's best pass rusher. If New York wants to finally add another win, Jordan Jenkins and Julian Stanford must step up and apply pressure.
Next: 1. Control the clock
Oct 30, 2016; Cleveland, OH, USA; New York Jets quarterback Ryan Fitzpatrick (14) signals to his receivers during the fourth quarter against the Cleveland Browns at FirstEnergy Stadium. The Jets won 31-28. Mandatory Credit: Scott R. Galvin-USA TODAY Sports
1. Control the clock
Gang Green should focus on one thing on offense against Indianapolis. That one thing is dominating the time of possession. When the Jets control the clock, they keep their defense rested and they win games since everyone is playing with a full tank. They did it in Orchard Park in Week 2 and won. They did it at home against Baltimore in Week 7 and won. The Browns had the ball for a majority of the first half in Week 8, however, New York took over in the second half and won.
Even though their last victory came in October, the Jets still have the pieces to beat the Colts. Matt Forte, Bilal Powell, Brandon Marshall and Quincy Enunwa can do enough to keep Luck off the field. You have three veterans who offensive coordinator Chan Gailey feels very comfortable with and an explosive rising wideout in Enunwa. If your defense isn't one of the league's best, you beat elite quarterbacks in the NFL by keeping them on the sideline.
Want your voice heard? Join the The Jet Press team!
With all that said, expect Gailey to get the running backs rolling early and often. You can't chew clock through the air, so pounding the rock will keep New York in control. Marshall is the guy to feed if it's third down and the Jets are on their side of the field. Davis was picked on frequently against Pittsburgh and he's not fully recovered from his groin injury. As long as Fitzpatrick doesn't resort back to his early season ineptitude, moving the ball on Indianapolis shouldn't be an issue.