It's time to say farewell to Darrelle Revis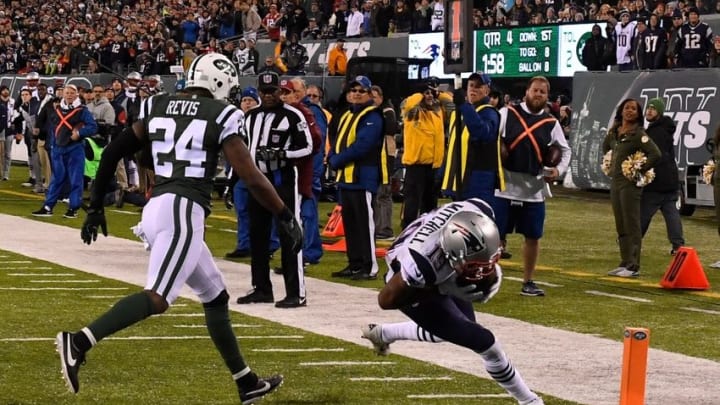 Nov 27, 2016; East Rutherford, NJ, USA; New England Patriots wide receiver Malcolm Mitchell (19) scores the game winning touchdown in front of New York Jets cornerback Darrelle Revis (24) during the second half at MetLife Stadium. Mandatory Credit: Robert Deutsch-USA TODAY Sports /
The New York Jets shouldn't waste their time with cornerback Darrelle Revis anymore. It's time to say farewell for the last time.
The NFL is being swarmed by the young star athletes in their breakout seasons that seem poised to be the future of this league. Everywhere except for the New York Jets in the grand scheme of things which truly makes fans of this franchise pretty sad these days.
Must Read: Top 3 quarterbacks Jets should scout for the future
In New York, there is Odell Beckham Jr., a wide receiver of the Giants, who makes spectacular highlight-reel catches week after week. There is Khalil Mack and Von Miller, linebackers for the Raiders and Broncos, who play with intensity and play reminiscent of a young Ray Lewis.
There are quarterbacks in Blake Bortles, Andrew Luck and Cam Newton, who are throwing 300+ passing yards per week and running all over the field with speed. Then there are the veterans, the guys who have been in the game for so long and aren't ready to call it a career.
Darrelle Revis is one of those guys and every week becomes harder to watch for fans, as he continues to get burned by opposing wideouts for large gains and touchdown scores. From A.J. Green to Sammy Watkins to Terrelle Pryor, every receiver is having a field day against the older Revis, and it's time for Todd Bowles to recognize the deficiencies and prepare for the future.
The nightmare is starting to become a reality for Jets' fans that not only is Revis Island a pastime of his prime, but he's starting to really struggle out there. The same man who has been one of the best defensive backs in the NFL has now become a primary target of opposing quarterbacks, struggling to cover the receivers.
The most recent beneficiary of Revis' sluggish play was a rookie receiver for the Patriots, Malcolm Mitchell, who lit Revis up for two touchdowns, including the game-winner in a 22-17 loss this past Sunday at home. He told the media earlier this season that his body is wearing down and he never fully recovered from injuries in his past. While it would be difficult for Bowles to bench Revis due to the Jets lackluster secondary, it may be time to consider backup options for the last several games and for next season.
More from The Jet Press
Whether Revis remains on the team next year is to be determined, but money figures to certainly be a factor in the equation. He is currently in the second year of a five-year, $70M deal, is making $17M this season and is owed $15M next year. The Jets would owe him $6M if he's cut, which would be less if another team picks him up. And he would count as an $8M cap hit, which may seem terrible but ultimately could allow the Jets to pick up some young talent for less of a cost.
When asked about the poor performances this season, Revis remained confident and still believes the talent is there to be an asset in this league. "You have bumps in the road," he said. "Are you going to see a one catch for one-yard game? Probably not. I was 23, 24 years old then," he said, referring to holding Reggie Wayne of the Colts to one catch for one yard in the Jets 2010 wild-card victory, per Gary Myers of the Daily News. "That's just not where it's at. Can I execute better and do things better? That's going to come. That's definitely going to come down the road."
Want your voice heard? Join the The Jet Press team!
To say Revis needs to retire and leave football after these porous performances would be an exaggeration because he still remains one of the smartest football players on the field and has tremendous leadership skills as a veteran. However, it is definitely time for the Jets to draft another cornerback in the first round next year, as the team is near the bottom in secondary rankings. The Jets' last first-round cornerback drafted was Dee Milliner, which was an absolute train wreck. With five games left on the schedule, Revis looks to end the season on a high note, but a return to the team seems out of reach and the Jets need to start looking for the future "Island" in New York.