A look ahead to the crucial offseason of Jets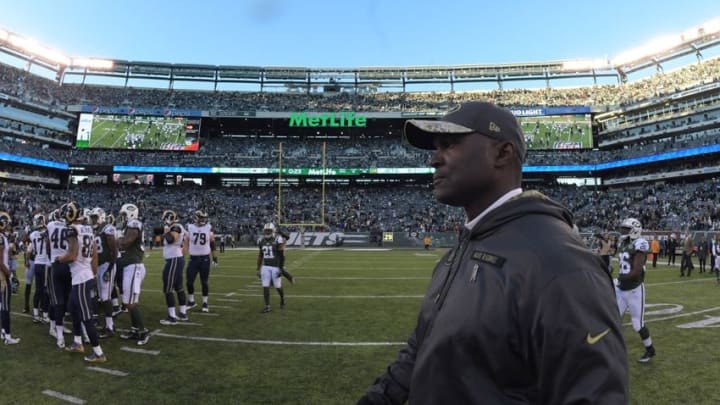 Nov 13, 2016; East Rutherford, NJ, USA; New York Jets coach Todd Bowles walks off the field after a NFL football game against the Los Angeles Rams at MetLife Stadium. The Rams defeated the Jets 9-6. Mandatory Credit: Kirby Lee-USA TODAY Sports /
With the New York Jets all but eliminated from the 2016-2017 NFL playoff picture, it's time to look ahead towards what will be a vital offseason for the future of the organization.
Expectations were as high as they had been in years for the New York Jets as they prepared for the 2015-2016 season. General manager Mike Maccagnan had managed to keep the majority of the team's 2015-2016 nucleus together while also adding some new and intriguing talents into the fold.
Related Story: Just must accept reality to move past struggles
Those sky-high expectations obviously haven't panned out as the team hits its Week 10 bye week with an embarrassing 3-7 record. With, of course, almost no hope for their six-year playoff drought to come to an end. The Jets are just over a month away from an incredibly important offseason, and it's time to look ahead to what that will entail.
The first thing that Woody Johnson will need to figure out as soon as the season ends is what he is going to do with his current coaching staff. Most if not all of the members of this season's coaching staff have underperformed in a fashion that is on the borderline of unforgivable.
The name that headlines the struggling coaching staff is head coach Todd Bowles. He has had a disappointing season as his defense is underperforming, his in-game decisions have been dreadful, and he doesn't seem to have much control of the locker room. Will Johnson opt to give Bowles more time, or go in a different direction?
Next up, are the coordinators. Defensive coordinator Kacy Rodgers has clearly had a poor year as his side of the ball has not been nearly as good as they were expected to be. With that being said, it would make sense to make a decision on Rodgers based on what happens with Bowles since Bowles handpicked Rodgers to be his right-hand man.
Offensive coordinator Chan Gailey has had a very poor season as well. Gailey's spread offense looked magical last season as the offense ranked near the top of the league. This season has been a completely different story as the Jets rank 24th in total offense.
Gailey's play-calling has been almost inexplicable at times, and his ability to cater to all types of quarterbacks has clearly not worked very well. Starting quarterback Ryan Fitzpatrick leads the league in interceptions, which has completely killed the Jets offense.
More from The Jet Press
In terms of player personnel, the Jets will need to start off by figuring out what in-house free agents they will want to have back.
Apart from guard Brian Winters, there are few in-house free agents that the Jets will need to bring back. Will young guns such as cornerback Marcus Williams and linebacker Josh Martin get another chance to prove themselves? Decisions like that will be crucial.
Before the Jets make decisions in outside free agency, they will need to decide what direction they want to go in as an organization. Are they going to look to salvage their veteran roster and attempt to be a playoff contender, or rebuild in hopes of having sustainable success down the line?
If the Jets decided to go with the former, they will need to find some nice veteran free agents who can fill the many holes that the Jets roster has. This includes the quarterback position where Redskins signal caller Kirk Cousins is the only notable veteran name. This strategy could prove to be troublesome if the Jets don't handle it perfectly.
If Gang Green goes with the latter, they will want to make a splash by finding some young and promising free agents. Names such as cornerback Stephon Gilmore, linebacker Manti Te'o and wide receiver Michael Floyd will come up in that discussion. This strategy might take some patience, but it would certainly be very sensible given the current state of the Jets' roster.
Last but not least, there's the event that many struggling teams cannot wait for, the 2017 NFL Draft. This draft will be nothing short of crucial for the Jets. Maccagnan must prove his ability as a scout by finding some great young prospects, who can be the future of the Jets.
Next: Could Nick Mangold end up on injured reserve?
With all of these factors being noted, it is clear that the 2017 offseason will be one of great importance for the Jets. If they fail to make the smartest moves possible, it could haunt them for seasons to come.