Top 5 reasons Jets should stick with Todd Bowles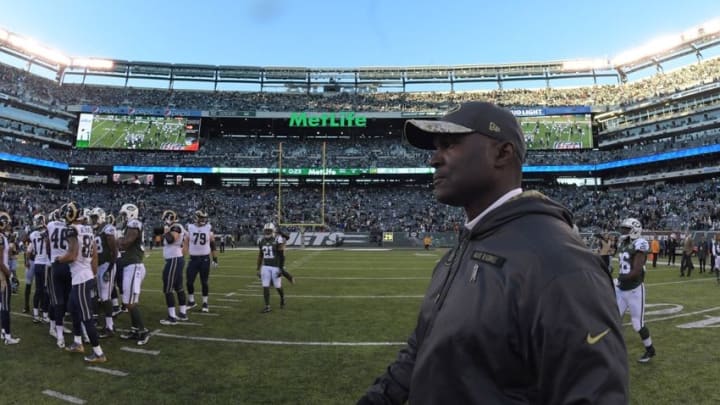 Nov 13, 2016; East Rutherford, NJ, USA; New York Jets coach Todd Bowles walks off the field after a NFL football game against the Los Angeles Rams at MetLife Stadium. The Rams defeated the Jets 9-6. Mandatory Credit: Kirby Lee-USA TODAY Sports /
The New York Jets haven't lived up to their expectations this season but under no circumstances should they part ways with head coach Todd Bowles anytime soon.
new york jets /
Nov 13, 2016; East Rutherford, NJ, USA; New York Jets coach Todd Bowles walks off the field after a NFL football game against the Los Angeles Rams at MetLife Stadium. The Rams defeated the Jets 9-6. Mandatory Credit: Kirby Lee-USA TODAY Sports
The New York Jets are stuck behind a rock and a hard place. As they enter their bye in Week 11, all eyes will be on what kind of team returns for Week 12. This won't be just another ordinary game, they have a big home game at MetLife Stadium with the AFC East-leading New England Patriots.
Related Story: Jets should stay away from quarterbacks past their prime
Make no mistake about it, with their troubling situation at quarterback, a defense that lacks aggression, and coaching decisions that make no sense, the Jets need to salvage something this season.
Whether it's starting more of their younger players to get great evaluations for the future or changing offensive/defensive schemes in a much more effective manner, the Jets should hopefully have something worth mentioning during the offseason.
Head coach Todd Bowles has been in the crosshairs as of late but it would actually be a big mistake to remove him so early in his tenure with the Jets. Don't let this season fool you as he's still the right guy for the job.
Without further ado, here are the top five reasons the Jets should actually stick with Bowles over the next few years.
Next: 5. Can't control player injuries
new york jets /
Sep 11, 2016; East Rutherford, NJ, USA; New York Jets wide receiver Eric Decker (87) reacts after an incomplete pass during the fourth quarter against the Cincinnati Bengals at MetLife Stadium. Mandatory Credit: Brad Penner-USA TODAY Sports
5. Can't control player injuries
Injuries will always and forever be a part of football. It comes with the sport we all love and well, Bowles can't help but also suffer when impact players go down due to injury. A head coach can't control player injuries when they happen on the gridiron with replacements that won't produce nearly as much when it matters most.
Needless to say, the Jets offense has stumbled due to the loss of wide receiver Eric Decker. He was such an underrated part of the offense that his absence has clearly been felt across the unit. Even without center Nick Mangold holding down the fort on the Jets offensive line, everything is all out of sync.
While Bowles gets all eyes on him for the lackluster results of the Jets so far this season, he shouldn't be released due to it. The Jets could have done a better job securing better depth but that doesn't fall on Bowles as much as it does general manager Mike Maccagnan.
Bowles has the respect of the locker room and it takes at least two, possibly even three years to truly establish a culture. After all, he's fixing the mess created by former head coach Rex Ryan but again, injuries come with the territory.
Next: 4. Dealing with overpaid distractions
new york jets /
Aug 4, 2016; Florham Park, NJ, USA; New York Jets defensive end Muhammad Wilkerson (96) answers questions from media after practice at Atlantic Health Jets Training Center. Mandatory Credit: Noah K. Murray-USA TODAY Sports
4. Dealing with overpaid distractions
As previously mentioned, it takes a number of years to truly build a culture. One that has accountability and success. While some may think Bowles has a chaotic locker room, it's far from reality. He's held players accountable to a degree by benching them so they understand that coming late to meetings or not even at all is unacceptable.
With players like Muhammad Wilkerson and Sheldon Richardson, their time and attendance issues will come back to haunt them in the future. While it would be shocking to see the Jets trade Wilkerson after they gave him a massive contract for the long-term last offseason, expect to see Richardson dealt this upcoming offseason.
More from The Jet Press
Richardson undoubtedly hasn't played up to his usual standards ever since he was rumored to have been shopped around before the NFL trade deadline. He has a chip on his shoulder and players like that can become locker room distractions in the future. Hopefully, Wilkerson got the memo and can focus on the task at hand.
Bowles will easily bring in players that understand what is important and mold those currently in the locker room to share that same vision. Again, it takes a lot of time to get everyone on board and to release Bowles after just two seasons would be ridiculous of the Jets.
Next: 3. Established quarterback situation
3. Established quarterback situation
The best teams in the NFL all have an established quarterback situation. It's hard for a head coach to find that consistent rhythm in the grand scheme of things when a franchise doesn't have a consistent quarterback under center for years at a time.
Hopefully, the Jets have something in either Bryce Petty or Christian Hackenberg. It won't be easy but they need a franchise quarterback that is established and ready to deliver for Bowles to focus on the team as a whole.
The Jets record is what it is because, without an offense capable of scoring touchdowns and winning the time of possession battle, it's hard to actually win football games. While Ryan Fitzpatrick isn't all to blame for the woes this season, he has a large chunk of it.
The money the Jets wasted on him could have been spent on securing better players on their offensive line, defensive secondary, and even wide receivers. Hopefully, they learned a lesson and will stick with the quarterbacks they have now to have stability at the position.
Next: 2. More experience needed
new york jets /
Oct 17, 2016; Glendale, AZ, USA; New York Jets head coach Todd Bowles against the Arizona Cardinals at University of Phoenix Stadium. Mandatory Credit: Mark J. Rebilas-USA TODAY Sports
2. More experience needed
Remember, Bowles is still somewhat new to the job. He was always a defensive-minded coach and before he was promoted, was the defensive coordinator of the Arizona Cardinals. Just like any new job, it takes at least two to three years to get used to everything that comes with the position.
Bowles had a very good rookie season as head coach of the Jets and is in a sophomore slump. He's made a number of mind-boggling mistakes so far but again, deserves the benefit of the doubt. We all make mistakes from time to time and he's definitely improved from last year.
Giving Bowles another year or two at the helm will only let him continue to get better. He'll learn some, make mistakes again since he isn't perfect but hopefully, can put everything together to find that winning formula. His style of coaching is still much better than what the Jets had to deal with in their previous regime.
It's important that the more time Bowles has to put his thumbprint on the organization, it will bring long-term success down the road. Once he gets players that fit his culture and everyone on the same page, he will undoubtedly prosper.
Next: 1. Rome wasn't built in a day
new york jets /
Aug 11, 2016; East Rutherford, NJ, USA; New York Jets head coach Todd Bowles during the 1st half of the preseason game against the Jacksonville Jaguars at MetLife Stadium. The Jets won, 17-13. Mandatory Credit: Vincent Carchietta-USA TODAY Sports
1. Rome wasn't built in a day
Championship teams aren't built overnight. It would be silly for the Jets to dismiss everything Bowles has brought to the table based on just this season. Yes, this year has been a complete and utter disaster but kudos for Bowles in sticking with the plan each and every week.
It's not easy being a head coach in the big apple as the turnover rate is pretty high. Bowles should be safe though heading into next season. All he can do now is keep his team fighting from here on out and hope to squeeze in a few more wins with his underachieving team.
Rome wasn't built in a day and the Jets look like they might have regressed a few years based on what the football world has seen so far this season. It's important to note that Bowles can only go as far as his talent takes him after he's coached and trained them to be committed towards greatness.
Must Read: Darrelle Revis is playing to avoid injury in 2016
It's best the Jets stick with Bowles for at least another few years and give him the pieces he needs to succeed. Looking at some early offseason areas of opportunity, it's all about getting younger and players looking to make an impact. Bowles should be the head coach leading them all throughout the way.