Jets continues to leave fans at a loss for words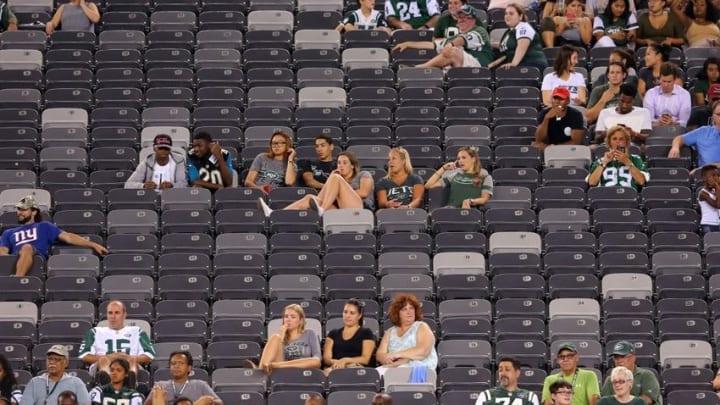 Aug 11, 2016; East Rutherford, NJ, USA; Fans watch during the fourth quarter of a preseason game between the Jacksonville Jaguars and the New York Jets at MetLife Stadium. Mandatory Credit: Brad Penner-USA TODAY Sports /
As the season of the New York Jets continues to head into a downward spiral, the franchise continues to leave their fans with a loss for words.
I have been a diehard New York Jets fan since five-years-old. I have lived and breathed the New York Jets in every way imaginable. I've worn jerseys dating back to Laveranues Coles and Chad Pennington; saw the infamous Mark Sanchez  butt fumble in person, and have witnessed countless Tom Brady game-winning drives.
Related Story: Top 5 reasons why season will be a failure for Jets
I've gone to training camp and opening day for years. I didn't mind sitting in the cold, the rain or the snow cheering the Jets on. I even lost my voice screaming for them through the toughest of times. I've been writing about their games this season since before preseason even kicked off.
Another week, another loss, no shocker. The Jets traveled to Arizona and got destroyed, 28-3. Utterly pathetic. After the game, Brandon Marshall summed it up perfectly: "The reality is that we're not a good team right now," Marshall said, per Ben Shpigel of the New York Times. "That's the reality. You got to deal with reality."
The Jets have suffered four consecutive losses by a total score of 110-36, their offense scoring just three touchdowns in the last three games and a defense that has been asleep at the wheel.
More from The Jet Press
It's evident that the Gang Green fans have officially hit rock bottom, as we are now actually embracing the return of Geno Smith to the starting quarterback role.
Ironically the very same player who led the team to an 11-18 record with 36 interceptions as a starter.
In next week's game, the Baltimore Ravens come to MetLife Stadium after losing three straight games of their own. If the Jets do lose a fifth straight game this Sunday and drop to 1-6, one can only assume head coach
If the Jets do lose a fifth straight game this Sunday and drop to 1-6, one can only assume head coach Todd Bowles and the rest of the coaching staff will be in the "hot seat".
Must Read: Todd Bowles must man up or pack up with Jets
I'm truly struggling this week with absolutely nothing positive to say, at least for now. My loyalty remains yet my hope is waning as another dismal season is upon us.