Mike Maccagnan already scouting DeShone Kizer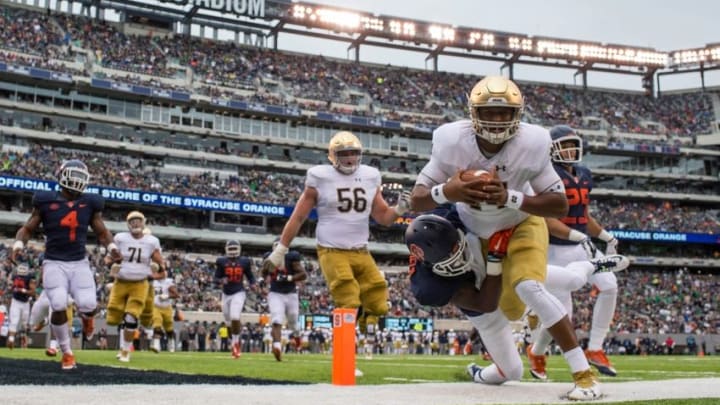 Oct 1, 2016; East Rutherford, NJ, USA; Notre Dame Fighting Irish quarterback DeShone Kizer (14) is tackled by Syracuse Orange cornerback Corey Winfield (11) in the first quarter at MetLife Stadium. Mandatory Credit: Matt Cashore-USA TODAY Sports /
It's no secret the New York Jets are still searching for their franchise quarterback. With concern at the position after last week's debacle in Kansas City, are the Jets already exploring potential options for 2017?
The New York Jets may have gotten a glimpse of the future on Saturday. With a familiar backdrop, general manager Mike Maccagnan was spotted patrolling the same sidelines the staff he put together will patrol on Sunday against the Seattle Seahawks. He wasn't watching the Jets prepare for today's game, but doing what's he known to do best: scouting.
Related Story: Top 3 prospects Jets should scout in 2017 NFL Draft
Jets GM Mike Maccagnan was on the sideline. Seemed to be taking a particular interest in this guy. pic.twitter.com/VKhRrW8BsZ
— Ralph D. Russo (@ralphDrussoAP) October 1, 2016
AP reporter Ralph Russo reported that Maccagnan appeared to be interested in quarterback DeShone Kizer of Notre Dame. Could have this simply been due diligence, or are the Jets looking to draft yet another quarterback in 2017? When asked about the 2016 quarterback class, Maccagnan called it
When asked about the 2016 quarterback class, Maccagnan called it "average" as per Darryl Slater of NJ.com.
The Jets took one of the quarterbacks from an "average" draft class in the second round. With current Jets' quarterback Ryan Fitzpatrick having the worst game of his career last week, they may already be planning for 2017 without him.
It makes perfect sense, as Fitzpatrick decided to gamble on himself with a one- year/$12M deal. So far, the journeyman has not done enough to show why he's worth another contract. Given that the Jets still have not found the solution to the 50-year-old problem, you can't blame Maccagnan for having a look at Kizer.
Kizer is a presence in the pocket. He has the build of a quarterback, at 6'4″, 230 pounds, the arm talent, and running ability.
There is simply a presence about him. The Jets have not had a QB with a "presence" in a long time. While it's hard to translate presence in college to success at the next level, the Jets might as well give it yet another try.
More from The Jet Press
At his best, Kizer's throws have touch, a perfect spiral, and seem to hit the receivers perfectly in stride. To go along with his ability to move outside of the pocket, this is a lethal combination. Kizer has faced his fair share of adversity. With high expectations coming
Kizer has faced his fair share of adversity. With high expectations coming into the season, the Fighting Irish found themselves sitting at 1-3 coming into a MetLife matchup with the 2-2 Syracuse Orange.
At the beginning of this season, Kizer even shared some reps at quarterback. Maybe the Jets need someone who's been through highs and lows at the previous level so that he can better handle it at the NFL level. Kizer fits that bill.
Being the quarterback at a football-crazed school like Notre Dame also comes with attention, fanfare, and a lot of things that can be overwhelming to a 20-year-old kid. According to reports, Kizer handles himself in a way that has made him a leader for the team. After being told he would be the starter and not be sharing reps, Kizer was very humble. Kizer spoke of how much he learned "as a quarterback, a leader, and a teammate" over the previous 8 months.
The Jets new regime has preached competition.
Kizer is clearly a competitor. If you recall last year's matchup against Clemson, he led his team to a furious comeback attempt on Clemson's turf, also known as Death Valley, falling just short of victory in the end.
Must Read: Fantasy Football: Top 5 injuries to keep an eye on for Week 4
It speaks to his character. The Jets have gotten attached to certain quarterbacks in the past and have not found success with them. So there's no saying whether Kizer can solve the problems. If the Jets have a chance to draft Kizer, who's draft stock is quite high, then they should jump at the opportunity, and take another shot at yet another quarterback.