Jets News
Much more than just football on 9/11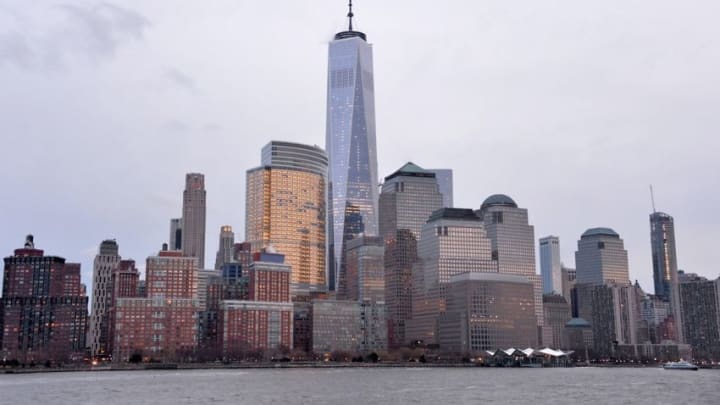 Feb 20, 2016; New York, NY, USA; General view of the Freedom Tower (World Trade Center) and the Manhattan skyline along the Hudson River. Mandatory Credit: Kirby Lee-USA TODAY Sports
As fans prepare for the Bengals vs Jets Week 1 season opener, this contest is much more than just a football game on the anniversary of 9/11.
Words can't begin to tell you just how excited I am for this Bengals vs Jets Week 1 game. It seems like it was yesterday I was reading NFL Draft scout reports and thinking about those hot summer days during training camp.
Related Story: Top 25 Bold Predictions For New York Jets In 2016
Well, that time is finally here. Months of patiently waiting and hundreds of articles later, the season opener of the New York Jets is finally here. It also falls on the anniversary of the 9/11 terror attacks. I'll never forget where I was when those horrific events happened.
Right before I was heading to school that day at Queensborough College, I always had a ritual with my aunts where I'd spend time at their place eating breakfast before a long day of school awaited me. I've always been that kind of student that if class started at 12:00pm, I was there at least two hours early. To me, that was being on time for class.
On 9/11 however, I woke up earlier than usual to get my breakfast and day started right. I love to watch the news, especially on the local NY1 channel. As we were all eating, talking, and discussing what was going on, the first plane hit one of the towers of the World Trade Center.
More from The Jet Press
At first, we all thought perhaps it was a fire or an explosion from within.
As everything was confirmed to be terrorist attacks in that NY1 broadcast, to literally see another airplane hit the second tower, I knew then and there something was terribly wrong.
I've never witnessed terrorist attacks of such magnitude and let me tell you, it was a scary situation to be in.
We all went silent and tried to process everything that was happening.
Once it was confirmed to be terrorist attacks, I knew it was best to stay home since nobody knew what would happen next.
Everything happened so quickly and I just felt empty inside. To see so many lives lost, people jumping out of the World Trade Center due to all the smoke/fire, it was a tragic day I'll never forget for the rest of my life.
For those that know me personally, you all know how much I value music, especially my heavy metal. You'll rarely see me in public without my headphones on listening to music. Yes, behind my glasses, suit, and tie, lies a metal head that loves his Slayer, Iron Maiden, and Megadeth. Yet after the events of 9/11, I couldn't even listen to any music whatsoever.
I literally went days without any kind of music since I was just filled with such sadness and truly afraid of what if more attacks happened at any given moment thereafter. One of my main escapes from the everyday obstacles of life wasn't there for me anymore. Yet, another escape was trying to come back to give me and countless others a distraction from these events.
bengals vs jets
Feb 19, 2016; New York, NY, USA; General view of Times Square and the Manhattan skyline. Mandatory Credit: Kirby Lee-USA TODAY Sports
It was hard for any major sports teams in New York to go back to how things were before these events but it needed to happen. Sports have always given fans a distraction from pointless jobs, relationship problems, and just finding something to smile about when the going gets tough.
Football has done that for many fans across the globe, especially yours truly. When I was able to see the Jets play after these events since they adamantly as a team refused to play that weekend out of respect, emotions were high the following weekend.
As I watched the Jets head to Foxborough to play the New England Patriots, a part of me knew they would absolutely win that game. Heck, when I saw Mike Piazza hit that home run for the New York Mets after the 9/11 attacks, it sent chills down my spine and made me realize if just for a little, everything would be okay. That brief moment truly helped me forget about everything and realize that this city would bounce back in no time.
The Jets did indeed beat the Patriots after 9/11 to the tune of 10-3. To see running back Curtis Martin rush for that touchdown to put the Jets up in that game, made me know they would leave that game victorious. Fast forward 15 years later and those emotions are still there. It's hard for me to even on this day remember everything that transpired on 9/11.
As a native New Yorker, I've spent 34 years in the city that never sleeps. I was born, bred, and raised here and have a deep respect for everything and anything about this city. The 9/11 attacks truly made me appreciate what all the NYPD, FDNY, and Armed Forces everywhere do on a daily basis. This Bengals vs Jets game today is much more than just a football game to me.
must read: Bengals vs Jets: Comprehensive Week 1 Primer
On this anniversary of 9/11, it's all about never taking anything for granted and keeping the memories of those that passed away remembered forever. Take a step back today and have a moment of silence for them as their memory will live on for the rest of time. Football is indeed family as it helps keep everyone together during tough times like America endured 15 years ago.