What can we expect in second year of Todd Bowles?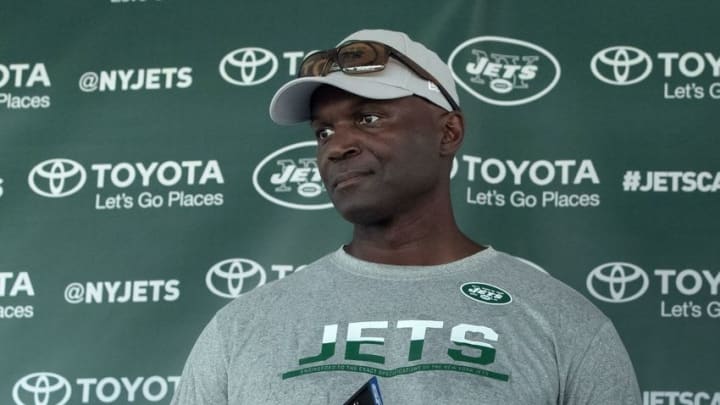 Jul 28, 2016; Florham Park, NJ, USA; New York Jets head coach Todd Bowles speaks to the media during training camp at Atlantic Health Jets Training Center. Mandatory Credit: Vincent Carchietta-USA TODAY Sports /
As the New York Jets prepare to be ready for the upcoming regular season, what can be expected of head coach Todd Bowles entering his second year? Expectations are good based on the history of the position for the franchise.
All the drama of contracts, hold outs and franchise tags is now done. Quarterback Ryan Fitzpatrick is back for this season and defensive end Muhammad Wilkerson will be here for the foreseeable future. So now that all the pieces to the puzzle fit, what can we expect of the New York Jets in 2016?
Related Story: Todd Bowles sets record straight on quarterbacks
Well, first off, let's give a round of applause to general manager Mike Maccagnan. He brought back the two players that needed to be back this season and did so without overpaying or over-promising. The other great thing is the Jets did not compromise their salary cap and will still be able to re-sign other potential impact draft picks when their rookie contracts are up.
Now, on to the season.
Well, the first thing that makes Jets fans cringe is the incredibly tough schedule, especially early. As I mentioned in my TWO other articles on the 2016 season, here are the top five key issues they'll be facing and also five warning signs to be careful of.
The prime-time schedule they face and the AFC & NFC divisions they will go up against are extremely tough. Five of their first six games of the season are against opponents that won double-digits in 2015. While one of their main divisional games are against the only team that beat them twice last season in the Buffalo Bills
More from The Jet Press
For this article I decided to take a different approach.
Head coach Todd Bowles is entering his second season so I decided to take a look at how other coaches have done in their second season with the Jets.
What we know about head coaches of the Jets is that before Bill Parcells, no head coach had ever left the Jets having had a winning record.
Entering this season, Parcells remains the only Jets head coach in team history to coach more than one season and have more wins than losses.
Knowing that, the recent history of second year head coaches for the Jets doesn't sound to promising, however the opposite is true.
Since the Parcells era started (1997 season), including the Big Tuna, there have been four head coaches who lasted more than one season (Al Groh resigned to take the head coaching job at Virginia after coaching the 2000 season).
If you like trends and think that the past is a great indication of what we can expect for the future, then fans of the Jets have a lot to look forward to and expect this season. Of the four head coaches, three of them posted winning records in year two and they combined for a .563 winning percentage (36-28).
new york jets /
Sep 20, 2015; East Rutherford, NJ, USA; Former New York Giants head coach Bill Parcells speaks on stage during half time ceremony honoring the 25th anniversary of their championship at MetLife Stadium. Mandatory Credit: Ed Mulholland-USA TODAY Sports
Among the accomplishments for those seasons include setting the franchise record for most wins in a season (12 by Parcells/1998 team), the only two AFC East division titles in franchise history (Parcells 1998 team and Herm Edwards 2002 team) and the only time the franchise earned a first round bye (1998).
Looking at franchise history it is very safe to say that year two has recorded the most successful seasons in Jets history.
Okay, so now that we know that, how on Earth does that help the Jets this season? Or in other words, what is the reason why year two has been so successful  for the last few head coaches?
Obviously, each coach had different issues and situations they were dealing with, but comparing any of those previous head coaching situations to Bowles current one you find expectations high in each scenario. Here are a few other similarities:
Rough early season schedule – In 1998, five of the Jets first eight games were against playoff teams from the previous season or for that season, including road games against both teams who finished with their conferences best record (at San Francisco and at Kansas City).  In 2007 (the only season in the post Parcells era where year 2 resulted in a losing record), four of the first six games were against the previous seasons division winners or playoff participants. In 2010, four of the first seven games were against the previous seasons playoff participants.
Rough starts – In three of those seasons the Jets did not start out well. In 1998, they started 0-2 and 2-3. In 2002 they started 1-4 and 2-5, while in 2007 they started 1-8.  In 1998 and 2002, they recovered to dominate down the stretch and win division titles.
must read: Early impressions of Freddie Bishop
While no one can predict how a season will finish before it starts, Jets fans can at least cling to one great fact. Other head coaches in their second year with expectations high and tough schedules, did pretty well.