Training camp altercation unites Jets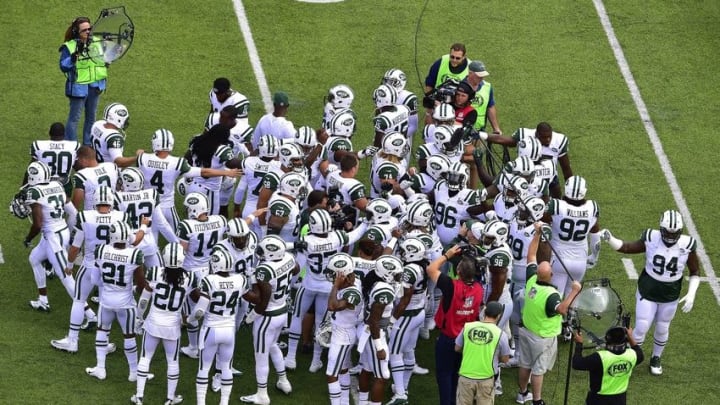 Sep 27, 2015; East Rutherford, NJ, USA; The New York Jets huddle during warms ups prior to a game against the Philadelphia Eagles at MetLife Stadium. Mandatory Credit: Steven Ryan-USA TODAY Sports /
During training camp of the New York Jets, Darrelle Revis and Brandon Marshall got into an altercation. Since then, it has helped unite the team moving forward.
This past Friday at the training camp facility of the New York Jets, tempers flared between two teammates during scrimmage. The green and white crowd fell silent as punches were thrown during practice between cornerback Darrelle Revis and wide receiver Brandon Marshall, both seasoned veterans and consistent all-star caliber players. Two of the best in the game, a true NFL fan would understand that players just get heated in the moment but it's nothing to fret about.
Related Story: Emotions get the best of Brandon Marshall
Quarterback Ryan Fitzpatrick, an 11-year veteran out of Harvard, and the current starting quarterback, is fully aware of how tensions can escalate on the field. "It was a good, high-energy, competitive practice," Jets quarterback Ryan Fitzpatrick said Saturday of the Revis-Marshall matchup the day before, per Lorenzo Reyes of USA Today. "I think sometimes things can be overblown a little bit, but that's all we took it as players."
It was only one year ago, in that same locker room of the Jets, when linebacker IK Enemkpali threw a nasty sucker punch that shattered quarterback Geno Smith's jaw. It resulted in his immediate dismissal from the team and the end to his term as the starting quarterback of the Jets.
So when head coach Todd Bowles took the microphone following the incident, fans expected a disciplinary persona from the second-year head coach. However, Bowles knows his players well enough and acknowledged that this scene is just part of the typical game, here's what he said, courtesy of the Media Relations Department of the Jets:
"There was a lot of chippiness going on out there. . . . It's that time of camp. You hit each other for enough times, people get frustrated," Bowles said. "We like the motivation. We like the spirit of practice, but we're not going to punch anybody. You can talk as much as you want. You're going to get that on Sundays, but other than that, it was fine."
In regard to the Revis-Marshall feud in particular, Bowles continued.
"They're competing," Bowles said, per Mike Florio of NBC Sports. "I mean, you love them competing. You need some motivation. You are going to get pissed off at camp as a player. It's not charm school. You're going to play football, and both of them got to where they were from making plays and not backing down. Neither player is going to back down. We like that about the competitiveness. You just got to keep it clean, and for the most part they did. . . ."   
More from The Jet Press
Marshall's history of practice and in-game scraps dates back to his tenure with the Chicago Bears.
Towards the end of his final season with the team, he made headlines by calling out quarterback Jay Cutler and ripping him for his poor performance.
Questions swarmed the locker room regarding the current team atmosphere, as well as the abilities of the coaching staff, ultimately resulting in Marshall's trade to the Jets that offseason.
And the tension with Revis intensified after the same kind of trash talk last Friday.
Marshall admitted that he brought up last year's game against the Houston Texans, one of Revis' worst performances of his career, when wideout DeAndre Hopkins burned him for 118 yards on five receptions. Combine that with two touchdowns in a loss, fans and analysts wondered what happened to Revis. However, Revis blew off the media's spin, saying it was just good, hard, passionate football.
As history shows, occasional in-fighting can motivate and spark a team, bringing out the passion for the game. In fact, some of the best duos in all of sports had scuffles during their time. In 1995, Michael Jordan actually punched Steve Kerr during a Chicago Bulls practice; the duo won five championships together.
In 2008, Manny Ramirez and Kevin Youkilis exchanged words and began shoving each other around the dugout; the duo won a World Series championship in 2005. And even last year, in training camp, Cam Newton and Josh Norman got into an aggressive brawl following a Norman interception; and the duo made it to the Super Bowl. Sure, things get chippy and tempers flare.
Between teammates, character is built and bonds are cultivated.
must read: Bryce Petty will beat out Geno Smith
As crazy as it sounds, this Revis-Marshall scuffle may ultimately have a positive impact on the team coming together as a unit. This team relies on players to be tremendous assets to a potential Super Bowl run. Plus with the rest of the squad behind them, the Jets could be looking at something special in spite of the off-field shenanigans.