Finding the perfect returner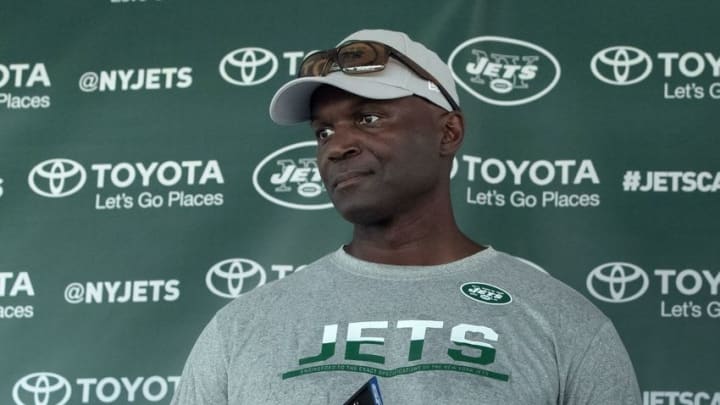 Jul 28, 2016; Florham Park, NJ, USA; New York Jets head coach Todd Bowles speaks to the media during training camp at Atlantic Health Jets Training Center. Mandatory Credit: Vincent Carchietta-USA TODAY Sports /
For the New York Jets, the most underrated task in training camp is finding the perfect returner. A problem they've struggled with over the years.
The New York Jets have had special team issues for years, particularly when it comes to the return game. The Jets haven't had a successful kick or punt return touchdown since 2012, when Jeremy Kerley had his lone punt return touchdown of his career and Joe McKnight had his one and only kick return touchdown.
Related Story: Top 5 undrafted free agents to root for at camp
You can't blame the Jets for lack of trying, they've had no short of 17 different return man since 2012. So what's the formula for finally finding the perfect return man? Head coach Todd Bowles was asked about what he wants to see during training camp to separate some of these return men. Here's what he had to say, courtesy of the Media Relations Department of the Jets:
On what he wants to see from the return candidates in practice before they get into a game setting…
Right now it's ball security. It's all about catching the ball clean and not bobbling it, and understanding where you are, and see who shatters and shakes when the gunners come down and stand in front of them. Who's going to panic? Who's not going to panic? And then the rest of it you're going to have to see in the game.
More from The Jet Press
In terms of all the qualities that are considered, this may be simplistic, but it's the most important by far.
It was clearly an issue at times for the Jets last season and potentially cost them a game or two.
From the Devin Smith fumble that was scooped-and-scored for a touchdown in the first match-up with Buffalo (a game they lost by five points), to having captain fair-catch in Kerley who accounted for 86% of the Jets fair catches last season, it's important to add that dynamic to the team.
The Jets haven't had a dangerous return man since Brad Smith as it's about time they find a guy who can strike fear into opposing team's special teams units. Heading into 2016, there is a list of options for the Jets brass to choose from.
From fan-favorite in Jalin Marshall, to former Bill Kyle Williams, Bowles reiterated in his press conference that he doesn't want any "one-trick-ponies" on the team. Which means if these guys can only return, you won't see them on the team this fall.
Fortunately, both of the aforementioned players are all-around special team aces. Plus with Kerley signing on with the Detroit Lions and cornerback Antonio Cromartie getting released, it's a guarantee that there will be a new guy returning for the Jets this upcoming season.
must read: Breaking down kicker situation
Something to pay attention to as the Jets wade through the rest of training camp and the preseason is who wins the return job. Hopefully the task of finding the perfect returner becomes easier with someone stepping up to the plate and seizing the moment.