NY Jets: Zach Wilson ahead of Trevor Lawrence in Chris Simms' QB rankings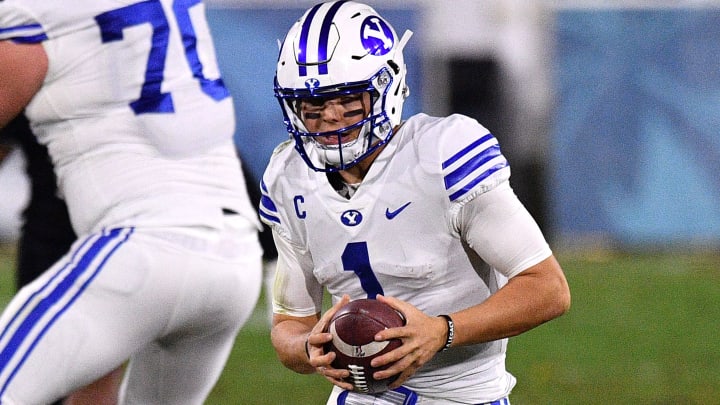 NY Jets, Zach Wilson / Mark Brown/Getty Images
NY Jets' quarterback Zach Wilson will, for the rest of his NFL career, be compared to the player who was taken one spot before him in the 2021 NFL Draft — Trevor Lawrence.
Is it fair? Is it right? Probably not, but that won't stop the comparisons from following both players.
NFL analyst, and former pro quarterback, Chris Simms has slowly begun to release his list of the top-40 quarterbacks in the NFL, as he does every year.
And he raised a few eyebrows when he ranked Wilson one spot ahead of Lawrence on his annual list. Wilson came in as the No. 27 quarterback on Simms' list while Lawrence was ranked 28th.
Chris Simms has notably been very high on Zach Wilson
To those who have listened to Simms and his analysis of the quarterbacks in the 2021 NFL Draft class in the past, this should come as no surprise.
Simms famously had Wilson ranked as his QB1 ahead of Lawrence who was the consensus best player in the class and someone who has widely been viewed as a generational talent.
Despite this, Simms is higher on Wilson than he is Lawrence and their placement in his rankings indicates that.
Wilson is the highest rookie quarterback in Simms' rankings with third overall pick Trey Lance coming in at No. 38 and 11th overall pick Justin Fields ranking right behind him at No. 39.
Simms has been Wilson's No. 1 supporter even comparing the former BYU star to Aaron Rodgers and Patrick Mahomes.
"My baseline for Wilson is Aaron Rodgers and Patrick Mahomes. That's where it starts. It is an unbelievably quick release. It's the ability to throw the ball any which way he wants — sidearm, over the top, jumping in the air, two feet off the ground, throwing between a guard and a tackle 25 yards down the middle. The arm strength is phenomenal. He can throw 40-yard lasers into a Cover 2 hole. He can throw 60-, 70-yard-bomb posts down the middle and he doesn't need to get his whole body into it. I was blown away."

- Chris Simms, on Zach Wilson
Other notable quarterbacks who Wilson ranked ahead of are Tua Tagovailoa of the Miami Dolphins who Simms had at 34 and Mac Jones of the New England Patriots who was ranked 30th.
Simms is widely known for his somewhat outlandish quarterback takes and this year has been no different. He even had third-round pick Kellen Mond ranked ahead of both Lance and Fields in his top-40 rankings.
It's certainly best to take this with a grain of salt. And, of course, his rankings don't mean anything.
But what they do show is that the Zach Wilson/Trevor Lawrence comparisons are going to follow both quarterbacks for the remainder of the respective careers.
Such is the case with two highly-rated quarterback prospects taken with the first two picks in a draft.
The Jets will be hoping that Wilson lives up to his potential and maybe, just maybe, proves Chris Simms right.