NY Jets: Marcus Maye and a few others who could be traded at the deadline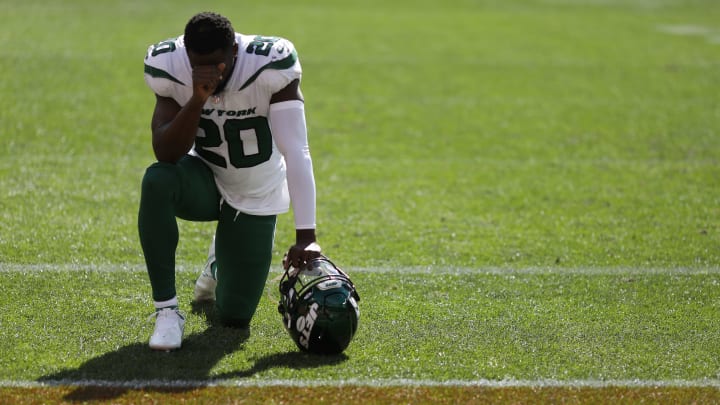 NY Jets, Marcus Maye / Justin Edmonds/Getty Images
NY Jets, Jamison Crowder / Benjamin Solomon/Getty Images
2. Jamison Crowder, WR, NY Jets
A lot like the Marcus Maye situation, this one also seems inevitable. Jamison Crowder will not be back with the New York Jets in 2022.
And although, the established veteran slot receiver could be helpful as a safety net for rookie QB Zach Wilson, it's likely that if a team makes the right offer to Douglas, that New York will ship Crowder away.
There are some people close to the Jets organization that have floated the possibility that Crowder has been held out of the team's first three games, specifically because the team has been looking to deal him.
Conspiracy theories aside, Crowder is one of the few players on the Jets who would bring value to several NFL offenses. The reliable and respected veteran is one of the most underrated slot receivers in the league, who also provides added value as a punt returner.
Contending teams like the Denver Broncos or the San Francisco 49ers could be interested in adding Crowder as a complementary piece to their passing attacks.
Denver, in particular, has suffered injuries at receiver and could use an inside weapon to complement their big-play receivers on the outside.
The question, as always, will be the level of compensation and value.
Many followers of the Jets will suggest not trading prominent players for anything less than a third-round pick based on the compensatory pick formula. But the problem with that is two-fold.
Firstly, any compensatory selections awarded are not until a year later. And most importantly, the Jets figure to be significant spenders in free agency. So meeting the formula necessary in terms of losses versus gains in free agency is very unlikely.
A reasonable asking price for Crowder's services is what will facilitate a deal happening in the first place. And with Crowder due for free agency at the end of the year, despite him being a valuable presence on the field and off, I wouldn't expect the Jets to get a lot in return for him.
The question then becomes, does Jamison Crowder have more value to the Jets playing for them this year than a Day 3 pick would have in 2022? Based on how poorly, the Jets receivers have played with Zach Wilson, the answer is probably yes.