NY Jets: Marcus Maye and a few others who could be traded at the deadline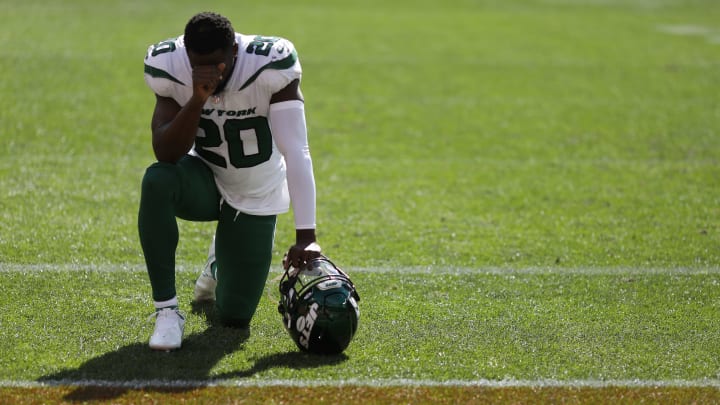 NY Jets, Marcus Maye / Justin Edmonds/Getty Images
NY Jets, Marcus Maye / Justin Edmonds/Getty Images
1. Marcus Maye, S, NY Jets
It's what Marcus Maye and his agent Erik Burkhardt want. An exit out of New York and a new long-term contract. Maye is not going to get that here with the Jets.
This movie sounds way too familiar for Jets fans. A star safety tired of losing, who is looking to abandon ship. But if we are being honest, this ending was spoiled a long time ago when Joe Douglas didn't bend to meet Maye's contractual demands.
Maye, like Jamal Adams, once he gets healthy, could get what he wants. And that's Douglas trading him before the deadline, provided that two things happen.
Firstly, a team meets the proper compensation for Maye. New York won't give Maye away for nothing. And the second hurdle might be a team's willingness to extend Marcus Maye now.
Hypothetically, if a team like the Dallas Cowboys wanted Maye, they would be hesitant to give up a valuable draft choice for a player they don't have locked in for the 2022 season and beyond.
Teams are less apt to part with a second or third-round pick if the player they receive is a rental for half a season.
Reading the tea leaves on this one since Maye was franchised at the start of free agency, his agent knows what teams were willing to give his client a long-term deal in free agency if the Jets hadn't given Maye the franchise tag.
So it's reasonable to assume that one or more suitors are out there hoping to land the 28-year old safety.
The main issue with a Maye trade, besides the financial and trade compensation, is making it work from a cap perspective.
Joe Douglas and the Jets might have to get creative to make a deal happen if a team is willing to employ a faith-based one-year rental with Maye.
A contending team like the Tampa Bay Buccaneers would have a hard time fitting Maye under their cap. Jets owner Woody Johnson might have to pick up the tab.
Any team that wants to lock up Maye long-term immediately will have a challenging time doing so now. Maye is commanding Jamal Adams/Justin Simmons type money.
He is looking to be one of the highest-paid safeties in all of football. Finding a team that is willing and can do that now will be difficult.
It's disheartening to see another quality homegrown player on the Jets be shown the door before a second contract is realized. But it's the reality of the acrimony between Maye and the team that drafted him.
There is no tomorrow for the Jets and Marcus Maye. The Jets don't want him back, not at his asking price, and Maye doesn't want to be with the team anymore.
You know things are bad for your football team when a player and his agent are celebrating getting injured. The 2020 Jets MVP and team captain wants to abandon the ship.