NY Jets news: Carl Lawson says he 'loves being a Jet'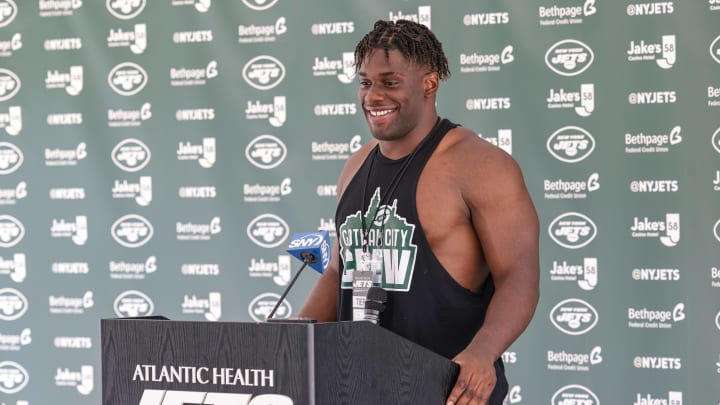 NY Jets, Carl Lawson / Vincent Carchietta-USA TODAY Sports
The NY Jets have been searching for a true star edge rusher since the days of John Abraham. But Carl Lawson has a chance to be the man who breaks their decades-long curse.
At least, that was the plan when they handed him a three-year, $45 million contract this offseason.
The Jets were ecstatic to have landed Lawson, a player they believed was among the best available in free agency this offseason. And just as the Jets are thrilled to have Lawson on their roster, the former Cincinnati Bengals defensive end is just as happy to be in New York.
Lawson and the Jets were treated to a warm reception by the fans who filled the Atlantic Health Jets Training Center for Saturday's training camp practice. And for Lawson, in particular, he seemed to have his own personal cheering section.
Lawson noticed the fans in attendance wearing his face on their shirts and he expressed his love and appreciation for Jets faithful.
Carl Lawson loves being a member of the NY Jets.
Given all the negative press the Jets have received over the years, it's certainly a welcome change of pace to see a player express his gratitude like this.
The Jets are used to players openly trashing the organization upon leaving, But the vibe seems to have changed at One Jets Drive.
The culture has seemingly changed.
It's been said before, sure. And the best way to build a winning culture is to, you know, win games. But there is something to be said for the overwhelming positivity and optimism emanating from Florham Park.
If the Jets are going to win games, they're going to need Lawson to live up to his contract. Given what we've seen so far in training camp, that might not be much of an issue.
Lawson has been one of the stars of training camp and his daily battles with Mekhi Becton have become must-see, even if he has tended to get the better of his younger teammate.
Carl Lawson is happy to be a Jet. And if he performs how he's expected to, the feeling will undoubtedly be mutual.