Jets News
The NY Jets must keep Jamison Crowder despite 'contract stuff'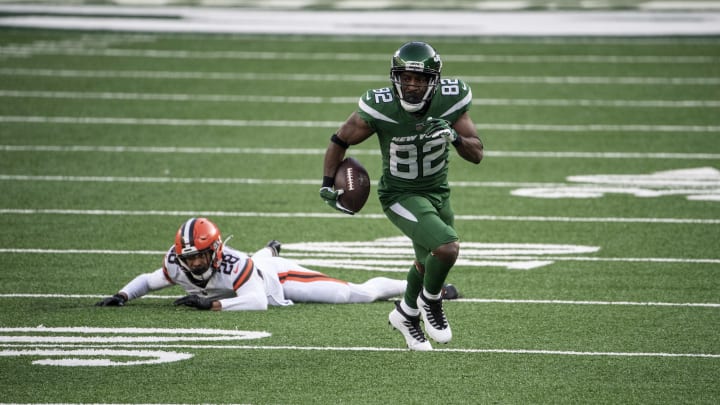 NY Jets, Jamison Crowder / Benjamin Solomon/Getty Images
The NY Jets will move on from wide receiver Jamison Crowder. It's inevitable. It's not a matter of if but when. And based on the information that is currently out there, Crowder's departure from the green and white could come sooner than it should.
Barring a trade that significantly helps the Jets improve another area of need, the team needs to keep Crowder. But the question is, when push comes to shove, will they?
And ultimately, that decision could come down to whether or not Jamison Crowder wants to return. 
Head coach Robert Saleh and general manager Joe Douglas are saying all the right things about wanting Crowder back in 2021. So much so that In recent days, Robert Saleh has painted an optimistic picture about that possibility.
" "We're really confident to get Jamison here quickly. When we do, he definitely has a role on this team.""

- Robert Saleh
That's exactly the messaging that you want to hear as a Jets fan, but the actions behind the scenes tell a different story. 
As things presently stand, Jamison Crowder is staying away from the Jets' organized team activities while both sides attempt to figure out a financial resolution.
Crowder is due to make $10 million in base pay this coming season. The salary is not guaranteed, and it's a hefty sum for a player who could be in a heated battle to crack the team's top rotation at receiver.
The Jets brass wants Jamison Crowder to take a pay cut, and understandably, he is staying away to avoid injury and is entertaining what his best options are in the future. A future that looks like it won't be with Gang Green beyond this coming season. 
At best, Crowder, who will be 28-years-old when the season starts, could return in 2021 to reclaim his starting slot receiver duties, but there's a chance that he could fall to fifth overall on the depth chart.
And maybe even third in the slot behind New York's second-round pick Elijah Moore and free-agent pickup Keelan Cole. 
That's why, although the Jets are among the league leaders in cap space (roughly $27 million), holdover veteran players on the team like Jamison Crowder are being squeezed. 
The NFL is a rough business, and franchises are quick to exact leverage on their players when they are in a position to do so. The New York Jets are no different. In recent weeks, another veteran on the Jets' roster, guard Alex Lewis, was forced to take a pay cut to remain on the team.  
Crowder has been the Jets' most reliable target in the passing game, but he could become a victim of the numbers game. In more ways than one, both financially and because the Jets wide receiver room has suddenly become very crowded.
The handwriting was on the wall for Crowder when the Jets' drafted former Ole Miss wide receiver Elijah Moore in April. New York's front office, scouting department, and new coaching staff red starred Moore as an ideal fit in their new offense.
They were elated when Elijah Moore fell to them at the top of the second round. A scenario that they didn't see happening when they traded up in the first round to draft USC lineman Alijah Vera-Tucker. 
Crowder is also a potential victim of the Jets' changes to their front office and coaching staff. He's part of a select few existing players on the roster that Joe Douglas did not acquire. The previous regime signed Crowder.
And he is battling against that while also having to win the favor of a new offensive coaching staff that is bringing with them an entirely different system. 
Many of the holdover players on the Jets roster will be in challenging situations this summer, trying to retain their spots over players who were handpicked over the last two years by the Jets front office and in this past offseason by the new coaching staff.
The NY Jets need to keep Jamison Crowder.
Chief among the reasons to bring Crowder back into the fold is Jets rookie quarterback Zach Wilson. The team's new franchise quarterback needs as many reliable options as possible in the passing game.
There is no such thing in today's NFL as having too many passing targets.
Zach Wilson, as a rookie, will go through plenty of ups and downs and what he needs is as much support as possible. On the night Wilson was drafted, his new head coach Robert Saleh had some words of encouragement for his new QB.
" "The biggest thing I want to tell you, remember this. This organization is going to lift you. Not the other way around.""

- Robert Saleh
The Jets' head coach and their entire organization need to live up to those words. If anything, the New York Jets franchise would be wise to avoid repeating the same mistakes they made with their former franchise quarterback Sam Darnold.
The Jets' current brass doesn't need to travel that far back into its past to learn from their failings in supporting their last franchise quarterback. The 2020 season should provide plenty of evidence for Douglas.
The NFL isn't the Madden video game where you can turn injuries off. A year ago, the Jets receiver situation, on paper, looked passable with Breshad Perriman, Denzel Mims, and Jamison Crowder as the team's top three options.
Still, injuries hit, and before you knew it, the Jets were trotting out players off the street (Chris Hogan) and receivers off their practice squad (Lawrence Cager) into key roles.
A year later, as things currently stand, the Jets are operating from a position of strength at the wide receiver position for the first time in a long time. Comparatively speaking, in terms of how poor they have been in this area in recent years.
However, even though things look pretty good on paper with a highly-touted rookie in Elijah Moore, the free-agent acquisitions of Corey Davis and Keelan Cole, and the potential ascent of second-year player Denzel Mims, there are still question marks with the entire group.
One thing that can't be questioned is Jamison Crowder's track record. Even with all the Jets improvements at the receiver spot, many can argue that Crowder is the team's most reliable and accomplished player at the position. 
One of the cardinal mistakes that bad teams make is undervaluing their own talent. Often, losing franchises will let a player walk because the feeling is that if they lost with him, he can't be that special, to begin with.
The NY Jets were 32nd in total offense last year, so it's easy for them to come to this conclusion. It's a mindset that led the Jets to lowball their best receiver, Robby Anderson, a year ago.
A mistake that helped derail Sam Darnold and the Jets offense, and one that Joe Douglas has taken ownership of. 
This type of "out with the old, in with the new" mentality occurs when teams go through an organizational makeover and philosophy shift, which the Jets have undergone significantly this year.
The players that the Jets drafted and signed this offseason are vastly different from even the players they acquired a year ago. Crowder is potentially a part of the "out with the old" crowd.
Crowder should be retained because he is reliable and provides too much value and insurance to the current roster and its new quarterback.
Barring a trade that nets New York draft capital or a front-line starting player, the franchise's cap relief will be window dressing at best if the team elects to part ways with Crowder.  
Jamison Crowder may or may not be a part of the Jets' future plans, but there is very little reason from a competitive standpoint that justifies not having him around in 2021.
"All Gas, No Brake" is the team's newly-adopted mantra, but an old one with a new twist, "Same Old Team, Same Old Mistakes" should be avoided.