NY Jets: The journey of Elijah Moore has only begun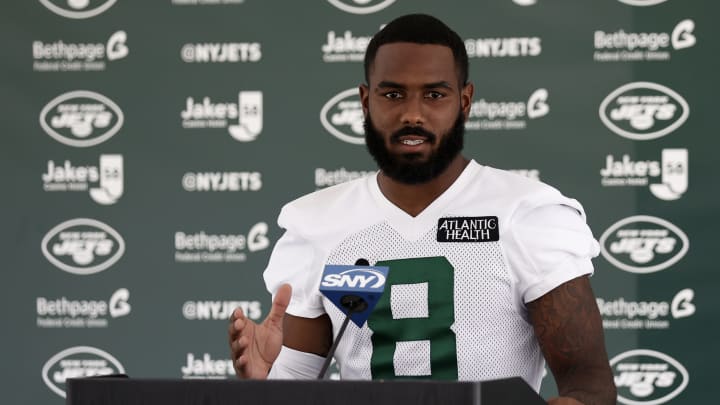 NY Jets, Elijah Moore / Adam Hunger/Getty Images
The NY Jets have been in training camp for over a week now, and there's been one particular player turning heads in camp and across the league, and that's Elijah Moore. Moore was taken with the 34th pick and looks like the steal of this year's draft. With NFL stars like Odell Beckham Jr. and Tyreek Hill praising him and his work ethic, you have to ask yourself, is this coincidence, or is Moore destined for greatness, and we just don't see it yet?
Moore was born and raised in Fort Lauderdale, Florida, where he attended Saint Thomas Aquinas High School. Moore, as a senior, recorded 28 catches and 407 yards with a cool five touchdowns. Despite Moore's senior season statistics not being crazy, he was named an Under Armour All-American.

Now, if I were to tell you that Moore wasn't highly recruited, I'd be lying. Moore had 33 total scholarship offers from prestigious football schools, including Alabama, Ohio State, LSU, and Georgia. Moore initially committed to the University of Georgia before changing his mind and committing to the University of Ole Miss in December of his senior season. 
Once committed to Ole Miss, Moore found himself in an exciting situation. He was now a part of one of America's best wide receiver rooms, with NFL Stars AJ Brown and DK Metcalf ahead of him on the depth chart. As the year progressed, Moore got close with both and has developed a brotherly bond with each of them.
Ultimately, learning behind two NFL stars helped set more up for a breakout sophomore season where Moore had 67 receptions on 850 yards with an impressive six touchdowns. Moore recently revealed in an article written by Nick Kosko of 24/7 Sports the advice his former Rebel teammates shared with him heading into training camp: "Every time we get on the phone, we talk about something legendary, I always say, My ears and eyes are always open. I'm on the call with them for hours a night. I'm really just blessed to have them, to give me tools and tips."
Moore proceeded to follow his impressive sophomore season performance with a historic season his junior year. In the season opener against Florida, Moore recorded ten receptions on 227 yards, the second-most in school history. During the remainder of the season, Moore set a school record for receiving yards in a single game at 238 while tying Ole Miss game records in receptions (14) and touchdowns in a single game where he recorded three against Vanderbilt on October 31st.
After Moore finished his junior year at Ole Miss, he decided it was time to go to the pros and officially declare for the NFL draft. Teams in need of wide receivers overlooked Moore. Still, luckily for the Jets, that was the case because it allowed Gang Green to take him early in the 2nd round with the 34th overall pick.
On top of that, Moore set the single-season reception record at Ole miss with 86 receptions in only eight total games. More finished the season on first-team All-SEC, first-team All-America, and a finalist for the Biletnikoff Award, which is for the best receiver in college football. 
According to The Athletic's Connor Hughes, Moore stated how the names of all five receivers taken ahead of him in the draft are written on his bathroom mirror and how he recites their names twice a day. Tyreek Hill shared his thoughts on this report and stated on Twitter: "Just write each team on there as well and destroy them, young fella." adding more fuel to the pending legend of Elijah Moore. 
As the Jets inch closer and closer to their first preseason game and the start of the 2021 NFL season, the buzz behind Elijah Moore will continue. Now we just sit back and wait for him to take the NFL world by storm.