NY Jets: How the new 4-3 scheme impacts the linebackers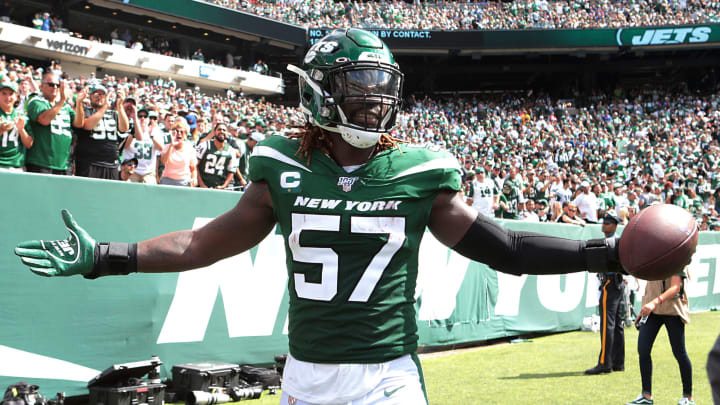 NY Jets, C.J. Mosley / Vincent Carchietta-USA TODAY Sports
When the NY Jets hired Robert Saleh to be their new head coach, it meant many changes were coming to the organization. This included everything from a new spirit and hope around the building, to a new structure of power.
What Saleh is also bringing is a new scheme to the defense.
For over a decade, the Jets have been running a 3-4 defense. This scheme has allowed the Jets to have excellent run defenders on the second level, though linebackers were at best inconsistent in pass coverage.
So, as the Jets switch to a 4-3 defense, what changes will it bring to the linebacker corps? Let's take a look.
Athleticism over everything
In the modern-day NFL, athleticism is taking over at the second level.
Simply look at some of the youngest stars in the game, such as Darius Leonard, Fred Warner, and Devin Bush. They have the instincts and agility that separate them from others around the league.
On the roster, the Jets do not have freak athletes that are established on that level — yet.
New defensive coordinator Jeff Ulbrich will look to find his own athletes to do the job in their 4-3 defense.
It started during the 2021 NFL Draft
The emphasis on athleticism was seen all offseason, as the Jets looked to add players who can fly around the field, both in run defense and in coverage. Simply take a look at who they drafted on day three.
General manager Joe Douglas gave Ulbrich a pair of safeties who are expected to line up at linebacker for New York in Jamien Sherwood and Hamsah Nasirildeen.
Sherwood, who hails from Auburn, stands at 6-foot-2 and 220 pounds, with the potential to be a weakside linebacker for the team. He is a strong tackler who over time could develop into a starter.
The same can be said for Nasirildeen. At 6-foot-4 and 220 pounds, the Florida State product was previously seen as a day two prospect before injuries took a toll. Nevertheless, Nasirildeen is going to be a hybrid safety-linebacker given his coverage abilities.
Return of C.J. Mosley to the NY Jets defense
Over his first five years in the NFL, C.J. Mosley established himself as one of the best linebackers in the entire league. The former Baltimore Raven made four Pro Bowls before signing a massive five-year deal with the Jets prior to 2019.
His first year was derailed by a mysterious groin injury. Then, in 2020, he opted out due to COVID-19 concerns. Therefore, leaving fans questioning the potential for Mosley to bring the same level of play to MetLife Stadium.
Those concerns are still valid, especially since he is set to play in a 4-3 scheme for the first time in the pros. Yet, this is still C.J. Mosley.
The 29-year-old is ready to come back and dominate for Gang Green.
Way-too-early NY Jets starting predictions
With Mosley as the team's middle linebacker, the Jets are set to have free-agent signing Jarrad Davis as their strongside linebacker. After all, the former Detroit Lions first-round pick in 2017 surely has the talent.
Davis, who struggled in Detroit's 3-4 scheme, is set to get his career back on track in the Jets 4-3 defense and brings speed and fluid movement in space. On a one-year prove-it deal, Ulbrich hopes to get the most out of him in 2021.
As for the weakside linebacker spot, who knows who the starter will be. Blake Cashman returns in a make-or-break season, seemingly the frontrunner to get the first crack at the position. Though, expect Sherwood and Nasirildeen to get plenty of reps too.  
What this means for the NY Jets linebackers in 2021
Listen, the NY Jets are taking a massive risk this season at linebacker. Mosley has not been at full strength in two years, and Davis found himself on the bench at times last year for Detroit. Meanwhile, there certainly is a lack of all-around depth at the position too.
Except, there certainly is upside for the Jets at linebacker.
New York has exactly the kind of athleticism that Saleh and Ulbrich want, and should they stay healthy, it will be an intriguing spot to watch on defense in 2021.