Every NY Jets Fan Needs This Amazing Starter Jacket
Every Jets fan should want this starter jacket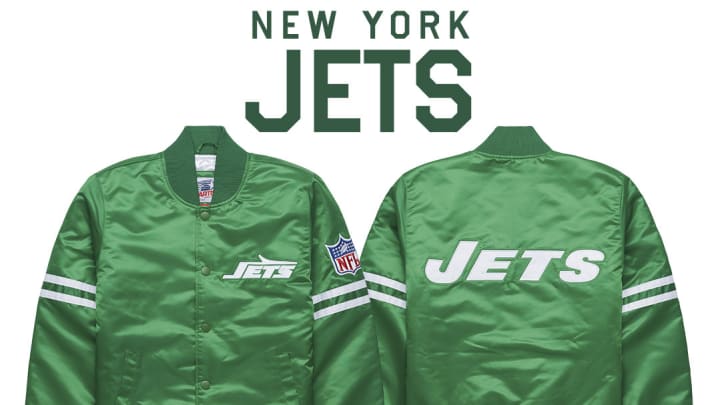 Homage / Homage
The NY Jets decided to go retro this year with the debut of their vintage "Legacy White" jerseys — a modernized take on the famed "New York Sack Exchange" uniforms of the 1980s. Now, you can go retro too.
HOMAGE has released a line of amazing new NFL Starter jackets, complete with throwback logos and colors. It's hard not to feel nostalgic when looking at the Jets' Starter jacket.
The jacket features the old Jets logo as well as the beloved kelly green and white color scheme that embodies an entire generation of New York Jets football -- one that many fans still remember fondly.
In many ways, Starter jackets epitomize '90s culture. For the Jets, this unfortunately includes those woeful Rich Kotite years, but also the team's success in the latter portion of the decade under Bill Parcells.
Nostalgic NY Jets Starter Jacket from HOMAGE is a must-have
While you're donning the vintage kelly green and white Jets colors, you can think ahead to what promises to be an unforgettable season for Gang Green.
The arrival of Aaron Rodgers has breathed a new sense of optimism into the organization, and the 10-time Pro Bowler has many believing the Jets could be legitimate Super Bowl contenders.
Rodgers joins a young and talented roster featuring the likes of Sauce Gardner, Garrett Wilson, Breece Hall, and many others. This is a Jets team that can make some serious noise in the AFC this year.
What better way to celebrate the Jets' bright future than by reminiscing on their past glory-ish days of the '90s? After all, everyone loves a nostalgia trip.
This incredible new starter jacket is a must-have for Jets fans.