3 quick thoughts from the NY Jets Week 14 loss to the New Orleans Saints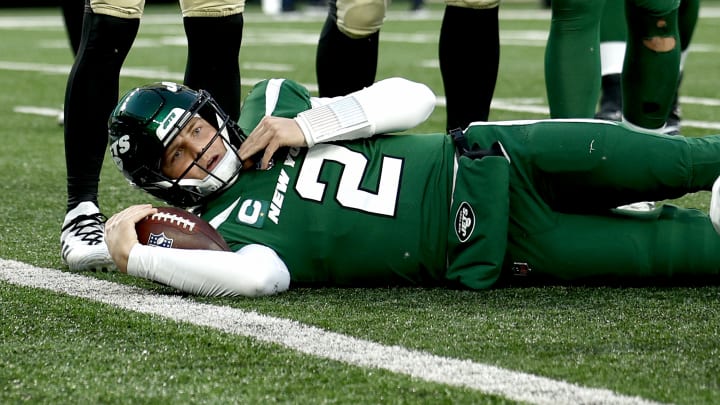 NY Jets, Zach Wilson / Sarah Stier/GettyImages
Following last week's 33-18 loss to the Philadelphia Eagles, the NY Jets fell in a snooze fest to the New Orleans Saints 30-9.
Survival of the fittest for the NY Jets
Although rookie quarterback Zach Wilson struggled, going 19-for-42 for 202 yards and zero touchdowns, it is hard to classify his outing as a regression considering he was without starting running back Michael Carter along with wide receivers Elijah Moore and Corey Davis.
"Wasn't his cleanest game, he was hindered with some drops early," head coach Robert Saleh said of Wilson. "Obviously he's played better in the past and he'll be better from it."
Gang Green was also without Tevin Coleman and Austin Walter so it should not be a surprise to see the offense take a step back. If there is anything Wilson should be held accountable for, it is the fact he still struggles with the "gimme throws" week after week.
A bad day for the NY Jets backups
While the Jets are dealing with a lot of injuries to key contributors, the healthy players did themselves no favors in this matchup. Whether it was Denzel Mims lining up improperly or Ty Johnson's multiple drops, the Jets' backups showed why they are just that, backups.
"You're still expected to go out and perform," Saleh continued. "There are people who pay money to watch you perform, getting these guys up to play has never been an issue. There's a lot of pride in an NFL locker room."
Gang Green's receivers also had trouble making any kind of separation all day which made Wilson's life even tougher and added no flow to the offense. In the end, the Jets were down to players one would normally see in August, not December, and a 256-yard performance was the result.
Kicking crisis over?
The Jets have seemed to solve their kicking problem (at least for one week) as Eddy Piñeiro came in and nailed all three of his field-goal attempts.
While the three makes had no impact on the outcome of the game, they were about the only things that went right for Gang Green so credit to Piñeiro for being one of the few Jets who performed well.