NY Jets: UMass OT Larnel Coleman talks NFL Draft in exclusive interview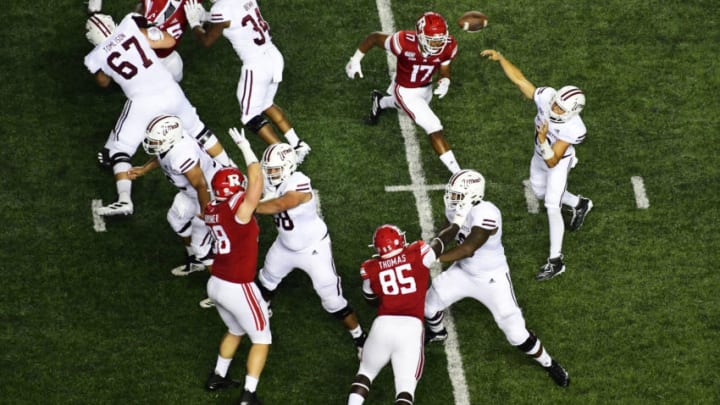 NY Jets, Larnel Coleman (Photo by Corey Perrine/Getty Images) /
The NY Jets will likely look to upgrade their offensive line in the 2021 NFL Draft. And one player who makes sense as a possible Day 3 target is UMass offensive tackle Larnel Coleman.
Coleman is a Massachusetts native who started three years in college. Originally a defensive lineman, Coleman made the switch over to offense during his first year on campus and soon took over the starting right tackle job.
The 22-year-old started his redshirt sophomore year at right tackle before swapping sides and taking over at left tackle in 2019. Coleman started a total of 17 games at left tackle in college and was named team captain ahead of the 2020 season.
Considered by most to be a Day 3 prospect, Coleman pairs good size with excellent athleticism. Standing at 6-foot-6, 307 pounds, Coleman ran a 5.10 40-yard dash at his pro day and has been praised for his agility and lateral mobility.
The Jets are one of the teams that have reportedly reached out to Coleman and met with him, as reported by Justin Melo of The Draft Network. And we even had Coleman, himself, confirm that.
I recently had the opportunity to sit down with Coleman and speak with him about his football journey to this point, the draft process, and if he sees himself as a fit with the Jets.
Below is a transcription of our interview.
Interview with NY Jets draft prospect Larnel Coleman
Justin Fried: "Let's start with the recruiting process first. You attended a very small high school, St. Clement in Medford, Massachusetts. There were around 30 kids in your graduating class. Is that right?"
Larnel Coleman: "Yeah it might have been less. It was a pretty small school."
JF: "Wow. I graduated from a high school that had almost 700 kids in its graduating class so that's a completely different experience. How did that affect your recruiting process? Was it difficult to get noticed?"
LC: "Probably slightly. Being from a small school, not a lot of teams know who you are, there isn't a lot of [media] coverage. I definitely think it was a little bit of a struggle trying to get attention coming out of that school."
JF: "You were primarily a defensive lineman in high school and even when you first got to UMass. Of course, you also have a background in basketball. Tell me a little about that transition process from defensive line to offensive line. Was it difficult for you?"
LC: "It wasn't too difficult for me. Especially since, being a bigger dude, I was blocking a lot in high school. The transition for my weight was definitely more of a struggle at first. You're coming from high school where the biggest kids are probably 230 pounds. Then going to college where everyone is 250-plus when you're playing on the line. So I definitely needed to get my weight up at first. Once I started to get bigger and stronger it became easier. But that first year definitely was a struggle for me."
JF: "I could imagine. There aren't too many high schoolers that are 6-foot-6, 310 pounds, so I could imagine that redshirt year being pretty challenging."
LC: "Most definitely."
More from The Jet Press
JF: "What do you think is your greatest strength as a player? What do you bring to the table that others don't?"
LC: "I bring a lot of positive energy at all times. I'm a very high-motor guy. I like feeding off the energy of my teammates and giving it back. On top of that, I feel like my on-field football IQ is really high and I could bring that to an offensive line to make us better as an entire unit."
JF: "Do you have any NFL players that you model your game after or just like to watch on film?"
LC: "David Bakhtiari, Tyron Smith, and Trent Williams are the top-three players that I watch."
JF: "Three great options — it's hard to get better than three of the best in the NFL who have been doing it for a long time.
Are there any teams that have shown a little more interest than others that you could potentially see yourself with come draft day?"
LC: "Most definitely, I don't want to speak too heavily on it just yet. Fingers crossed. But a lot of teams have reached out to me and they've shown a lot of interest. It's definitely been an exciting process."
JF: "Finally, before I let you go, I do have to ask you since we are a Jets site. Have the Jets shown any interest and do you see yourself as a fit for the scheme they're going to run?"
LC: "They're definitely one of the teams that have reached out and shown a lot of interest in me. Throughout this whole process, I've been imagining myself in so many different uniforms and offenses, so I definitely can see myself there. But like I said, it's an exciting process and I'm just trying to take things day by day."
Special thanks to Larnel for taking the time to speak with us. With just over a week until the 2021 NFL Draft arrives, the Jets will surely have their eyes on a number of prospects.
Maybe Larnel Coleman is one of them.