NY Jets announce plan to have fans at MetLife Stadium in 2021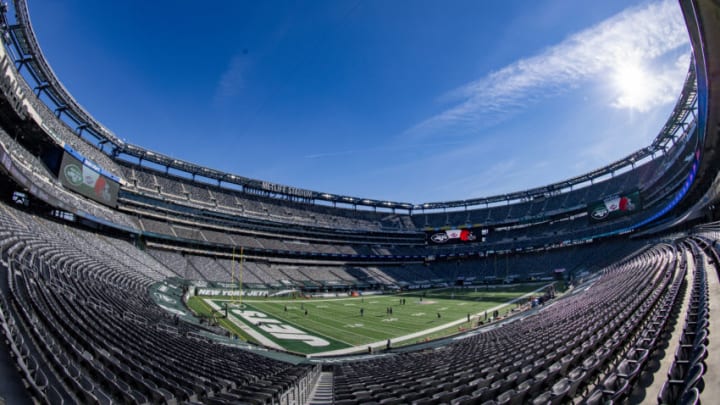 NY Jets (Photo by Benjamin Solomon/Getty Images) /
The NY Jets are set to have fans in the stands again in 2021.
New Jersey Governor Phil Murphy announced on Monday that sports venues with a capacity of over 5,000 will be allowed to host a small percentage of their capacity starting March 1st. That, of course, includes MetLife Stadium.
Outdoor facilities such as MetLife Stadium will be allowed 15 percent of their total capacity which puts the permitted attendance at 12,375 fans. While indoor facilities such as the Prudential Center, home of the New Jersey Devils, will be allowed 10 percent capacity.
The Jets and Giants made a joint statement about Governor Murphy's decision on Monday.
Statement on @GovMurphy's announcement today regarding the return of fans to stadiums. pic.twitter.com/CwwrQ3Uf1k
— New York Jets (@nyjets) February 22, 2021
Both teams reiterated that the plan is to continue increasing the number of permitted fans as the months go by. The NFL regular season doesn't begin until September allowing plenty of time for things to change.
But as for now, fans will be allowed to attend professional and collegiate sporting events in the state of New Jersey for the first time since COVID-19 shut down the vast majority of the country and world last March.
The NY Jets will usher in a new era in 2021
The Jets are set to usher in a new era of football in 2021. With a new head coach in Robert Saleh, there is a renewed sense of optimism surrounding the organization.
And after a disastrous 2-14 campaign a year ago, fans will certainly be itching to see some winning football. While it remains to be seen if the Jets will be able to follow through on that, it does seem as though fans will be able to attend games — win or lose.
As the Jets said in their statement, "we missed seeing our loyal fans at stadium events this past year." Now, fans will have the opportunity to watch the team play in person.
It's up to the Jets to give them a product that people actually want to show up and watch.
With plenty of cap space and draft capital to reshape the roster, there is hope that the Jets can turn things around this offseason.
And if they do, their loyal fans will surely show up to watch.