NY Jets: Analyzing why tight end is the team's most underrated weakness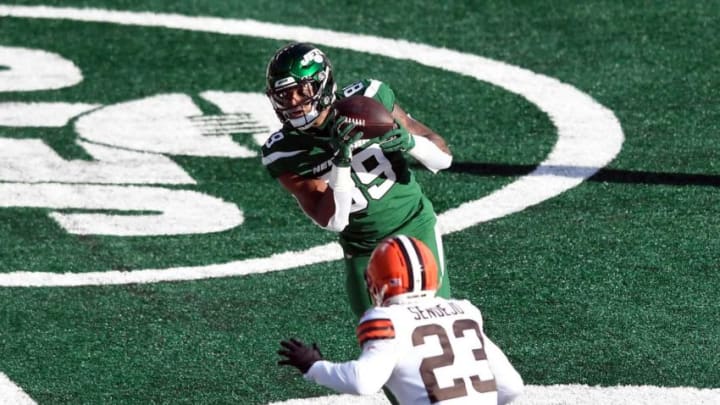 NY Jets /
NY Jets /
NY Jets Mandatory Credit: Vincent Carchietta-USA TODAY Sports
What is the biggest need for the NY Jets? With a roster that is so depleted of talent, it is a difficult question to answer.
The first needs that come to mind would probably be quarterback, pass rusher, cornerback, and wide receiver, as those are not only major roster holes for the Jets but also key positions.
A position that does not get talked about nearly enough, though, is the tight end position as it has quietly transitioned from adequate to awful over the past two seasons.
Jets fans thought that the position would be a strength after a strong 2018 showing from at-the-time rookie tight end Chris Herndon.
Since then, however, the tight end position has been woeful for Gang Green. Additionally, with the new coaching staff in place, it is now a key position for the offense that must be addressed this offseason.
NY Jets /
NY Jets Mandatory Credit: Trevor Ruszkowski-USA TODAY Sports
Current state of the NY Jets tight end position
While the 2018 Jets season was not a great one, there was one glimmer of hope at the tight end position.
Fourth-round rookie tight end Chris Herndon had a strong end to the season, posting 50 or more yards in four of his last eight games of the season.
Here's a helpful look showing just how good Herndon was, courtesy of Elite Sports NY's Michael Nania:
"In addition to scooping up 502 yards and 4 touchdowns, Herndon did it while averaging a uber-efficient 8.96 yards per target. Since the turn of the century, only one other rookie tight end had reached all three of those marks."
Clearly, there was reason to be excited about Herndon. He had quite an impressive season for a rookie tight end and was red-hot to end the year.
That excitement, however, was short-lived as Herndon missed basically the entirety of the 2019 season due to suspension and injury. He returned this year but looked to be a shell of his former self.
Herndon put up a meager 287 yards this season despite suiting up for all 16 games. He had four drops (a frighteningly high nine percent of his targets) and also fumbled twice.
In addition to lackluster on-field performance, Herndon has also had non-football-related concerns. Most recently, Herndon pled guilty to a DWI in 2019 dating back to the summer before his rookie campaign.
Given his poor play on the field, injury problems, and off-field issues, Herndon is not the reliable starting tight end that fans had once hoped for.
Want your voice heard? Join the The Jet Press team!
There's little to no depth at the position either. Backup Ryan Griffin had a few impressive outings a year ago for the Jets but has since become an afterthought. Third-string Trevon Wesco has struggled to see the field and is merely a remnant of the Mike Maccagnan Jets.
In total, the Jets have very little to work with at the tight end position. While many may think of tight end as an insignificant position, that will not at all be the case for this new Jets coaching staff.
Next: Mike LaFleur's use of tight ends in the past
NY Jets /
NY Jets Mandatory Credit: Mark J. Rebilas-USA TODAY Sports
NY Jets' Mike LaFleur's past use of the tight end position
Not only do the Jets have personnel concerns at tight end, but they have recently brought in a coaching staff, starting with Mike LaFleur, that believes in the position's importance.
Before coming to New York in January, the Jets' new offensive coordinator was the passing game coordinator for San Francisco over the past four seasons. During that time, their offense was fueled by tight end George Kittle, a record-breaking All-Pro.
The San Francisco offense has relied heavily on Kittle. In just eight games this year, 49ers quarterbacks targeted Kittle 63 times. In the 43 combined games of Herndon, Griffin, and Wesco this season, they totaled 59 targets.
Back in 2018, Kittle broke the tight-end record for receiving yards in a season with 1,377 yards, beating out Travis Kelce who had just broken the record a few hours beforehand.
Over the 38 games that he's played in the past three seasons, Kittle has recorded over 3,000 yards and over eight targets per game. No receiver on that roster even comes close to those numbers during that span.
Clearly, LaFleur's passing offenses have been built around the former Iowa Hawkeye. Now that LaFleur has taken his talents to East Rutherford, the Jets need to find a good tight end and they need to find one fast.
San Francisco struck gold by drafting him in the fifth round, nabbing him with 146th selection in the 2017 NFL Draft. While it would be great if Joe Douglas did the same, the odds are quite low.
Next: Free agent and draft targets
NY Jets /
NY Jets Mandatory Credit: Robert Hanashiro-USA TODAY Sports
Free-agent targets for NY Jets to consider
Fortunately, there are quite a few options for the Jets to consider at tight end this offseason. Whether they do it through free agency or the draft, there are many opportunities for the Jets to fix the position.
There are many tight ends set to hit the open market, including Robert Tonyan, Hunter Henry, Rob Gronkowski, Jonnu Smith, and Gerald Everett.
Of these options, I think Henry makes the most sense for New York. Tonyan will command a large contract after only one year of consistent production.
Gronkowski will likely stay with Tom Brady while Smith and Everett have not produced well and bear little resemblance to Kittle's play style and blocking ability.
Henry, a former second-round pick, has produced well for the Chargers throughout his first five years. In 55 games, he's recorded 2,322 yards and 21 touchdowns, while picking up 133 first downs. Over that span, he's averaged a very impressive Pro Football Focus score of 78.2.
Henry resembles Kittle both in build and playing style. They posted very similar measurables at the NFL Combine, with Henry being one inch taller and three pounds heavier.
Both tight ends have sure hands and can move quite well for their size. Moreover, they both possess great quickness that allows for rapid separation from linebackers.
Henry's ability to block is not as refined as Kittle's, but it is still decent. He was quite adept at blocking to start his career but has worsened since his 2018 injury. Perhaps LaFleur could help Henry with his blocking as he did with Kittle.
Of course, the concern with Henry is his injury history. He missed the entirety of the 2018 season and hasn't played a single full season in his entire career.
At the same time, this injury history could work to benefit Gang Green in the sense that it would drive his price down in free agency.
In terms of the contract, I would not give Henry any more than $11 million per year, which would make him the third highest-paid tight end in football. His injury history is just too much of a concern and there are many attractive options in the draft.
Draft target for NY Jets to consider
The 2021 tight end class is a very solid one with terrific depth. Of all of the options available, Boston College's Hunter Long would be a great fit for LaFleur's offense.
Long is no stranger to heavy utilization. The redshirt junior saw the most targets of all college tight ends with a whopping 89 looks.
Joe Marino of the Draft Network had the following about Long:
"Long is a sound route-runner with good hands and sufficient ball skills. He's a versatile option that is experienced blocking and running routes from a variety of alignments within the offense. He has the size and enthusiasm to be effective as a blocker."
Viewed by many as a late-Day 2, early-Day 3 prospect, the Jets will have several opportunities to draft Long. I think the sweet spot would be with Seattle's third-round selection, the 87th pick.
Pairing Long with a veteran tight end in free agency would seem ideal for New York. They could also just let Herndon ride out his contract with Long playing as the tight end 1B during his rookie year.
Next: Trade target and concluding thoughts
NY Jets /
NY Jets Mandatory Credit: Tim Heitman-USA TODAY Sports
Trade target for NY Jets to consider
The Jets have been in the news lately about potentially trading for a new offensive weapon. And while this may not be the guy so many people have been clamoring for, the Eagles' Zach Ertz could be a great candidate to relocate to Gotham.
Ertz has been an incredibly productive tight end for Philadelphia but after a down year and the emergence of young star Dallas Goedert, he has become expendable. He also has a sizable contract to boot on an Eagles squad desperate to shed cap.
From 2017 to 2019, Ertz recorded 278 grabs, 22 touchdowns, and 2,903 yards. Over that span, he appeared in three Pro Bowls and recorded impressive PFF grades of 73 or higher each year.
2020 was not as friendly to Ertz, though. He was hampered by an ankle injury and recorded career lows in receptions (36), receiving yards (335), and touchdowns (1) in his 11 games played.
Accordingly, it would likely not take much for New York to acquire Ertz, who has a 2021 cap hit of over $12 million, much too steep for the cash-strapped Eagles.
In fact, a Day 3 draft pick could probably do the trick. With their cap situation as desperate as it is, Philadelphia would view this as a cap dumb of a probable backup.
Sending a fifth-round or even sixth-round pick for Ertz and letting Long learn under him could turn this tight end group from bottom-feeder to elite.
Ertz could help Long transition to the NFL and allow the rookie to learn and develop, something that has proven crucial for young tight ends in the past.
More from The Jet Press
Concluding thoughts
The Jets have a massive hole at the tight end position that needs to be filled in a big way this offseason in order for LaFleur's offense to succeed.
There are several options in free agency, but the draft and trade market seem to be better bets for Gang Green.
Adding Hunter Long at the end of the third round and parting ways with a sixth-rounder to get Zach Ertz would be a very cheap way to sure up the tight end position for now and the future. Hunter Henry also makes for a potential value add in free agency if he makes it that far.
Joe Douglas has his work cut out for him with this roster — there are countless holes everywhere.
Making cheap additions such as Long and Ertz at positions of need such as tight end would be a great way to bring this failing franchise back to relevance.