NY Jets: Quinnen Williams named the team's 'under-the-radar stud'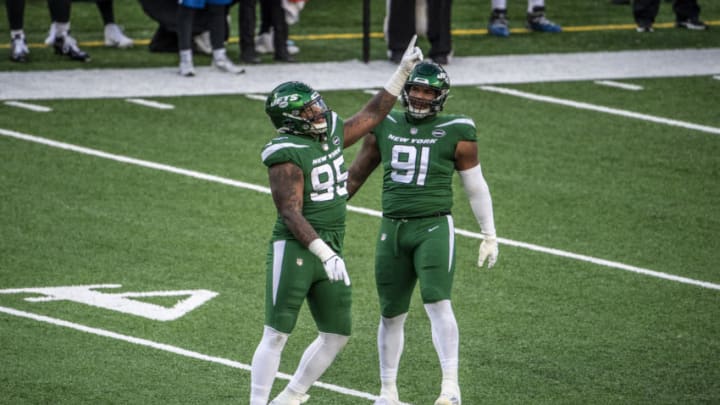 NY Jets, Quinnen Williams (Photo by Benjamin Solomon/Getty Images) /
The NY Jets have one of the fastest-rising young defensive players in the NFL in Quinnen Williams. But it wasn't long ago that the perception around Williams was completely different.
Perhaps that's part of the reason a recent NFL.com article labeled the former Alabama star as the Jets' "under-the-radar stud" despite a season in which he was statistically a top-five interior defensive lineman in the league.
Williams, by all accounts, was exceptional in 2020. After a disappointing rookie campaign, Williams burst on to the scene in his second season and put together a dominant performance.
The 23-year-old finished with seven sacks, 10 tackles for loss, 55 tackles, and 14 QB hits in 13 games. For context, in the same number of games a year ago, he managed just 2.5 sacks, four tackles for loss, 28 tackles, and six QB hits.
He more than doubled every single major box score statistic. And the analytics prove that he was even better than what the box score indicates.
Williams led all interior defensive linemen in run-stop win rate and finished fourth in pass-rush win rate. He was the league's top interior run stopper and a top-four interior pass-rusher.
And he did all of this despite turning just 23-years-old in December.
Yet, he's still being labeled as "under-the-radar" by some. Why is this?
Is NY Jets' defensive lineman Quinnen Williams still underrated?
Perhaps this could be chalked up to his slow start in 2019. If Williams had come into the NFL and done this in his first season — something that was never a realistic expectation — he likely would have garnered more leaguewide praise.
Or perhaps this is simply due to his team's lack of success. The Jets finished 2-14 in 2020 and only managed to make headlines for their atrocious play and season-long pursuit of the No. 1 overall pick.
It's difficult to stand out on a team that doesn't receive national attention.
Nonetheless, just as the author indicated in the article, Williams is poised to make a name for himself in the coming years and, if he continues on this trajectory, he should be a household name before long.
That's especially true given the arrival of new head coach Robert Saleh. Williams is tailor-made for Saleh's system and should welcome the change to a 4-3 base where he could play more one-technique.
And if the Jets could provide him with some extra pass-rush help on the edge, Williams could be primed for an All-Pro season in 2021.
The sky is the limit for Quinnen Williams. Expect him to shed that "under-the-radar" label rather quickly.