NY Jets land big-time offensive playmakers in 7-round 2021 NFL Mock Draft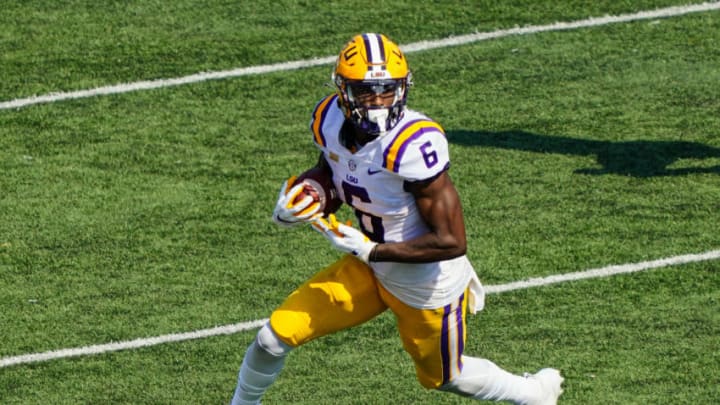 NY Jets Mandatory Credit: Jay Biggerstaff-USA TODAY Sports /
NY Jets /
NY Jets Mandatory Credit: Brett Rojo-USA TODAY Sports
The NY Jets landed some big-time playmakers in this 2021 NFL Mock Draft.
The NY Jets are going to hedge a lot of their future fortunes on their success — or failure, for that matter — in the 2021 NFL Mock Draft.
With nine picks including nearly six that are projected to be inside the top-100, general manager Joe Douglas will have plenty of draft capital at his disposal to either make or break the future of this organization.
When all is said and done, Douglas will either be hailed a hero or a villain. He'll either be the one who turned around a franchise that had been stuck in the depths of despair for far too long, or the man who helped continue the tradition of failed front-office executives.
Yes, it's the middle of November and we're back with what is already our fourth mock draft of the season. Such is life for an 0-9 team heading into their bye week — these mock drafts are the only things helping to get us through the season.
The Jets need to completely revamp their roster in the offseason. They have so many needs that it would be impossible to address them all in the draft alone.
As always, we used The Draft Network's "Mock Machine" to run this mock draft as accurately as possible. Of course, you all know who the first overall selection is going to be by this point.
Let's take a look at the absolute haul that the Jets land in this scenario.
Next: 1. Creating a new-look passing game
NY Jets /
NY Jets (The Daily Herald)
Round 1, 1st Overall, NY Jets: Trevor Lawrence, QB, Clemson
Trevor Lawrence is going to be the No. 1 overall pick in the 2021 NFL Draft. And as long as the Jets are still on track to have that pick, Lawrence is going to be mocked to them.
By now, we all should be well aware of just how incredible of a prospect Lawrence is. Forget any quarterback to come out in recent memory — he's better than them all.
Many believe he's even better than Andrew Luck was when he came out of Stanford. Simply put, he's a John-Elway-caliber prospect who should become an All-Pro at the next level for years to come.
If the Jets can't land the top pick, Ohio State's Justin Fields is in play. But with that first overall selection in their back pocket, Lawrence is the obvious pick.
Round 1, 26th Overall, NY Jets: Terrace Marshall Jr., WR, LSU
With this second first-round pick being a little earlier this time around, we got a little lucky with LSU's Terrace Marshall Jr. still on the board at pick No. 26.
The Jets immediately snag a guy who could be Lawrence's future No. 1 receiver in the athletically gifted Marshall. At 6-foot-3, Marshall has an ideal blend of size, speed, and physicality that he's used to dominate at the collegiate level.
He has the versatility to either work inside or outside and is about as sure-handed as they come with only two drops in 2019.
On top of that, much like another young wide receiver on the Jets, Marshall excels in 50/50 situations where he can utilize his length and strength to muscle the ball away from defenders.
Pairing Marshall with a developing Denzel Mims would give Lawrence a duo of very impressive young outside receivers who both have legitimate No. 1 potential.
Just like that, the Jets' passing game was revamped with two picks.
Next: 2. Solidifying the trenches
NY Jets /
NY Jets Mandatory Credit: Jason Getz-USA TODAY Sports
Round 2, 33rd Overall, NY Jets: Creed Humphrey, iOL, Oklahoma
We're not done addressing the offense though as the Jets manage to land one of the best value picks in any of the mock drafts we've done thus far.
Oklahoma's Creed Humphrey is probably the best interior line prospect in the upcoming draft class — at the very least, he's the best pure center prospect. And for that reason, I'd be surprised if he lasts this long come next April.
But he was on the board in our mock and we couldn't pass up on the opportunity to bolster the Jets' interior line.
Connor McGovern has been very underwhelming in his first season with the Jets, but the team is locked into his contract next season. However, that doesn't necessarily mean that he's locked into his current position.
McGovern has plenty of experience playing guard and could realistically slide over to replace a player like Alex Lewis or Greg Van Roten if Humphrey joins the fold.
Humphrey is a rock-solid center prospect with leadership/character traits that will make Joe Douglas fall in love. If Douglas somehow gets the chance to draft him, it will be hard for him to pass.
Want your voice heard? Join the The Jet Press team!
Round 3, 65th Overall, NY Jets: Jaelan Phillips, EDGE, Miami
The Jets finally target defense here with the first selection in the third round in the form of Miami edge rusher Jaelan Phillips. After drafting three relatively safe prospects, we decided to swing for the fences with more of a projection pick.
Phillips is a former five-star recruit who hasn't managed to find his way in college so far. A promising freshman year looked to set the tone for his time at UCLA, but a serious concussion ended his sophomore season after just four games.
In fact, Phillips temporarily retired before transferring to Miami in February of 2019. After sitting out of football for over 18 months, Phillips finally returned in 2020 where he has begun to make strides both as a pass-rusher and run defender.
Overall, he's a very raw prospect. The talent and traits are there, but there's just far too much uncertainty relating to his injuries and lack of playing time.
That said, Phillips has first-round talent and if he manages to reach anywhere close to his potential in the NFL, the Jets would land a steal here at pick No. 65.
Next: 3. Two Oklahoma State superstars
NY Jets /
NY Jets Mandatory Credit: Brett Rojo-USA TODAY Sports
Round 3, 89th Overall, NY Jets: Chuba Hubbard, RB, Oklahoma State
With the departure of Le'Veon Bell, it's clear that the Jets are going to need to figure out their backfield plan for next year. Rookie La'Mical Perine figures to feature in the backfield in some way, but that's about all the Jets know right now.
It's unclear how they plan to address the position in the offseason, but we did so here by drafting exciting Oklahoma State running back Chuba Hubbard.
Hubbard is an extremely smart and patient runner with superb vision, but he's also someone who is a dangerous player in open space. The 2019 Big 12 Offensive Player of the Year, many believed that Hubbard would enter the 2020 NFL Draft.
He likely would have been a late Day 2 pick if he declared, but he returned to college for his junior season. It will be interesting to see where his value ends up, but we have him going to the Jets here at No. 89.
Hubbard is someone who can legitimately be a three-down back at the next level. At the very least, he and Perine would make for an excellent one-two punch.
Round 4, 102nd Overall, NY Jets: Tylan Wallace, WR, Oklahoma College
This was unintentional. But after landing one Oklahoma State star in Hubbard, the Jets go back-to-back and draft his college teammate, Tylan Wallace, here in the fourth round.
The Oklahoma State offense primarily runs through Hubbard, but Wallace certainly gets plenty of looks as well. The 21-year-old wideout is an excellent YAC runner who makes plays happen after the catch on a regular basis.
Wallace is a refined route-runner despite coming from a college not known for its complex receiving patterns. His hands will get him plenty of looks, but some teams might label him as a slot-only guy which could drop his draft stock.
The Jets already have Jamison Crowder in the slot, but he'll be in the last year of his contract in 2021. Besides, a good offensive coach would find ways to get both Crowder and Wallace on the field at the same time.
Wallace would give the Jets yet another weapon in their passing game, further surrounding Lawrence with young talent.
With an offensive supporting cast of Crowder, Mims, Marshall, Wallace, and Hubbard, the Jets could fix many of their offensive woes in one draft.
Next: 4. A pair of local products
NY Jets /
NY Jets
Round 5, 141st Overall, NY Jets: Deommodore Lenoir, CB, Oregon
I really wanted to address the cornerback position before this point, but there was just never a good opportunity to do so. However, in the fifth round, the Jets land a player in Oregon's Deommodore Lenoir who could develop into a starting-caliber corner.
Lenoir has experience playing both inside and outside at Oregon, but has the athleticism and traits to transition into a full-time outside cornerback at the next level.
He's a smooth athlete who looks the part and is a willing tackler in space. Lenoir is likely best suited as a zone cornerback in the NFL where he can put his good instincts to use.
Consistency has been an issue for him in college, but the traits are there for him to be a starting-caliber player. He just needs to put it all together.
Round 5, 144th Overall, NY Jets: Jeremy Ruckert, TE, Ohio State
This isn't the first time we've mocked Ohio State's Jeremy Ruckert to the Jets in one of our mocks — call it a hometown bias. But the local Long Island product makes a ton of sense as a mid/late-round pickup for Gang Green.
At 6-foot-5, 253 pounds, Ruckert is a dynamic receiving threat who is more than capable as a blocker. While he's not the greatest athlete, he more than makes up for it with his outstanding hands and above-average blocking.
Ruckert is a player who could realistically play a role on offense in his rookie season and develop into a starter by his second year. That is, of course, if he decides to declare for the draft.
Chris Herndon has been a massive disappointment this season and the Jets could add another young tight end into the mix in Ruckert.
More from The Jet Press
Round 6, 190th Overall, NY Jets: Ifeatu Melifonwu, S, Syracuse
From a native New Yorker to an individual who plays his college ball in the state, Syracuse's Ifeatu Melifonwu is another player who makes sense as a late-round target.
This pick could be made regardless of what the Jets decide to do in the offseason regarding free-agent-to-be Marcus Maye.
If they choose to re-sign him, Melifonwu is someone who can be groomed to take over that role down the line while also contributing on special teams. If they let him walk, perhaps Melifonwu's role is a little bigger in his rookie year.
At 6-foot-3, the redshirt junior has impressive size and length for the position that he couples with great athleticism and ball skills. He's still a work in progress when it comes to the mental processing aspect of the game, but his talent isn't in question.
Much like his older brother Obi, who was a second-round pick of the Raiders back in 2017, Melifonwu isn't the greatest tackler and is more a projection player at this point.
But his size, athleticism, and ball skills should be enough to get him drafted in the mid-to-late rounds.
And in all honesty, landing him in the sixth round — even at the beginning of the sixth round — is great value.