NY Jets: Studs, duds following Week 3 loss to the Indianapolis Colts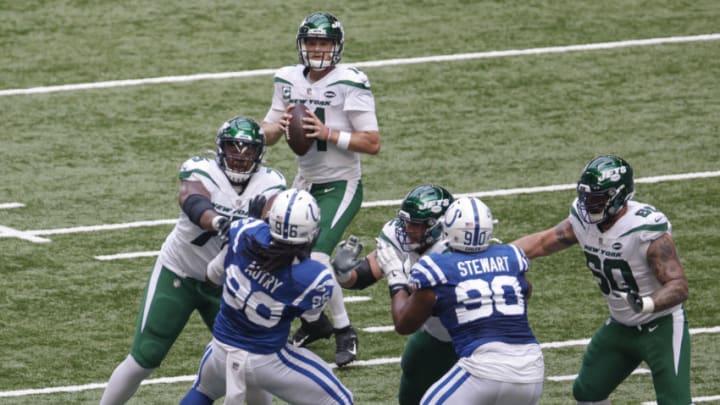 NY Jets (Photo by Michael Hickey/Getty Images) /
NY Jets (Photo by Michael Hickey/Getty Images) /
The NY Jets had a few notable standouts, both good and bad, from Week 3.
I feel like a broken record talking about how bad the NY Jets have been so far this season.
After another blowout loss, this time 36-7 at the hands of the Indianapolis Colts, Jets fans are practically begging for head coach Adam Gase to be fired. While this may not happen with the short week ahead, it may be coming in the near future.
Various reports have emerged that the Jets might be looking to finally move on from Gase which would certainly be a welcomed change for an organization that needs a breath of fresh air at the moment.
The Jets sit at 0-3 following three lifeless performances. Their struggles don't fall solely on the shoulders of their head coach, but he certainly must bear a lot of the blame.
There really isn't any excuse that could be made.
But in the meantime, let's talk about what went down at Lucas Oil Stadium on Sunday. Once again the Jets were just outmatched by Indianapolis, so badly that by the end of the game, the Colts took out their starting quarterback.
So let's get into it, here are the studs and duds from the Jets' Week 3 loss to the Colts.
Next: One good play was all we got
NY Jets (Photo by Justin Casterline/Getty Images) /
Stud: Braxton Berrios, WR, NY Jets
That's right, one good play is really the only bright spot that you can take from Sam Darnold's performance on Sunday. But the one good play was thrown to the first stud of the week — wide receiver Braxton Berrios.
For the second week in a row, Berrios came out and showed why he deserves to have a role in the offense and how he can make things happen. Berrios put up 64 yards and a touchdown on four receptions, that's good for an average of 16.0 yards per reception.
Now I don't know about you, but I'll take that every day of the week and twice on Sunday. If Berrios can establish himself as a regular in the Jets offense, the team may have found a diamond in the rough.
Dud: Sam Darnold, QB, NY Jets
One problem with that plan is who our first dud of the week is. It really shouldn't surprise anyone that quarterback Sam Darnold got it, the second time in three weeks he is on the dud list.
Sure, the touchdown pass was special and it shows what he could one day become. The problem is that he is way too inconsistent, he said so himself. He threw three interceptions, two of which were returned for a touchdown, the other was in the red zone.
All of which were on Darnold.
I think Gase should be gone as much as the next guy, but those picks were on Darnold. At the end of the day, Darnold needs to do better than a 1:3 touchdown to interceptions ratio, there's no other way around it.
Here's the deal with Darnold, I believe in him, and so do many others. He has the potential but this coaching staff is ruining him and halting his growth.
So if that continues, he will not be the franchise quarterback of the NY Jets. We need to see Week 2 Darnold on a regular basis in order for him to be the guy.
Next: Two newcomers, two different results
NY Jets (Photo by Michael Hickey/Getty Images) /
Stud: Mekhi Becton, OT, NY Jets
It is hard to find studs this week. It really is because there weren't many bright spots from the Jets this week. So stud No. 2 is rookie left tackle Mekhi Becton. Even though he left the game with an injury, he played well in this game and has the whole season so let's give him some credit.
Really the only thing that has improved since last season on this team is the offensive line. Last year, Darnold was under pressure constantly. This year, not so much.
Becton is a big part of this as he's been rated highly on Pro Football Focus consistently and has played a big role in what little success the offense has had this season.
He's been just as good in the run game as he has in pass protection. Becton can move and he does a great job of leading the way for the running backs. If the Jets want to move the ball, going behind the rookie is a good option.
Dud: Bradley McDougald, S, NY Jets
On the other side of things, it was Bradley McDougald who didn't have a great day. He was a part of a secondary that got picked apart all day. Sure McDougald had 10 total tackles, but for a safety that's not always a good thing.
Sometimes that means a lot of completions their way, which was the case here. He also missed a big tackle on the goal line. The Jets had made a good stand up to that point, but on the one-yard line, McDougald just whiffed.
Rookie Jonathan Taylor embarrassed McDougald on this one and walked into the end zone. The play was there to make, but he didn't. As one of the guys expected to fill the hole left by Jamal Adams, McDougald sure was a letdown this week.
Next: Two guys who might not be here long
NY Jets (Photo by Bobby Ellis/Getty Images) /
Stud: Frank Gore, RB, NY Jets
The title of this slide I mean jokingly for one guy, but not so much for the other. The third stud of the week is Frank Gore. The only reason I say he might not be here long is that he's been around for so long and this might be his only year in New York.
He has come to the team and done his job. This week he ran for 57 yards on 15 attempts, averaging 3.8 yards per carry. While these numbers won't blow anybody away, they're solid and when you're averaging nearly 4.0 yards per carry, it means the offense is ahead of the chains.
While he won't carry the team to victory, he's certainly a solid option. A good guy to have around a young quarterback who will hopefully add some much-needed rushing help even when Le'Veon Bell returns.
Dud: Adam Gase, HC, NY Jets
Now for the man who many believe should be out of a job come Friday, it's Adam Gase. It's really the entire coaching staff that just hasn't gotten the job done this year but as the leader, Gase should receive the blame.
Once again this team was not ready to go against a far superior team. Sure the Colts are better, but consistently the Jets have been outcoached, outplayed, out-hustled, and frankly just outmatched.
They've just looked awful.