NY Jets will play home games without fans until further notice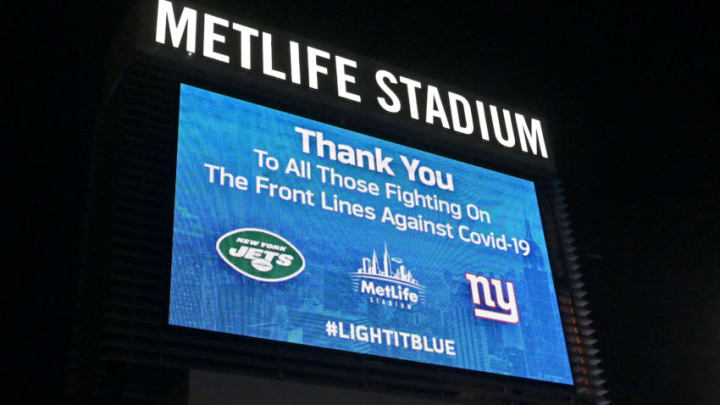 NY Jets (Photo by Mike Coppola/Getty Images) /
The NY Jets are set to play their 2020 homes games without fans until further notice.
The NY Jets are set to return to the gridiron in less than two months as the NFL plans to begin the regular season on time. But at least for the foreseeable future, they will do so in an empty stadium.
New Jersey governor Phil Murphy informed both the Jets and the NY Giants on Monday that his 500-person statewide limit for outdoor gatherings will apply to football as well.
And as a result, both teams announced that they would be playing their games at MetLife Stadium without any fans until further notice. They also announced that their training camps and practices will not be open to the public in 2020.
An excerpt from the Jets and Giants' join statement can be seen below.
"We support Governor Murphy's decision in the interest of public health and safety and, until circumstances change, both the Giants and Jets will play our games without the benefit of fans in attendance. Although we would prefer to have fans at MetLife Stadium for our games, we will continue to work with Governor Murphy's office and will provide updates if necessary."
While the idea of playing games in from of empty stadiums has been widely expected to this point, this is the first official announcement from an NFL team that this will, indeed, be the case.
Now, the Jets and Giants did leave front door open for the possibility of allowing some fans into stadiums in 2020 using the phrase "until circumstances change." But it remains unlikely that any significant change will occur this season.
More from The Jet Press
The NY Jets and NY Giants are hardly the only teams affected by the ongoing worldwide pandemic.
The ongoing COVID-19 pandemic has impacted the world of sports in a way the industry has never been impacted before. Some international sports have already returned and the MLS has followed suit in the US restarting play in front of empty stadiums.
It's likely the NFL is forced to do the same with the Jets and Giants simply being the first to announce the decision. However, it remains to be seen how the NFL will go about handling the situation.
The Jets are set to begin training camp in just a few days with rookies reporting on Tuesday. Quarterbacks and injured players will report two days later on Thursday with the rest of the team joining them next Tuesday, July 28th.
As of now, the NFL plans to play two preseason games although that number will almost assuredly go down to one or even none as the ongoing talks with the NFLPA persist.
For fans wanting to see their favorite teams in person this year, this is obviously a major blow. But it's undoubtedly a decision that's been made in the best interest of everyone involved.