NY Jets: 3 players who are likely gone after the 2020 season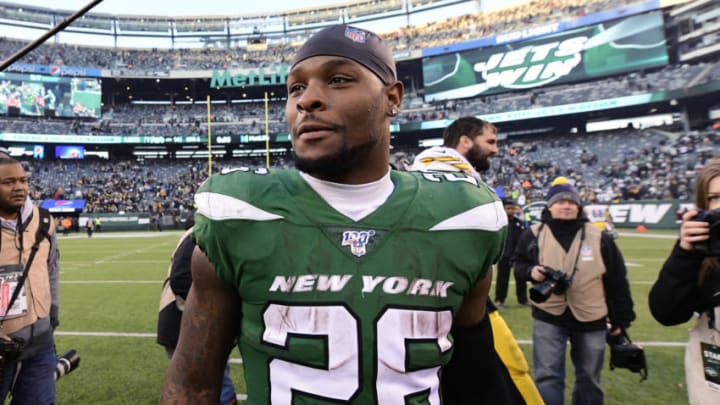 NY Jets, Le'Veon Bell (Photo by Steven Ryan/Getty Images) /
NY Jets (Photo by Al Pereira/Getty Images) /
These three NY Jets players are likely playing their final season with the team
The NY Jets experienced plenty of roster turnover this offseason, as has become a trend in recent years. From veteran players departing to rookies joining the team, the Jets will sport a new-look roster in 2020.
That roster will be a mixture of the incumbent and the new featuring returning starters, free-agent additions, and 2020 draft picks. And the hope is that it will be an improvement over last year's 7-9 team.
Of course, the NFL is an ever-changing business and job security is at a premium. Some players who sign hefty deals and look to be a fixture of the team for the foreseeable future could be looked at as afterthoughts just a year later.
There's a reason that the old proverb is that the NFL stands for "Not For Long." In many ways, that's a very true statement.
The Jets are likely to experience a similar roster purge at the conclusion of the 2020 season with multiple veteran players departing either voluntarily or by the team's choosing.
Some of those players will have their contracts expired while others may see their deals cut short. Either way, don't expect to see them back with the Jets in 2021.
Let's take a look at three players who will likely be playing their final season with the Jets in 2020.
Next: 3. Henry Anderson
NY Jets (Photo by Jim McIsaac/Getty Images) /
3. Henry Anderson, DL
Henry Anderson was one of the bright spots of the Jets' 2018 defense racking up a career-high seven sacks after being acquired on Day 3 of the 2018 NFL Draft in exchange for a seventh-round pick.
In one of former general manager Mike Maccagnan's best moves, Anderson proved to be one of the surprising success stories of that year and the Jets rewarded him with a contract extension in the offseason.
Unfortunately, that extension is shaping up to be one of Maccagnan's worst moves.
Anderson was signed to a three-year, $25.2 million contract with over $17 million in guarantees. For a player who had struggled to stay healthy or produce at any other point in his career, Maccagnan set the Jets up for failure.
And now one year into that extension, it's clear that the deal was a mistake.
Anderson started 13 games in 2019 once again playing a key role in the defensive line rotation. But this time, the former Indianapolis Colts draft pick was far less successful.
After racking up seven sacks in 2018, he managed just one in 2019 and it wasn't just his pass-rush production that dipped. Anderson's Pro Football Focus grade dropped from a very solid 74.8 to a woeful 55.8 ranking him as one of the worst defensive line qualifiers in the NFL.
Of the five defensive linemen on the roster who qualified for a grade, Anderson was by far the worst ranking 100th out of 118 players. The second-worst? Rookie Quinnen Williams who ranked at a respectable 55th.
The Jets couldn't cut Anderson after his first year because of his guaranteed money, but the team has an out clause after this season with just $1.33 million in dead cap.
Barring an unexpected turn of events this season, expect the Jets to take full advantage of that out clause.
Next: 2. Marcus Maye
NY Jets (Photo by Jim McIsaac/Getty Images) /
2. Marcus Maye, S
The idea of Marcus Maye not sticking around past his rookie contract wasn't really given too much thought until draft day. That was until the Jets drafted Cal safety Ashtyn Davis in the third round of this year's draft.
Davis is a prototypical rangy free safety who looks like a direct replacement for Maye. And with that draft pick, it appears as though the Jets are preparing for his departure.
Now, the expectation is that the Jets will still try and extend superstar safety Jamal Adams. And with that in mind, it makes little sense to do the same with Maye and allocate so much money into the safety position.
Of course, the ongoing Adams situation makes this a little murkier. But my gut feeling — and seemingly the overall consensus — is that even if the Jets trade Adams, Maye is still a goner.
Davis wasn't drafted to be a long-term backup. Sure, he may fill the third safety role while playing special teams in 2020, but the Jets plan on him starting in the near future. And neither Maye nor Davis can play Adams' role.
Perhaps the Jets just don't think that Maye — who will be 28-years-old come next offseason — is worth a second contract at the price he'll be asking for.
Either way, Maye's fate in New York was sealed once the Jets drafted Davis. And now, he'll likely be using the 2020 season as an audition for prospective offseason suitors.
Next: 1. Le'Veon Bell
NY Jets (Photo by Andy Lyons/Getty Images) /
1. Le'Veon Bell, RB
When the Jets signed Le'Veon Bell to a massive four-year, $52.5 million contract a little over a year ago, few probably expected trade rumors to start as soon as the deadline last season.
But after a massively disappointing showing in 2019, Bell's future in New York is as sketchy as anyone on the team. And in many ways, that's not really fair.
More from The Jet Press
Bell's failures last season were primarily not his fault. Sure, it looked as though he lost a step or two, but the three-time Pro Bowler was given no chance at all running behind one of the worst offensive lines in the league.
And it's not as if his coaching staff provided much assistance either.
Nonetheless, it makes little sense to allocate so much money to the running back position given the current construction of the roster. And for that reason, Bell seems destined to be gone regardless of how he plays this season.
The Jets have an out in his contract after this season which carries just a $4 million dead cap charge. And considering they'll still owe him another $28.5 million over the next two years otherwise, expect them to take that out.
Now, if Bell could get a little help from his supporting cast and show that he still has plenty left in the tank, perhaps the Jets could get something for him.
If not, Bell will likely become just another Mike Maccagnan signing to be cut before the expiration of his contract.
And that's truly a shame.