NY Jets 'have a legitimate shot' at signing Jadeveon Clowney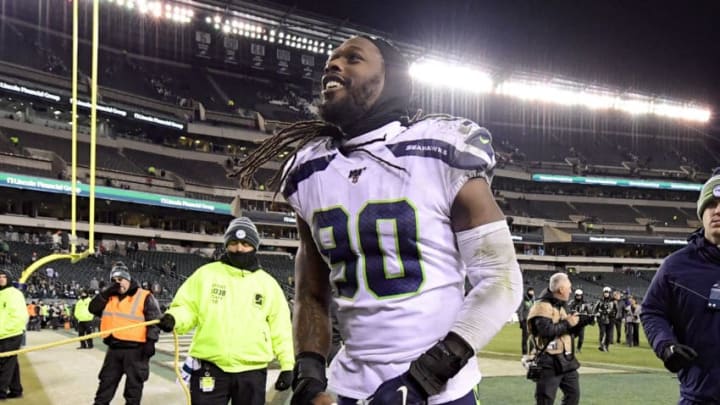 NY Jets, Jadeveon Clowney (Photo by Steven Ryan/Getty Images) /
The NY Jets are reportedly still interested in free-agent edge rusher Jadeveon Clowney with reports indicating that the team is "fishing around."
The NY Jets steered away from many of the top free agents on the market during the initial stages back in March. But a week after the conclusion of the 2020 NFL Draft, they're still sniffing around the open market looking at Jadeveon Clowney.
And in this case, it's with a player who would be their most high-profile free-agent signing yet.
Clowney was considered to be one of the biggest names on the market this offseason with reports indicating that he could be looking for upwards to $20 million per season.
Obviously, his market didn't develop exactly how he anticipated and the talented pass rusher remains a free agent into the month of May. A situation like this is almost unprecedented in today's NFL where free agents are gobbled up quicker than in any other sport.
Want your voice heard? Join the The Jet Press team!
But Clowney is being patient — and so is the NFL.
Given the initial asking price, the belief was that the Jets would almost certainly be out on a possible Clowney signing. But at this point, who knows what could happen.
In fact, Pro Football Network's Tony Pauline seems to believe that the Jets are still in on the three-time Pro Bowler.
More from The Jet Press
Pauline reported on Thursday that the Jets were "fishing around" Clowney and that they "have a legitimate shot" at signing him if they "put forth a good offer."
Clowney's asking price has undoubtedly gone way done, but he still isn't willing to sign a dirt-cheap deal. Hence why he's still on the market.
What's most likely is that Clowney signs a short-term — possibly one-year — deal with an NFL team worth maybe around $10-14 million with incentives.
Is that in the Jets' price range? Possibly — but it will likely take some maneuvering.
Reports of how much cap space the Jets have left are conflicting given circumstances (rookie class, Trumaine Johnson situation, etc.). However, OverTheCap.com currently projects the Jets at around $18 million in cap space.
But that's before accounting for the Jordan Jenkins deal or the rookie contracts.
In actuality, they probably have under $10 million in cap space remaining meaning that they'd likely have to shed some cap if they want to make it work.
Fortunately, the team could move on from Brian Winters' $8 million salary without any repercussions. They could also consider moving on from Avery Williamson and his similar salary for a small penalty.
Would it be worth it? It's hard to argue that it wouldn't.
While he's never accumulated 10+ sacks in a season, Clowney had amassed 18.5 sacks from 2017-2018 before disappointing a bit in 2019. Nonetheless, he remains a stout run defender and would still be the Jets' best pass rusher as well.
Perhaps the Jets could benefit from Jadeveon Clowney's stagnant market and land him at nearly half his initial asking price.
At this point, all we could do is wait and see.