New York Jets: Top 3 backup quarterback options team should explore in 2020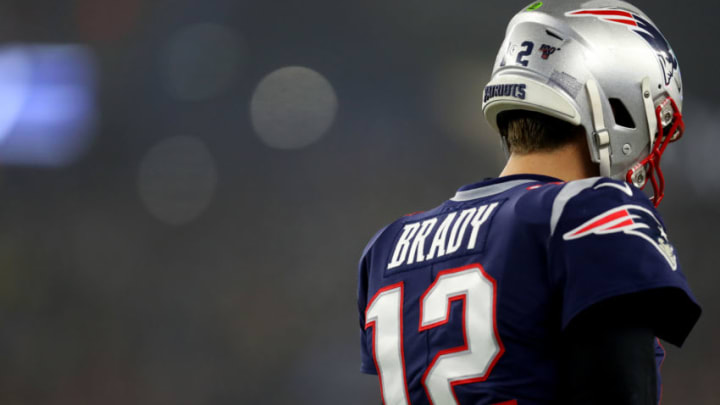 FOXBOROUGH, MASSACHUSETTS - JANUARY 04: Tom Brady #12 of the New England Patriots looks on during the the AFC Wild Card Playoff game against the Tennessee Titans at Gillette Stadium on January 04, 2020 in Foxborough, Massachusetts. (Photo by Maddie Meyer/Getty Images) /
New York Jets (Photo by Mitchell Leff/Getty Images) /
Everything went wrong for the New York Jets in 2019 which means the team needs to be better prepared in 2020. Here are all the details.
The New York Jets collapsed like a used lawn chair in 2019 when they faced any adversity. Several things didn't go according to plan including the team's starting quarterback Sam Darnold contracting mononucleosis.
When that happened the Jets were ill-prepared to survive while he was out. Actually the problem is more deep-rooted than last season.
ESPN's Rich Cimini dropped a troubling nugget that backup quarterbacks are 0-6 for the Jets in the last two seasons.
Additionally, if you track Adam Gase's history he's 10-17 with backup quarterbacks, that stat tracks back to his days coaching the Miami Dolphins, per Cimini.
After ignoring the position and underinvesting it's time for the Jets to invest in a legitimate backup plan.
As we found out every backup quarterback is one injury (or disease) away from being inserted into the lineup at the game's most important position.
Per Spotrac, the average salary for a backup quarterback appears to be between $5 and $6 million a year.
For context, the Jets handed backup quarterback Trevor Siemian an underwhelming $2 million on a one-year deal.
We scoured the 2020 free-agent market and dug up the top three backup quarterback options the team should investigate.
Next: Top 3 backup QB options
Here's a look at the top backup quarterbacks that'll be available during the 2020 offseason:
Case Keenum was supposed to be the man with the Denver Broncos, but he flopped and was flipped to the Washington Redskins. Case is a spot starter and has bounced around the league the last few years. Keenum made around $3.5 million last year for the Redskins. Make no mistake about it, Case Keenum is a backup, but he's a solid one and that's all the Jets are looking for.
Marcus Mariota is no longer labeled a franchise quarterback, but he's considered one of the top backup quarterback options on the market. Last season for the Titans he made just over $6 million.
He should be the Jets' top option this offseason, Marcus is young (26), has experience (played in 63 career games), and could step in if needed. Every NFL team's dream is to have a great backup plan that they never have to use.
Chase Daniel is a career journeyman backup quarterback and he was most recently with the Chicago Bears. Last year he made a solid $5 million as the primary backup to Mitch Trubisky.
Signing Daniel would be a safe option, someone who's been around the block and could bring a veteran presence to the quarterback room that hasn't been there since Josh McCown left.
Next: Funny backup QB options that won't happen
Funny options that won't actually happen.
To clarify there's a zero percent chance of this happening for a number of reasons, but wouldn't it be ironic?
The reason the New York Giants didn't draft Sam Darnold with the No. 2 pick in the 2018 NFL Draft is because the front office believed they were a 'win now' team so instead of drafting a quarterback for the future they drafted a piece that could help them immediately, so they took running back Saquon Barkley out of Penn State.
Of course, the New York Jets were as surprised as anyone that Darnold was still available with the No. 3 pick and they selected him out of USC and the rest is history.
Big Blue would go 5-11 and then followed that up with a 4-12 campaign in 2019. The Giants' front office was wrong and it cost head coach Pat Shurmur his job and it may eventually cost general manager Dave Gettleman his job.
Manning is now an unrestricted free agent after making over $22 million last season. Although he's adamant that he hated being a backup quarterback and said: "it wasn't fun". If and that's a big 'if' Manning plays next year it'll be in a situation where he has a chance to start or he's handed the starting job.
If that gig doesn't exist it's very likely that Eli will retire this offseason, but it would be funny to see the former two-time Super Bowl champion for the cross-town rival New York Giants backing up the quarterback Big Blue coulda, woulda, and maybe shoulda had.
Again this won't happen, but for the first time in Tom Brady's career, he's an unrestricted free agent heading into this offseason.
For the first time since 2009, the New England Patriots lost at home in the wildcard round sending the defending Super Bowl champions home. Brady's future is very much in question: will he re-sign with the Patriots? Will he play for another team? Or perhaps will Tom Brady finally call it quits and retire?
Or hey officially pass the AFC East torch from the Patriots to the Jets by signing with the New York Jets and backing up Sam Darnold for a retirement tour in 2020. Hey, a man can dream, can't he?