New York Jets: Le'Veon Bell reportedly wants to return in 2020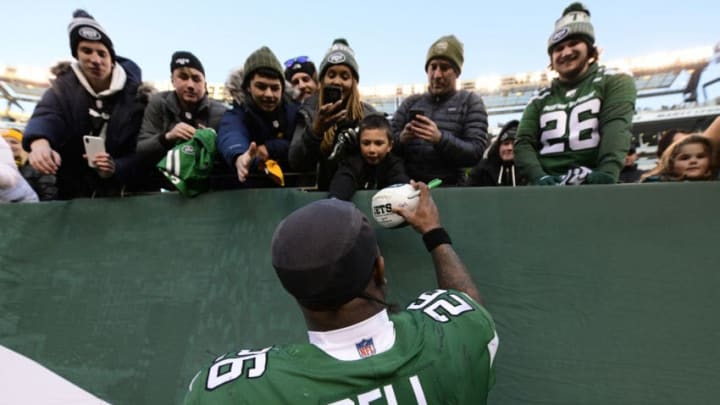 New York Jets (Photo by Steven Ryan/Getty Images) /
New York Jets running back Le'Veon Bell has had a rough first season with his new team. But despite his struggles, the former All-Pro reportedly wants to return in 2020.
Le'Veon Bell wishes to remain a New York Jets player in the future. Bell is in the middle of a $52.5 million dollar contract and hasn't played up to expectations, suggesting that all that time off of football has done more harm than help.
Bell has rushed for just 748 yards and three touchdowns this season on only 3.3 yards per carry running behind one of the worst offensive lines in the NFL.
More from The Jet Press
But despite his struggles, ESPN's Rich Cimini reports that Bell wants to return to the Jets in 2020. Sometimes it takes a little to get back into the swing of things, and that could very well be the case with Bell next year.
Bell could regain focus and have a better year statistically if he stays healthy, which is why it would be unwise for the rebuilding Gang Green to part ways with him. His off-year was only due to taking a year off of football activities, not merely anything else.
Bell was widely speculated to be "dramatic" due to his time and Pittsburgh antics, however, he has been nothing but a bright light on the New York Jets despite having an off-year.
The fans adore him but obviously wish they got the Pittsburgh Steelers version of Bell, not this Jets season version that suggests taking time off has only hurt him, in the grand scheme of things.
Bell is still a top-five running back when healthy and playing up to standards, although he's had quite the fall off ever since making his Gang Green debut in front of highly anticipating fans who had very high expectations for him right off the bat.
I'd say if Bell continues to struggle next year, parting ways is by all means necessary. As much as you'd want to keep a player of his hopeful caliber around, if he's not performing to the best of his abilities, it is indeed a waste and time to part ways with him.
You can't wait around forever. However, I see him improving in the next year when he's fully back into the groove and when the Jets are stronger due to the 2020 NFL Draft once again.
You have to give him time to adjust back to NFL life, as a lot can change in a year. A year is actually a long time, even if it seems to go by pretty fast.
What I'm pointing at is, Le'Veon Bell deserves a chance. He hasn't been a distraction even though he's been a slight disappointment. It's expected with all of the time he's taken off of football activities.