New York Jets: Pro Football Hall of Fame shuts doors on Joe Klecko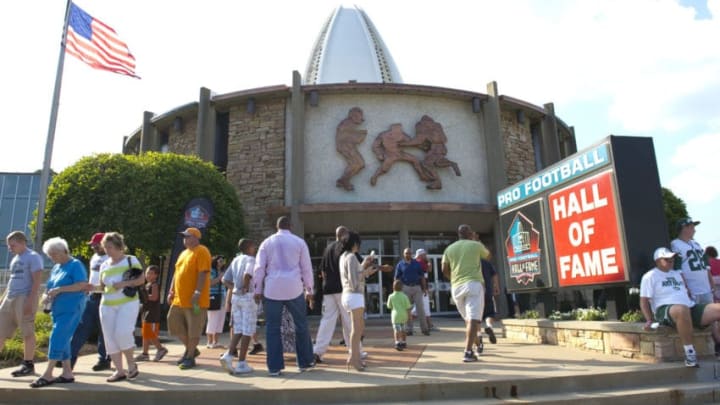 CANTON, OH - AUGUST 4: A general exterior view of the Pro Football Hall of fame prior to the Class of 2012 Enshrinement Ceremony at Fawcett Stadium on August 4, 2012 in Canton, Ohio. (Photo by Jason Miller/Getty Images) /
New York Jets legend Joe Klecko will likely never be in the Pro Football Hall of Fame. Here are all the details and what this means for his legacy.
One of the biggest snubs not in the Pro Football Hall of Fame is New York Jets legend Joe Klecko. After an announcement on Thursday, it appears he'll never make it in.
With the NFL celebrating its 100th season, the Pro Football Hall of Fame decided to do something special for its upcoming class of inductees by opening its doors wider than ever before.
For the class of 2020 exclusively, the NFL's Centennial Celebration will include 20 members which is an unprecedented number. That group of inductees will feature modern-era players, three contributors, two coaches, and most importantly 10 senior players (who have been retired for more than 25 seasons).
In essence, this was an opportunity to get some long-overdue players enshrined while also celebrating the NFL's great history.
On Thursday the Pro Football Hall of Fame announced the class of 2020 centennial slate finalists. Unfortunately, that list didn't include Jets legend Joe Klecko.
JUST ANNOUNCED: The Class of 2020 Centennial Slate Finalists. #PFHOF20
More on the Centennial Slate Finalist: https://t.co/yEF4HFiLKI pic.twitter.com/i3tFqOo6Cv
— Pro Football Hall of Fame (@ProFootballHOF) December 19, 2019
This was Klecko's best and likely last chance to ever be enshrined into Canton, Ohio. A normal hall of fame class only allows a select few in on a yearly basis, this year they expanded it to greater lengths than we've ever seen and he still didn't make it in. If he didn't make it in with those odds, when will he ever make it in?
The answer to that question is sadly never.
Although one former New York Jets legend did finally breakthrough and that's Super Bowl 3 hero Winston Hill. He was one of the stalwarts on the offensive line that helped keep 'Broadway' Joe Namath upright and created rushing lanes for Emerson Boozer and Matt Snell.
It's a bittersweet moment for New York Jets fans. On one hand, Hill was long overdue but on the other side of the coin, the realization that Joe Klecko will never be immortalized among the game's greatest players will forever leave a sour taste in the mouths of New York Jets fans.