New York Jets may have found a blessing late in the NFL Draft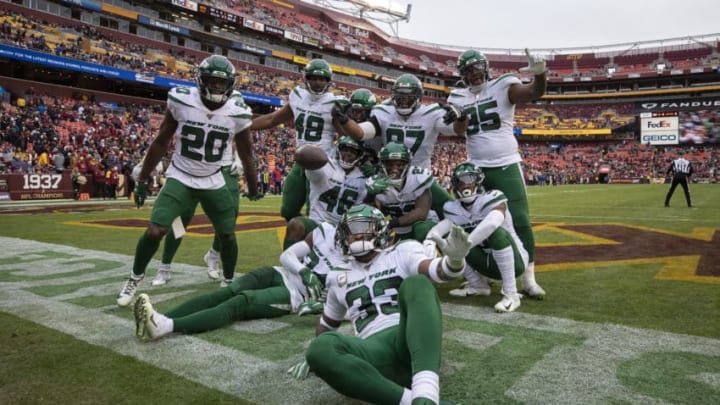 New York Jets (Photo by Scott Taetsch/Getty Images) /
The New York Jets may have found a blessing late in the NFL Draft. Here are all the details and why that's great news for the offseason.
The NFL Draft for all intents and purposes is a crapshoot.
It's an educated guessing game based around risk. At different points in the draft a team weighs the potential risk vs the potential reward.
On April 28, day three of the 2019 NFL Draft, the New York Jets took a gamble on a local product out of Rutgers with a troubling track record of injuries.
Blessuan Austin ended up as the 196th overall pick of the sixth round in the 2019 NFL Draft.
His career was marred by injuries (back-to-back season-ending knee injuries) cost him much of his collegiate career.
Those injuries also cost him the majority of his rookie season with the green and white. Many fans and analysts were left wondering if he'd ever make it back on the football field?
That question was answered when he was activated off the injured list and made his season debut vs the New York Giants last week.
Against Big Blue, he forced a fumble, got a pass deflection, and recorded three solo tackles. Although the most important thing was just seeing him back healthy on a football field.
With all the injuries to the depth chart, Bless Austin was forced to start at one of the corner spots vs the Washington Redskins on Sunday. He didn't disappoint.
Per Pro Football Focus, Bless finished with a 77.2 overall grade which was the highest on the Jets' defense and the 11th best among all cornerbacks in the NFL.
There was never a question about his talent, but his durability was always a legitimate concern. That's the main reason he was even available to be drafted in the later rounds of the NFL Draft.
But now he has a chance to carve out a legitimate role on this Jets defense in 2019 and beyond with his outstanding length and twitchy burst/reaction time.