New York Jets: Complete Week 3 report card following loss to Patriots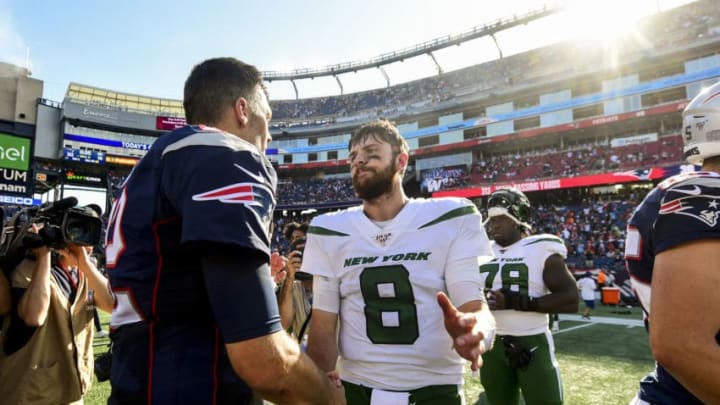 FOXBOROUGH, MA - SEPTEMBER 22: Tom Brady #12 of the New England Patriots shakes hands with Luke Falk #8 of the New York Jets after a game at Gillette Stadium on September 22, 2019 in Foxborough, Massachusetts. (Photo by Billie Weiss/Getty Images) /
FOXBOROUGH, MA – SEPTEMBER 22: Ty Montgomery #88 of the New York Jets carries the ball during the second quarter of a game against the New England Patriots at Gillette Stadium on September 22, 2019 in Foxborough, Massachusetts. New York Jets (Photo by Billie Weiss/Getty Images) /
The New York Jets lost their third straight game to kick-off the 2019 season, this time to their division rival New England Patriots. Check out our complete grades for the Jets Week 3 loss.
Another week and another loss for Gang Green. We all knew that this was a game the New York Jets had no shot to win but it still hurts to see the team get humiliated by the New England Patriots for the seventh consecutive time since last beating them in 2015.
Even the most optimistic of Jets fan can't be feeling good going forward as this game was just painful to watch. It was a terrible performance by the offense, the defense got torched but they put up an effort, and the coaching was just horrendous, especially the offensive play calling.
Jets fans finally get a break from the madness with a Week 4 bye coming up but that still doesn't change the fact that this team is a flat out disappointment and any hype from the preseason is completely gone.
Want your voice heard? Join the The Jet Press team!
As usual, Tom Brady tore up the Jets defense by throwing for over 300 yards and two touchdowns. The Patriots offense made it look as if they were taking candy from a baby as four out of their five touchdowns came from their offense and they went on to beat the Jets 30-14.
After that embarrassing display of football, here is a complete report card from the Jets Week 3 loss.
Next: Offense
FOXBOROUGH, MA – SEPTEMBER 22: Luke Falk #8 hands the ball off to Le'Veon Bell #26 of the New York Jets during the second quarter of a game against the New England Patriots at Gillette Stadium on September 22, 2019 in Foxborough, Massachusetts. New York Jets (Photo by Billie Weiss/Getty Images) /
Offense — F
The Jets offense seemed out of touch for a third week in a row, but are you surprised? The Jets have not had an offensive touchdown since Week 1 against the Buffalo Bills and it looks like that is going to continue until something changes.
Again, the offensive line was horrible and, as I said in last week's report card, the Jets should bench Ryan Kalil for Jonotthan Harrison. But of course, he started at center on Sunday and was very underwhelming.
Kalil wasn't the only one to blame on the line left tackle Kelvin Beachum looked outmatched against that Patriots outside pass rush. The Jets offensive line gave up a total of five sacks and ten QB hits.
Receiving his first-ever NFL start was second-year quarterback Luke Falk who tried but could not get anything going on offense. Falk ended the day going 12-for-22 and only throwing for 98 yards and an interception.
The only man on offense you can not hate on is Le'Veon Bell who even knowing everyone else around him on offense stunk, Bell got an 'A' for effort.
Bell never had a chance to find an open hole because of the Patriots defense blitzing on almost every play knowing that the Jets would keep handing it off to him.
However, Bell was seemingly not fazed by all of the team's criticism as he took to Twitter after the game to address the Jets detractors.
all you haters, enjoy it for now..just don't go casper when all this gets turned around..we embrace adversity, we embrace the hate, and everyone that wants to see my team fail, or me fail individually, I'll remember, we'll remember it ALL, & use it, & wear it as a badge of honor!
— Le'Veon Bell (@LeVeonBell) September 22, 2019
The Jets ended the day with a total of 105 yards of offense perfectly summing up an awful afternoon.
Next: Defense
FOXBOROUGH, MA – SEPTEMBER 22: Jamal Adams #33 of the New York Jets reacts with Brian Poole #34 after scoring a touchdown after an interception during the fourth quarter of a game against the New England Patriots at Gillette Stadium on September 22, 2019 in Foxborough, Massachusetts. New York Jets (Photo by Billie Weiss/Getty Images) /
Defense — D
On the other side of the ball, the defense had their moments. The Jets defensive line was non-existent as they could not generate a pass rush and could not stop the run in the red zone as both of the Patriots rushing touchdowns came in the part of the field.
Former first-round pick Leonard Williams had another quiet game recording no sacks and only three tackles. Williams is on the last year of his contract and is proving why he shouldn't be on the team — he is yet to record a sack this season.
Let's shift the gears to the linebackers who, out of the three units on defense, did the best in my mind. One positive takeaway from the Jets defense was rookie linebacker, Blake Cashman, who looked fast sideline-to-sideline while recording five tackles.
He is no C.J. Mosley, but he has the potential to be a good inside linebacker for the future. The other linebackers who were solid on Sunday were Frankie Luvu, Neville Hewitt, and Albert McClellan who combined for 10 tackles.
Finally, let's touch on the secondary — the unit that all Jets fans complain about because of their messy cornerback situation. The Jets secondary gave up 238 yards receiving to Patriots wide receivers alone.
More from The Jet Press
It got ugly early on as the Jets secondary could not stop the Patriots passing game up the middle. Before leaving the game with a rib injury, Julian Edelman was torching the Jets secondary as he caught seven balls for 62 yards and a touchdown.
The Jets cornerback situation has been an absolute mess.
After being benched on Monday night, Trumaine Johnson did not see the field much on Sunday as Nate Hairston got the start for the second consecutive week.
Daryl Roberts struggled against Josh Gordan as Gordan burnt him multiple times on Sunday. The only cornerback that actually had a solid outing was Brian Poole who had 10 solo tackles and almost came away with an interception at one point.
The safety play was acceptable as Marcus Maye and Jamal Adams put up an effort and are the only two players holding down that secondary. Adams did have a pick-six in the fourth quarter when he intercepted Jarrett Stidham and returned it for a 61-yard touchdown.
After the game, team reporter Ethan Greenberg asked Adams about his first career pick-six and Adams had the following to say.
"I don't really care about it, honestly. It's an achievement for me, but I just want to win, man. That's what I'm about. It was a great play, I'm happy to put points on the board, but we have to be better."
Next: Coaching
FOXBOROUGH, MA – SEPTEMBER 22: Head coach Adam Gase of the New York Jets looks on during the second quarter of a game against the New England Patriots at Gillette Stadium on September 22, 2019 in Foxborough, Massachusetts. New York Jets (Photo by Billie Weiss/Getty Images) /
Coaching — F
I'm going to keep this one short because we all know the biggest problem on this team and it's the coaching.
The offensive play-calling has been very conservative as the Jets don't mix it up. Instead, they always run on first down and they don't throw the ball downfield.
Early on in the game, Adam Gase decided to run it on a third-and-15 which made little sense. After the game, Adam Gase had the following to say to Jets reporter Randy Lange.
"Yeah, it's brutal. It's like one of those things where it's infuriating. You're watching the defense and special teams play as hard as they can, executing what they're being asked to do and doing it well most of the game, and we're not holding up our end on offense."
Jets fans are happy that the team's bye week has finally come. And hopefully in two weeks when the team heads to Philadelphia to play the Eagles, they will be at full strength.