Jets front seven shines, secondary burned vs Falcons in Preseason Week 2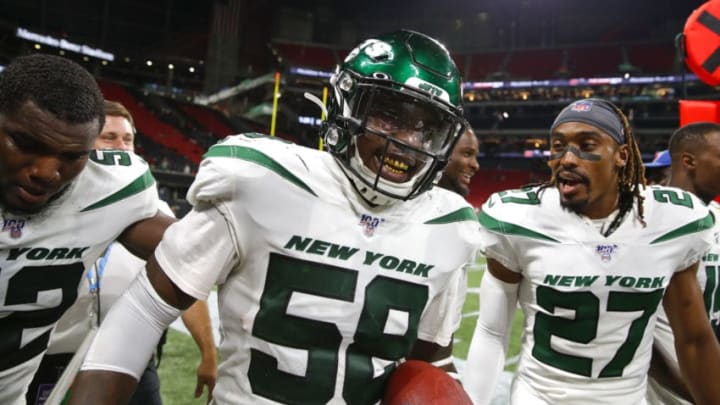 (Photo by Todd Kirkland/Getty Images) /
(Photo by Todd Kirkland/Getty Images) /
The New York Jets defense had its ups and downs in their second preseason game. See how each unit faired during Thursday's game.
We're one game closer to seeing regular-season football. The New York Jets took a victory in their second preseason game, beating the Atlanta Falcons 22-10 on the road. The win means next to nothing, but it's nice to see a Jets win no matter the circumstances.
The New York defense only allowed 10 points, which is a good sign. Although the Falcons missed out on several opportunities to put more points on the board, missing two field goals, and had two would-be touchdown catches that were dropped by the receivers.
The Jets defense forced three turnovers, two fumbles, and one interception. They also forced two three-and-out punts, keeping Falcons punter Matt Bosher busy throughout the game. It was a good day for most of the Jets defense, starters and backups alike.
How did each unit perform? Analysis and letter grades for each group of the Jets' defense's performance on Thursday:
The NY defensive line had a day. Gregg Williams was dialing up blitzes left and right, and it paid off. The Jets got to the quarterback all night long, totaling 5 sacks and applying pressure several more times. The defense brought the heat tonight, and the Falcons weren't ready for it.
Bronson Kaufusi had a fantastic outing. He sacked the quarterback once and knocked him down another time. He also batted down two passes as a defensive end. His highlight of the night was forcing a fumble on quarterback Matt Simms, which was recovered by Anthony Wint and returned for 26 yards to put the Jets in good field position. The takeaway set up a touchdown for the offense.
Kaufusi was a bubble player heading into training camp. Now he's not only made a strong case to keep a spot on the roster, but he's put himself into conversations at starting defensive end. His strong summer continued on Thursday in week two.
The run defense thrived once again, holding the Falcons to 3.2 yards per carry on 26 rushes. If the preseason means anything regarding the expectations for the regular season, the Jets' run defense should be among its strongest attributes.
Quinnen Williams had a solid game on Thursday as well. His only statistic was his one QB hit, but his presence was felt in several pass-rushing situations. One play of his went viral on social media, where he bullied the Falcons' starting offensive guard and crashed Matt Ryan's pocket to force an incompletion on third down.
Quinnen. Williams.
jfc pic.twitter.com/gdTaY2FLmX
— Austin Gayle (@PFF_AustinGayle) August 15, 2019
The Jets' defensive line looks good. They've shut down the run in both games and got to the quarterback a ton against the Falcons. They have more than enough depth and should perform well throughout the entire season with Gregg Williams calling plays.
Next: Linebackers
Photo by Mike Stobe/Getty Images) /
The Jets linebackers balled out yet again, being among the Jets' best units for the second game in a row. The unit made plays left and right from start to finish, showing off its playmaking ability and depth. It's going to be tough to cut some of these players if the Jets need to.
Gregg Williams sent his linebackers after the quarterback on blitzes very often, and it worked. Avery Williamson, Brandon Copeland, and Anthony Wint all recorded sacks on Thursday's game. They got to the quarterback all night long via blitzing.
The linebackers' playmaking ability went beyond getting to the quarterback. Wint returned a fumble recovery for 26 yards to put the Jets in excellent field position to start their drive. James Burgess Jr. also had a great game, racking up three tackles, picking off Matt Simms and returning it for a touchdown.
The Jets' young linebackers have stepped up. Burgess, Wint, Blake Cashman, and Jamey Mosley have all made their cases to be a part of the 53-man roster. Veteran inside linebacker Neville Hewitt flashed last year when Darron Lee went down with a suspension, so he could deserve a spot as well. Inside linebacker has turned into one of the most interesting position battles of the summer.
Jachai Polite had another quiet night, only posting two tackles. He's had his ups and downs this summer and doesn't look like a viable option to use as a pass rusher quite yet. His potential is still there, but he's gonna need some time to develop. The Jets have more than enough depth at linebacker, so this isn't a problem at all.
The Jets' linebackers continued to thrive on Thursday. The linebackers and the defensive line are appearing to be a nasty front seven. They created takeaways, got to the quarterback, and shut down the run. It doesn't get much better than that.
Next: Secondary
(Photo by Michael Reaves/Getty Images) /
The Jets cornerbacks have been a scary sight to see this preseason. The lack of depth is terrifying, and if any starter is out during the regular season, the Jets could have a problem.
The corners got beat a good amount for the second week in a row, allowing 250 passing yards. Matt Schaub and Matt Ryan combined to complete 18 of their 24 passes, which is a 75% completion rate.
Arthur Maulet started for the Jets in place of Kyron Brown and Trumaine Johnson, and he had a rough game. He was noticeably beat on many occasions and went down with an injury to end his night. Coach Adam Gase said that Maulet is healthy in his post-game press conference.
Without its first and fourth-string cornerbacks, the secondary was beat up pretty badly. If it weren't for the pressure brought by the front seven, it could have been a really bad day for the defense. Gregg Williams may have to bring even more pressure than he's used to in order to mask the Jets' corner deficiencies.
Alex Brown, formerly with the Eagles, was the lone bright spot in the cornerback group. Brown played good coverage for most of the night and recorded two tackles. The Jets desperately need a backup corner to step up, and hopefully Alex Brown does so.
Jamal Adams posted a sack on a safety blitz, earning the most notable play by a Jets defensive back. Adams and Marcus Maye will be able to help out the corners a lot, but if a starter goes down anywhere in the secondary, things can go downhill very quickly.