NFL Network's Daniel Jeremiah shoots down speculation of joining Jets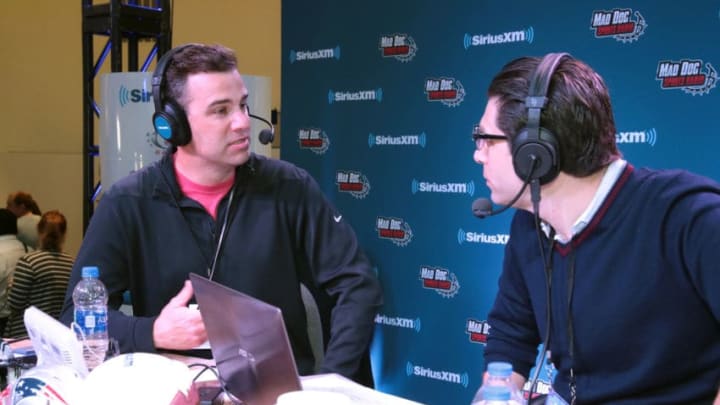 MINNEAPOLIS, MN - FEBRUARY 02: NFL Network analyst Daniel Jeremiah (L) and SiriusXM host Adam Schein attend SiriusXM at Super Bowl LII Radio Row at the Mall of America on February 2, 2018 in Bloomington, Minnesota. (Photo by Cindy Ord/Getty Images for SiriusXM) /
NFL Network's Daniel Jeremiah is making in clear he has no intentions of leaving his media gig to join the New York Jets front office under new general manager Joe Douglas.
It does seem like the popular trend, but one of the best NFL draft analysts in the business doesn't appear to be leaving the screen for the Gang Green this offseason.
Daniel Jeremiah has been the subject of much speculation regarding a potential job with the Jets' front office, even before the team made the hiring of Douglas official. But Jeremiah took to Twitter this week to share his thoughts on Douglas' hiring, and also make it clear he has no plans to leave his current job to join him in New York:
To answer the next question-I'll be covering Chargers practice for NFL Network on Wednesday. I love my jobs (NFL Network & color for Chargers radio).
— Daniel Jeremiah (@MoveTheSticks) June 10, 2019
A quarterback at Appalachian State in his playing days, Jeremiah joined NFL Network in 2012, taking over for Mike Mayock as the network's top draft analyst after Mayock was hired as the general manager of the Oakland Raiders. Jeremiah does have experience in league scouting circles, having served in the front office for Baltimore Ravens, Cleveland Browns and Philadelphia Eagles.
Jeremiah and Douglas are reportedly close friends, and even media counterparts like ESPN's Adam Schefter began connecting the potential dots after the Jets fired Mike Maccagnan and appeared to already be targeting Douglas:
Just months after NFLN Draft Analyst Mike Mayock took the Raiders' GM job, his replacement Daniel Jeremiah is under serious consideration for a prominent front-office position with the NY Jets, per sources. NFLN Draft Analyst job has become breeding ground for front-office jobs.
— Adam Schefter (@AdamSchefter) May 15, 2019
Jeremiah isn't the only big name in draft media to be mentioned as a potential target for Douglas and the Jets front office, either. ESPN's Todd McShay has said he remains under consideration to join Douglas and his team in New York.
While Douglas certainly has experience helping to build a successful roster in Philadelphia, this will be his first chance to prove himself as an NFL general manager. Adding key decision-makers around him will be vital, but it doesn't look like Jeremiah will be one of them.
Do you think the Jets should consider Jeremiah and McShay for front-office roles? Can Douglas turn the Jets into Super Bowl contenders? Give us your take in the comment section!