New York Jets officially reveal new uniforms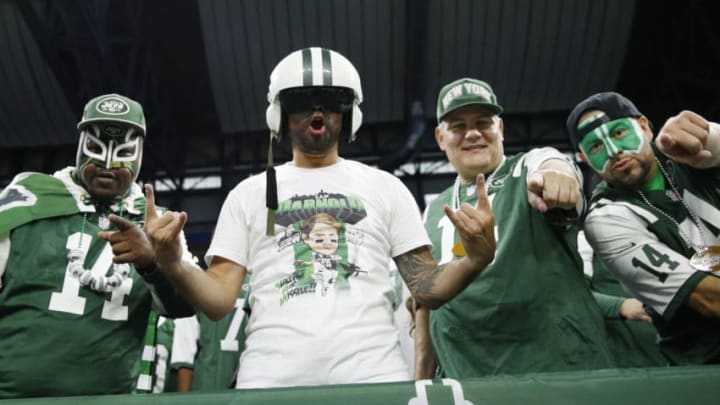 DETROIT, MI - SEPTEMBER 10: Jets fans attend the game between the Detroit Lions and the New York Jets at Ford Field on September 10, 2018 in Detroit, Michigan. (Photo by Joe Robbins/Getty Images) /
The New York Jets officially revealed their new uniforms on Thursday night. The new uniforms signal a new era in the Jets franchise. The Jets look good but now they need to play good for fans to get excited about this new era. Here is what you need to know about the Jets new uniforms.
The New York Jets officially revealed their new uniforms on Thursday night to help usher in a new era of Jets football. The Jets held a launch party at Gotham Hall in Manhattan that was emceed by JB Smoove. The launch party was broadcasted on the team's official website and social media channels.
The colors that will make up the new uniforms are Gotham Green, Spotlight White, and Stealth Black. The words "New York" will be printed across the chest of each jersey; a nice touch to respect the city that has been down for the team since their inception. The creative process for these uniforms began in 2014 thanks to Jets owners Woody and Christopher Johnson. With the collaborative efforts of Jets ownership, the NFL, and Nike; these fresh new looks came to life.
The beginning of a new legacy.#TakeFlight pic.twitter.com/oaGidDB65B
— New York Jets (@nyjets) April 4, 2019
Christopher Johnson spoke with the New York Jets media team shortly after the uniforms were revealed and noted that these new uniforms are just another exciting thing happening with the franchise.
It was time for a new uniform. It was time for a new Jets," said CEO Christopher Johnson, months before the Jets' new look was unveiled at Gotham Hall Thursday night in Manhattan. "And I think it's extraordinary that given all this time it's taken to get to this point, we are now as a team on the cusp of what I think is a new era. And it's most appropriate that we're going to start that era with a new uniform, a new look. I'm really excited about it."
It's an exciting time for this franchise with a new coach, top rated free agent signings, and obviously the new uniforms. The Jets most certainly look good but now their play must match their new look. Like JB Smoove says below, this is the beginning of a new legacy. It's time to TAKE FLIGHT!
The next generation of New York Jets football starts now.#TakeFlight pic.twitter.com/dltSD95GkV
— New York Jets (@nyjets) April 4, 2019