Bills vs. Jets Week 10: Josh McCown, other players to watch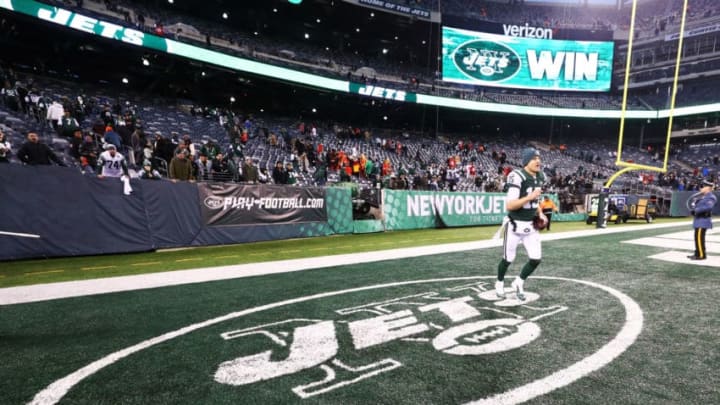 EAST RUTHERFORD, NJ - DECEMBER 03: Josh McCown #15 of the New York Jets celebrates after defeating the Kansas City Chiefs 38-31 after their game at MetLife Stadium on December 3, 2017 in East Rutherford, New Jersey. (Photo by Al Bello/Getty Images) /
EAST RUTHERFORD, NJ – DECEMBER 03: Josh McCown #15 of the New York Jets celebrates after defeating the Kansas City Chiefs 38-31 after their game at MetLife Stadium on December 3, 2017 in East Rutherford, New Jersey. (Photo by Al Bello/Getty Images) /
At 3-6 and in the midst of yet another depressing season, the New York Jets will host the even more depressing Buffalo Bills in Week 10. Both teams playoff hopes died awhile back and the only thing on the line now is pride. Here are the five players to watch in this AFC East battle.
The New York Jets are in an all too familiar place once again going into Week 10. The Jets have lost three straight games and their record has dropped to 3-6. The playoffs are most likely out of reach and their offense looks lost. The Jets have only scored a COMBINED 33 POINTS in these three games and have put too much pressure on the defense to bail them out of bad situations.
The team has dealt with a number of injuries on the offensive side of the ball with the most recent being quarterback Sam Darnold with a foot sprain. The offense has the league's 32nd ranked red zone offense, has struggled to convert on third downs, and there is no other way to put it; this team has just flat-out sucked. Some of the blame falls on the players but a majority of it falls on the coaching staff led by head coach Todd Bowles. Bowles and his staff have not been able to make the necessary adjustments and if this continues, expect owner Christopher Johnson to clean house and bring in a new staff for 2019.
The Jets are desperate for a win and could end their three-game skid this week when they host their AFC East rivals, the Buffalo Bills. After making the playoffs for the first time in 18 years last season, the Bills have fallen back to being a disappointment with a 2-7 record. Like the Jets, they have an aggressive defense that has been stuck trying to get their inept offense out of too many bad situations. The old mantra is defense wins championships, but you need at least an average offense to get you there.
Anyways, this game is about pride for both teams. They both need to show their owners and fan bases something good before their Week 11 byes, even if the playoffs are out of reach. Bowles and Bills head coach Sean McDermott are both fighting for their jobs and if one or both of them don't show anything good this weekend, they will be in the unemployment line come January. Here are the top five Jets players to watch during the game.
EAST RUTHERFORD, NJ – NOVEMBER 02: Quarterback Josh McCown #15 of the New York Jets spikes the ball in celebration of scoring a touchdown against the Buffalo Bills during the first quarter of the game at MetLife Stadium on November 2, 2017 in East Rutherford, New Jersey. (Photo by Elsa/Getty Images) /
5. Quarterback Josh McCown
The Jets are turning to the savvy old veteran on Sunday as quarterback Josh McCown will start against the Bills. McCown is stepping in for Darnold who suffered a significant foot sprain at the end of the Dolphins game in Week 9. This is not good news for the Jets and their fans, but hopefully, someday soon Darnold's injury will be a blessing in disguise. Darnold will now have a chance to take a breather, watch from the sideline, and gain a new perspective on what it means to be an NFL starting quarterback.
Luckily for the Jets, McCown is very comfortable in this offense because he was the Jets starting quarterback last season before a broken hand ended his season against the Denver Broncos. McCown led the team to a 5-8 record while throwing for 2,926 yards, 18 touchdowns, and just nine interceptions. McCown quickly earned the respect of the Jets locker room and is still a valuable leader on a young team.
One of the young guys that McCown is excited to play with for the first time against the Bills is wide receiver Quincy Enunwa. Enunwa was out all of 2017 with a neck injury but has come back with a vengeance this season. Enunwa leads the team with 25 receptions and physical force with yards after the catch and battling for 50/50 balls. McCown spoke highly of being able to play with Enunwa for the first time as a member of the Jets recently with the media. Here is what McCown had to say about Enunwa according to Eric Allen of NewYorkJets.com:
"I tell you what, he gets me fired up watching him carry the ball on Sunday's and he's got a 'C' on his chest for a reason and I'm glad his on our team," McCown said of Enunwa, who leads the club with 25 receptions. "He's been a heck of a leader for us and we just got to keep finding ways to involve him because he influences the game every time he touches the ball."
According to the official practice report from the Jets, fellow wide receiver Robby Anderson is doubtful to play this week, which opens the door for Enunwa to make a bigger impact. Look for McCown to target Enunwa early and often against the Bills.
Next: 4. Running Back Elijah McGuire
EAST RUTHERFORD, NJ – NOVEMBER 02: Elijah McGuire #25 of the New York Jets carries the ball as Micah Hyde #23 of the Buffalo Bills defend in the fourth quarter during the fourth quarter of the game at MetLife Stadium on November 2, 2017 in East Rutherford, New Jersey. (Photo by Elsa/Getty Images) /
4. Running Back Elijah McGuire
Although it didn't show up on the scoreboard against the Dolphins last week, running back Elijah McGuire provided a spark to the Jets running game. McGuire, who returned to action in Week 9 after a stint on short-term IR with a foot injury, totaled 60 scrimmage yards in the Jets 13-6 loss. That spark on offense was needed in a big way with Isaiah Crowell failing to do really anything on the ground since his 219 yards rushing against the Broncos.
McGuire will need to continue being a dual threat out of the backfield because the Bills have an aggressive defense that is considered one of the better units in the league. The Bills defense is ranked third in the NFL in four categories: total yards/game, total yards/play, pass yards/game, and pass yards/play. This figures to be another low scoring game as both teams have good defensive units but are stuck in the mud on offense. However, McGuire has the ability to take one to the house any time he touches the ball. McGuire average 6.7 yards a touch last week on 10 offensive touches.
Like I noted before, the Jets haven't been able to move the ball on the ground consistently since Crowell's 219 yards against the Broncos. In the four games since then, the Jets have rushed for a combined 308 yards. They are ranked 17th with 109.2 yards per game. McGuire recently spoke with reporters and wasn't shy in saying he can provide the spark needed in the Jets backfield. Here is what McGuire had to say according to an article from Greg Joyce of the New York Post:
"I think I can do a very good job of sparking this offense, especially in the pass game," McGuire said Friday as the Jets prepared for Sunday's game against the Bills at MetLife Stadium. "They're spreading me out wide, getting me mismatches with the linebackers I know I can beat. In the run game also, just hit a couple runs and then open up the pass game for the receivers on the outside."
McGuire has stepped into the Bilal Powell role after Powell went down with his season-ending neck injury. The Jets need McGuire to become that dangerous dual-threat out of the backfield that the team knows he can be. Before the season began, running backs coach Stump Mitchell compared McGuire's skill set to Ladanian Tomlinson. If McGuire can be even half of what LT was, the Jets will have their spark and more on offense for the next decade.
Next: 3. Tight End Chris Herndon
EAST RUTHERFORD, NJ – OCTOBER 21: Chris Herndon #89 of the New York Jets celebrates his touchdown catch against the Minnesota Vikings during their game at MetLife Stadium on October 21, 2018 in East Rutherford, New Jersey. (Photo by Al Bello/Getty Images) /
3. Tight End Chris Herndon
Another new weapon that McCown will have a chance to throw to for the first time against the Bills is the tight end, Chris Herndon. The rookie has been on a roll the past month with a touchdown and over 40 yards in three of the last four games. During training camp, the coaching staff expected great things from Herndon and so far this season, he has delivered the goods. Now, this week he gets a chance to catch passes from a new quarterback who knows how to get guys open.
There were only a few if any positives to take from the 13-6 loss to the Dolphins, and Herndon was one of the few positives. He totaled his most receiving yards this season (62) and was the Jets highest rated offensive player according to Pro Football Focus (74.5). With no other Jets tight end making any kind of impact, Herndon has the chance to continue to shine working with McCown.
McCown will have the chance on Sunday to throw to the Jets two most consistent pass catchers in Enunwa and Herndon. Enunwa and Herndon both average over 13 yards per reception and for Herndon he has some of the most reliable hands on the team this season at 72.7 catch percentage. The Bills do have a good, aggressive secondary but McCown needs to find his big tight end and beast of a wide receiver on a consistent basis. If McCown is able to do that, the Jets offense is going to finally find its rhythm.
Next: 2. Defensive Lineman Leonard Williams
2. Defensive Lineman Leonard Williams
Last week in Miami, Leonard Williams father was able to see his son play football for the first time in a decade after serving a prison sentence. Big Cat wanted to have a big game for his father and fortunately, he did just that. Williams totaled four tackles, a tackle-for-loss, and a quarterback hit. He was indeed a big cat on the prowl you could say.
Williams is in the midst of another solid season and has stood out in a major way according to Pro Football Focus. Williams has three sacks and three hits on third downs. The only other interior defender with at least three of each on third downs this season is Aaron Donald. That is an elite class to be in as Donald is helping lead the defense for arguably the best team in the NFL this season. The Los Angeles Rams have the best record in the NFC at 8-1.
More from The Jet Press
For Williams, he and Jamal Adams have been leading a defense that has come to play every week but has been let down by their offense on too many occasions.
The offense needs to be able to sustain drives because if they rely on defense for too long, that unit will tire out and will lead to losing close games. A clear example of this was against the Dolphins as the defense held the Miami offense to 168 yards, the fewest yards the Green & White have allowed since the season opener in 2014.
It was one of the most disappointing losses this season because the defense played at an elite level all game but the offense was stuck in the mud. In a post-game interview with NewYorkJets.com team reporter Ethan Greenberg, Williams shared his disappointment over the loss. Here is what Williams had to say:
"It was tough," said defensive lineman Leonard Williams, who registered one quarterback hit and one tackle for loss. "We only gave up two field goals. The defense was playing pretty lights out. It almost felt like we won the game from our perspective, but then you look at the scoreboard and we didn't win. I don't know how to feel right now. Kind of disappointing."
Williams and the Jets defense are in a prime position to have another great outing against the Bills this weekend. The Bills are in a horrible spot at quarterback right now and no matter who gets the start for them, expect it to be a long day. Maybe the defense will win this game on their own for the Jets this week.
Next: 1. Safety Jamal Adams
EAST RUTHERFORD, NEW JERSEY – OCTOBER 07: Jamal Adams #33 of the New York Jets reacts against the Denver Broncos during the first half in the game at MetLife Stadium on October 07, 2018 in East Rutherford, New Jersey. (Photo by Mike Stobe/Getty Images) /
1. Safety Jamal Adams
"The Prez" Jamal Adams had another good day at the office against the Dolphins, totaling seven combined tackles and two passes defended. The leader of the Jets defense has played at a Pro Bowl level all season but gets overlooked by most fans because of the team he plays on. Adams has brought that fire out that he plays with and turned it up a notch every game.
According to Pro Football Focus, Adams ranks eighth among 50 qualified NFL safeties in defense grade (80.2) this season. He doesn't rank lower than 16th in any statistical category (run defense, tackling, pass rush, coverage). Adams is second on the team in combined tackles (63), tackles for loss (seven), and passes defended (eight). The man has been making plays all over the field and if he can keep it up these next two months, he will make that Pro Bowl team that he said he promised to never miss again.
For Adams however, he would much rather trade individual success for team success. The Jets are in the midst of a three-game losing streak and it's starting to wear on guys who have played well like Adams. In a post-game interview, Adams did not hold back his anger and let the media know how frustrated he is losing. Here is what Adams had to say as per Rich Cimini of ESPN:
"I'm sick of losing," he added. "Honestly, I'm sick of losing. I'm fed up with losing. … It pisses me off every time. I'm not a loser. I want to get back on the winning track. We've lost three straight? Come on, man."
The Jets need this win before their Week 11 bye to gain some kind of confidence for the rest of the season. The defense has played well but now it is time for the offense to do their part. This win would give something the Jets to build on while they prepare for the New England Patriots during the bye week.