Broncos vs. Jets: Top 3 keys to victory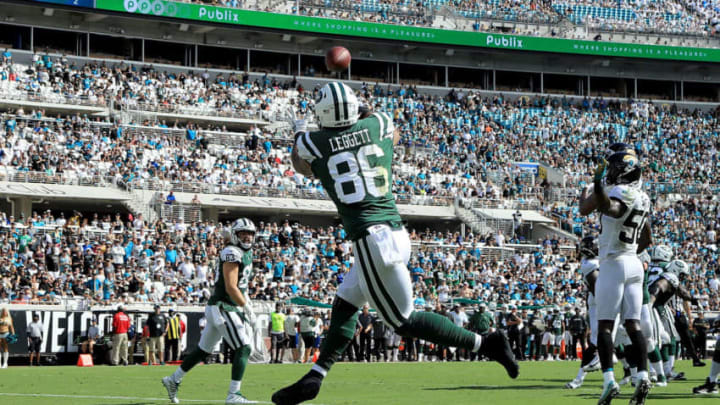 JACKSONVILLE, FL - SEPTEMBER 30: Jordan Leggett #86 of the New York Jets makes a reception for a touchdown during the game against the Jacksonville Jaguars on September 30, 2018 in Jacksonville, Florida. (Photo by Sam Greenwood/Getty Images) /
JACKSONVILLE, FL – SEPTEMBER 30: Jordan Leggett #86 of the New York Jets makes a reception for a touchdown during the game against the Jacksonville Jaguars on September 30, 2018 in Jacksonville, Florida. (Photo by Sam Greenwood/Getty Images) /
After getting blown out in Jacksonville, the New York Jets head back home to face the Denver Broncos. Denver is coming off a tough loss at home on Monday night to the Chiefs, led by second-year phenom Patrick Mahomes. Denver will be on a short week, so it will be interesting to see how they bounce back.
In their loss to Jacksonville, the Jets offense was held to 178 yards. Sam Darnold was under pressure all game, getting sacked three times. He managed to finish the game with one touchdown to no interceptions, but a few easy picks were dropped.
The defense was arguably worse. Much of this could be attributed to the amount of time spent on the field due to a sputtering offense. However, most of this should be put on the game plan and execution. The Jets were consistently beaten by the shallow cross. Dede Westbrook burned them for 9 catches and 130 yards.
The Jets did not appear to adjust at all, constantly passing off coverage while in their loose zone defense. Without a consistent pass rusher, Blake Bortles had plenty of time to go through his reads and check down to the open guy.
Overall it was an extremely sloppy game. The Jets offensive line might as well have taken the day off. This week they will face the two headed monster of edge rushers Von Miller and rookie Bradley Chubb. How they stop them will be a focus in these top three keys to a Jets victory.
JACKSONVILLE, FL – SEPTEMBER 30: Sam Darnold #14 of the New York Jets hands the ball off to Bilal Powell #29 of the New York Jets during the first half against the Jacksonville Jaguars at TIAA Bank Field on September 30, 2018 in Jacksonville, Florida. (Photo by Sam Greenwood/Getty Images) /
3. Establish the run early
The Jets must slow down the Broncos pass rush if they are going to have any success on offense. They clearly lack the talent on the offensive line to protect their young quarterback traditionally, so they will need to get the run game going early to keep Denver off balance.
Last week, the Jets running backs were held to just 36 yards on 12 carries. Whether it was bad playcalling by new offensive coordinator Jeremy Bates or just poor execution by the offensive line, they can't repeat the same mistake this time around.
The Jets need to establish the run early in this Week 5 matchup and continue to feed the rock to both Isaiah Crowell and Bilal Powell. Both are talented running backs that can get the job done but must be trusted enough by Bates to deliver.
Against Denver, they need to get both of their backs involved early to take the pressure off of Darnold and the Jets offensive line. This leads us to our next key.
Next: 2. Involve the tight ends
2. Involve the tight ends
More from The Jet Press
Led by Chris Harris and Bradley Roby, the Broncos secondary is top tier. It would not be wise to challenge them consistently. Although neither option on the Jets is in the class of Travis Kelce, Kelce was able to snag 7 catches for 78 yards and a touchdown against Denver on Monday.
The Jets should look to involve their young tight end duo of Chris Herndon and Jordan Leggett. Both have displayed flashes of pass catching ability. A pass catching tight end is a quarterbacks best friend, and Darnold can use all the help he can get right now.
The Jets should get them going early to get the young gunslinger in a rhythm. Again, this all lands on Bates as the Jets offense has been a major problem over the past few weeks. They need to put Darnold in a position to thrive and use his tight ends more than he has.
It's on to the defense in our last key.
Next: 1. Create turnovers
CLEVELAND, OH – SEPTEMBER 20: Henry Anderson #96 of the New York Jets celebrates with Leonard Williams #92 of the New York Jets after sacking Tyrod Taylor #5 of the Cleveland Browns (not pictured) during the second quarter at FirstEnergy Stadium on September 20, 2018 in Cleveland, Ohio. (Photo by Joe Robbins/Getty Images) /
1. Create turnovers
Case Keenum is one of only three quarterbacks who have more interceptions than Darnold this year. He is known to take chances, and if the Jets are to win on Sunday, they will need to capitalize on these opportunities.
However, the Broncos will look to get their potent run game going to take the ball out of Keenum's hands. The Jets need to limit their ability to run so they can get the Broncos in some obvious pass situations. Not only must they stop them on third down, but also get some game-changing interceptions to change the momentum. The Jets will be looking for Marcus Maye to step up in his first home game this week.
If the Jets can hold true to these 3 things, they will be able to get their first home win of the year. If they come out flat, you better believe the Jets faithful will be chanting "Fire Bowles" instead of their trademark "J-E-T-S JETS JETS JETS" as they exit MetLife Stadium.